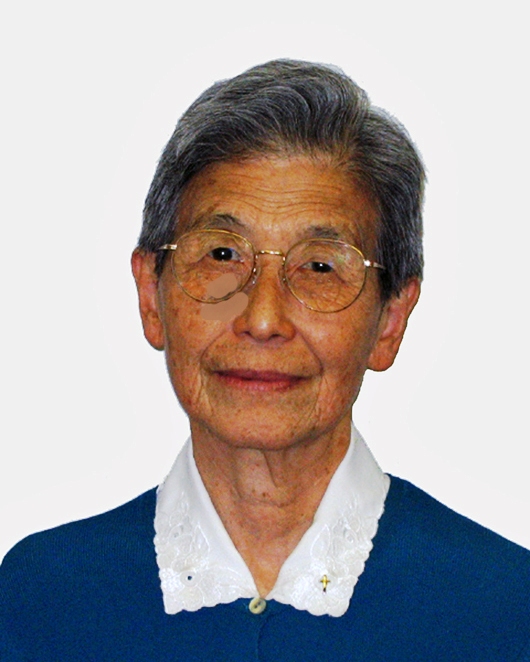 Sister Grace Mary Kuji, MM
Born: May 5, 1927
Entered: August 29, 1951
Died: December 4, 2018
Sister Grace Mary Kuji, M.M. died on December 4, 2018 at the Maryknoll Sisters Center in Maryknoll, NY. She was 91 years old and had been a Maryknoll Sister for 67 years.
Grace Mary was born Yasuko Kuji in Tsingtao (today known as Quingdao), China on May 5, 1927 to Misao (Ishigami) Kuji and Kanichi Kuji. Though she was born in China, she was a Japanese national. She had five brothers, Hiroshi, Manabu Fujita, Takashi, and Kanji, and one sister, Shigeko Onosuka.
In 1944, Grace Mary graduated from Chinto Women's High School and began her collegiate studies. By 1945, she and her friends learned the war was about to end and tried to return to their families in Japan. However, the young women were not permitted to leave China because of the danger. It was then Grace Mary found the Maryknoll Sisters, who had a school in Dairen, China. She was able to stay with the Sisters and became a great help in their efforts to assist the growing number of refugees fleeing the Russians. The joyful and unstinting efforts of the Sisters so impressed her that she asked for sacramental instruction and was baptized Gratia Marie. She was able to return home to Japan on a repatriation ship, and upon landing, traveled across Japan to Tottori where she was reunited with her family.
On August 29, 1951, Grace Mary entered the Maryknoll Sisters Novitiate at the Maryknoll Sisters Center in Maryknoll, NY from Takano Parish (Diocese of Kyoto). At her Reception into the Congregation, she received the religious name Sister Gratia Marie. She made her First Profession of Vows on March 7, 1954 at the Maryknoll Sisters Center in Maryknoll, NY and her Final Profession of Vows on March 7, 1960 in Japan.
In 1954, Sister was assigned to Kyoto, Japan where she was in charge of a hostel and taught catechism classes for two years. During the next eight years, she worked in parishes run by the Maryknoll Fathers in Kyoto and Shiga Prefectures. In 1962, Sister Grace Mary and five other Maryknoll Sisters founded the Maryknoll Girls School in Yokkaichi, Japan, where she taught for thirty years. One of her main responsibilities was teaching ethics at the Yokkaichi school – only a small percentage of the students were Christian, so this was an important means of introducing the students to Christian and human values. She also became a Home Room advisor, which was a very heavy responsibility for a teacher. She was popular with the students and had a gentle manner in handling various students' concerns. Over the years, Sister Grace Mary took on many other duties. One that she enjoyed very much was being moderator of the Students Service Club, in which students did volunteer service in the neighborhood, such as visiting retirement/nursing homes and a home for handicapped children. For some years, she also was advisor to the Maryknoll Alumnae Association, which became quite mission minded, raising funds for many poor areas.
During this time, Sister Grace Mary continued her studies at Japan Women's College in Tokyo, where she had studied before entering Maryknoll, and received her degree in 1968. She also took on Maryknoll Community roles. She served on the Japan Orientation Team and was the Asian World Section liaison. She took her turn returning to the Maryknoll Sister Center for Congregational Services, working in the sacristy and helping in the Mission Institute. The most often heard comment from co-workers and other Sisters was that Gracie, as we called her, was so easy to work with and always had a smile for everyone.
In 1992, Sister Grace Mary returned to the Maryknoll Sisters Center and served as Sacristan in the main chapel for two years. In 1994, she returned to Japan to Kichijoji in Tokyo, where she did family ministry, visiting her frail mother in a nursing home every week. During this period, she became involved in the local parish, teaching scripture to women's groups and assisting in various social justice activities. She regularly visited a detention center for women who were being held for visa irregularities. Sister also volunteered at Maria Shokudo, a soup kitchen for the homeless in Sanya, Tokyo. She also worked with Sakom, a women's club, where she interested women in our Sisters' mission work in Tanzania. Her enthusiasm was so contagious that these women have continued with this effort through the years and are still sending support to our Sisters there.
When Sister left Japan, she wrote in the Region newsletter the following comment about her activities in Tokyo: "My activities gave me the opportunity to share my Faith with other people which I feel is very meaningful for me as a disciple of Christ. At the same time, I can share with these people words of joy and hope and consolation found in our Faith." This seems to express Sister Grace Mary's mission spirit.
At the Center, she generously worked as Sacristan and served in the Pastoral Care Unit until her health required that she move to Maryknoll Sisters Home Care. She also served in the chapel, making beautiful flower arrangements until her retirement in 2011.
A Vespers service will be held for Sister Grace Mary on Tuesday, December 11, 2018 in the Chapel of the Annunciation at the Maryknoll Sisters Center, Maryknoll, NY. A Memorial Mass will follow, also at the Maryknoll Sisters Center. A special memorial service will take place in Japan on December 22, 2018.