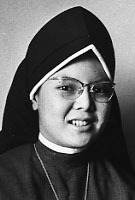 Sister Harriet Lum, MM
Born: March 7, 1944
Entered: October 18, 1964
Died: July 25, 1999
We gather this morning to celebrate the life of our Sister Harriet Lum who died Sunday evening, July 25, 1999, at Phelps Memorial Hospital, Sleepy Hollow, New York. She was fifty-five years of age and had been a Maryknoll Sister for thirty-four years.
Harriet Theresa Lum was born in Honolulu, Hawaii, March 7,1944, the first of four children to Muriel and Harold Lum. Having received her early education at Sacred Heart Parish (her home parish) Maryknoll Elementary and High Schools, she was a "Maryknoller" from her early years. While studying at Chestnut Hill College in Philadelphia, PA, however, in a letter to the Vocation Director at Maryknoll she expressed her desire to become "a real Maryknoller", and on October 18, 1964 entered the Maryknoll Sisters Novitiate at Valley Park, Missouri.
Sister Harriet made her First Profession of Vows June 24, 1967 at Maryknoll, New York. She then continued her studies at Mary Rogers College and obtained a Bachelor of Science Degree in Education before returning to her homeland of Hawaii where she began her ministry in education, teaching Mathematics, Music, Physical Education, Spanish and Religion in Grades four to eight at St. John the Baptist School, Honolulu. While carrying a full-time teaching schedule, she was also active in SEARCH, a Catholic Youth Organization activity for high school students, the parish Confraternity of Christian Doctrine program, the parish council and a parish guitar group. She also served on the Central Pacific Maryknoll Sisters' Regional Governing Board.
In 1975, Harriet left her teaching post at St. John the Baptist School and returned to the Center to prepare for her Final Profession of Vows. While at the Center, she studied at Maryknoll Seminary and received a Master of Arts Degree in Religious Studies from the University of the State of New York. She chose to celebrate her Final Profession on August 31, 1975 in her home parish in Punahou, Honolulu with her family and Sisters of the Central Pacific Region with whom she had shared life and ministry.
While Harriet was at the Center preparing for her Final Profession,she began to feel that for her own growth as a missioner she was being called in a new direction of ministry. She deeply loved her ministry and the people of Hawaii but explained her desire for a change of Region stating: 'Because my personal history in mission has been so happily shaped by my experience in the Central Pacific, I can say honestly that I feel drawn to another area rather than away from Hawaii and Micronesia. The Central Pacific Region has been the foundation for me in more ways than one."
In 1977, Harriet received a mission assignment to Indonesia but it was not until almost two years later that the assignment became a reality While waiting for her visa to be processed, she worked for six months as a driver for our Sisters at Bethany. She then returned to Hawaii to study the Indonesian language, Ethics in Asian Religions and Elementary Hebrew at the University of Hawaii. By the time her visa was processed in 1979, she had completed two-thirds of all the courses on Indonesia, met many Indonesian students and participated in the activities of the Newman ministry at the East-West Center.
When Harriet arrived in Bandung, Indonesia in 1979, she had a good command of the language and immediately began teaching Math. She later became Director of Education Administration for the fifty Catholic Schools in the Diocese of Bandung. She served as English language newscaster for the Vatican Radio when Pope John Paul II visited Indonesia in 1989, and was on the steering committee for the Diocesan Synod in 1990. At this time Bishop Carlos Filipe Ximenes Belo, the Noble Peace Prize winner, invited the Sisters to Aileu, East Timor. The Sisters responded to Bishop Belo's invitation and moved to Aileu to minister to the area's basic human needs of health, education and nutrition. For six years Harriet was Principal of St. Paul's School in Aileu, and is remembered as an excellent educator with a deep love for and friendship with her students. Together with the people, she lived the daily insecurity resulting from the long period of political violence which prevailed throughout the area.
In 1997 Harriet was asked to return to Maryknoll, NY to serve as Rogers Council Co-Coordinator. Harriet loved and enjoyed working with her students and teachers, and making a decision to leave East Timor was not easy for her. After prayer and discernment with the Sisters with whom she lived, she wrote: "Trying to have in our heads, minds and actions the good of the whole Congregation I can say yes to your request. I'm honored and I pray that this will really be for the good of all concerned."
Harriet served as Co-Coordinator for just one year when she was asked to uproot once again. Her knowledge of and expertise in finances were recognized and she was asked to take on the position of Congregational Treasurer. This again was not an easy decision for her but, as always, Harriet put the good of the Congregation before her own desires. She accepted the appointment and on January 1, 1999, began in-service training for the position of Treasurer.
Harriet loved the challenge of learning new things and was always ready to share her learnings with others. She was a teacher even outside the formal classroom setting and made learning fun for all – children and adults. She was also active in sports (tennis, baseball, basketball), was a computer-wiz, and a fun and creative person. To keep the Maryknoll Sisters abreast on our history, she created crossword puzzle quizzes! Just several months ago, she offered to teach a beginners computer course, much to the delight of some thirty-five Sister-students! Harriet gave herself wholeheartedly in everything she did and wherever she was.
We offer our deepest sympathy to Sister Harriet's family. We thank you for sharing Harriet with us and for the gift she has been and continues to be for each of us.
We also welcome and thank our Maryknoll brother, Father Joseph Veneroso, who will preside at this Eucharistic Liturgy of Christian Burial as together we praise and thank God for the life of Sister Harriet.