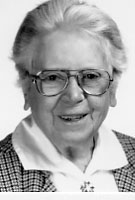 Sister Helen Cashin, MM
Born: December 6, 1901
Entered: October 29, 1929
Died: February 16, 1999
In today's first reading, Saint Paul shares with the people of Corinth his reflections regarding his understanding of the meaning of love – that it is patient, kind, rejoices in the truth, bears all things, believes all things, hopes all things and endures all things. As we reflect on the life of Sister Helen, we realize that she was the embodiment of Saint Paul's description of love.
Sister Helen Cashin died peacefully in the Maryknoll Sisters Residential Care Unit on February 16, 1999. She was ninety-seven years of age and had been a member of the Maryknoll Sisters Congregation for sixty-nine years.
Helen Agnes Cashin was born on December 6, 1901 in Plainfield, New Jersey to Matthew J. Cashin and Elizabeth Croak. She came from a large family and deeply loved her two brothers and five sisters. Her sister, Elizabeth, called Bess by her family, followed Sister Helen into Maryknoll and received the religious name of Sister William Eugene.
Helen Agnes was a member of Saint Antoninus Parish and attended the parish grammar school in Newark, New Jersey. Before entering Maryknoll, Helen worked for nine years in the Internal Revenue Department in Newark. Two years prior to her entrance, she served as a secretary for her uncle, Monsignor William E. Cashin, in his parish at Saint Andrew's in New York City. She entered Maryknoll October 29, 1929. When asked in an interview why she chose Maryknoll and what made it "right" for her, she replied: "I guess I practically grew up with Maryknoll. I knew them first when I was about eight years old. My uncle was the chaplain at Sing Sing Prison and the first confessor to the then 'Teresians'."
On January 6, 1932, she made her First Vows, receiving her baptismal name Helen as her religious name and three years later, on January 6, 1935, made her Final Vows. From 1934 to 1937 Sister Helen attended Maryknoll Teachers College where she obtained a Teachers' Certificate. She then went on to study at the University of Maryland graduating in 1940 with a Bachelor of Science Degree in Home Economics.
After graduation, Sister Helen's first mission was to serve as dietician at the Maryknoll Sanatorium in Monrovia, California where she was greatly loved by the patients for her kindness and gentleness. A testament to her loving and caring spirit is a letter written by a patient from the sanatorium upon hearing the news of Sister Helen's reassignment to the Motherhouse. He wrote the following to Mother Mary Joseph: "The week before I came to Monrovia I was in the hospital with three specialists trying to keep me breathing. I was critical of everyone and everything, nothing pleased me. I had reached the desperate stage when Sister Superior came to introduce Sister Helen. An opening in the conversation gave me my chance and I gave her the 'works'. I have some facility in the use of invectives and I assure you I held nothing back. No one, but the cultured, poised person that Sister Helen is would have stood for it. During the subsequent trying months, Sister was always gracious, kindly and considerate. In a very real sense I feel that much credit for my rapid recovery is due to her. I learned that every day she spent some time on her knees on my behalf. Because she is the kind of person she is, there is no reason to believe that my experience with Sister Helen is unique. I do not write in my own self interest alone but also for those who come after me. May I respectfully suggest that unless you are sure that Sister Helen can do more good elsewhere, you please leave her with us?"
Sister Helen returned to the Maryknoll Sisters Center in 1942 and taught Chemistry, Physics and Nutrition at Maryknoll Teachers College until 1947. She was then assigned as Superior of the Valley Park, Missouri Novitiate where she also taught Christian Culture and Housekeeping to the Novices.
In 1950, Sister Helen was named the Superior at San Juan Capistrano, California, as well as being a teacher for all grades, kindergarten to eighth. Her next change of mission in 1956 brought her to St. Anthony of Padua School in the Bronx, New York where she ministered for the next eight years. She taught seventh grade and at the same time served as Principal and House Superior. In 1964, she was assigned to Hawaii serving in the Childrens' Home in Paia and Wailuku. A year later, Mother Mary Coleman asked her to return to San Juan Capistrano as Principal and Local Superior to facilitate the turn over of the parish school. In 1967, she was back at the Maryknoll Sisters Center serving as kitchen liaison for three years overseeing and preparing with great love and care thousands of meals for her Maryknoll family.
Sister Helen was one of the charter members of the New Mexico missions when it first opened in Crownpoint in 1970. For twelve years, the people of the parish benefitted from her services as she coordinated religious education, adult education, taught commercial subjects and Confraternity of Christian Doctrine classes to native American peoples. Because the needs of the parish always came first, during her seven years at Crownpoint, she never really had a full vacation. Her vacation usually consisted of a few days here and there, as work permitted. When it was announced that Sister would be returning to the Center in New York, the pastor wrote the following in the parish bulletin: "With a heavy heart I announce the departure today of Sister Mary Helen from our Saint Paul community. In all my years I have known many Sisters but none can compare with the generosity, cooperativeness and dedication to God manifested by Sister Helen. Her departure will be a severe loss to all of us."
Always one to be involved in service and mission, after Sister Helen's return to the Center, she worked for three years on the Maryknoll Archives Staff until at the age of eighty-six she entered retirement.
As her Golden Jubilee approached in 1979, she was asked in an interview what she treasured most about her experiences in Maryknoll and what made it all worthwhile. She responded that the opportunity to work with people from the Mexican, African American and Navajo cultures had been a real privilege and that it also had been a real privilege to work and be part of the Maryknoll Sisters.
Today, as we celebrate Sister Helen's Mass of Christian Burial, we can all say that it has been a privilege to have had Sister Helen as a member of the Maryknoll Sisters for these past sixty-seven years and we echo the words that her pastor wrote back in 1982: "Her departure is a severe loss to all of us." However, we know that she will faithfully intercede with God to obtain many blessings for us and for Maryknoll in the days and years ahead.
When Helen entered in 1929, her sister Clare was one of the family who came with her to Maryknoll on Entrance Day. Just as Clare accompanied her when she entered Maryknoll almost seventy years ago, she and her husband, Tom, have been present the past two weeks faithfully accompanying Sister Helen on her final journey into eternal life. We thank them for being with us and for sharing Sister Helen with us.
We are grateful for your presence with us today as we celebrate this Mass of Christian Burial for Sister Helen. Let us continue our Eucharistic Celebration with Sister Helen's cousin, Father John Frazier, as our Presider.