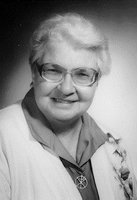 Sister Helen Gleason, MM
Born: January 20, 1929
Entered: October 14, 1948
Died: September 11, 2014
On 9/11/2014 during the reading of names at the annual memorial service for the victims of the World Trade Center bombings, Sister Helen Gleason was in her room at Maryknoll, New York when God gently called her at 12:45 pm.
Sister Helen Louise Gleason, a Maryknoll Sister for 66 years, was born in Cloquet, MN on January 20,  1929 to William and Exilia Demeres Gleason, the sixth of eleven children – seven boys and four girls.  Her parents and four brothers; John, Raymond, Richard and Lloyd predeceased Helen.  Helen's mother, Exilia, was a descendant of Jean Nicolet, an explorer of Lake Michigan and Louis Joliet who explored the Mississippi River, a fact that Helen enjoyed sharing and which added understanding of her joy while serving the Ojibwe people.
Helen attended grade school at Our Lady of the Sacred Heart School in Cloquet, spent her freshman year at Stanbrook Hall in Duluth, and graduated from Cloquet Public High School in 1947.
She entered Maryknoll at Valley Park, MO, on October 14, 1948.  At Reception she was given the name "Sister Evelyn John." She made her First Profession of Vows May 8, 1951 at Valley Park, and three years later, May 8, 1954 made her Final Vows at Maryknoll, NY.  In 1951 Helen went to Maryknoll, NY and graduated from Maryknoll Teachers College with a Bachelor of Education in 1956.
Her first mission was to Kalihi, Oahu, HI, in 1956.  She served in Hawaii from 1956 to 1974 as a primary Grade teacher in seven different parish schools.
From 1975 to 1980 she served in Majuro, Marshall Islands and returned to serve in Hawaii until 1991.  At that time she volunteered for mission work in Papua, New Guinea with Sister Pat Redmond and Sister Peggy Dawson.  Sister Helen had a gift for teaching kindergarten and primary grades.  She initiated a much needed pre-school program for the rural area, Ossima, PNG.  While there Helen said, "I feel blessed working with such loveable and loving little people and having fun too!"
During her retirement Sister Helen took Papua New Guinea for her prayer ministry.
In July 1995 Helen returned to the Center to give service as sacristan and assistant guest-mistress.  In July 1999 Sisters Helen and Ann Maloney volunteered at St. Mary's Mission in Red Lake, MN, on the Red Lake Reservation for the Ojibwe people.  While there, they were asked if they would consider being a "presence of the Church" on the Fond du Lac Reservation in Cloquet, MN which was without a pastor.  On June 8, 2000, Helen and Ann moved into the former Holy Family Rectory on the Reservation.  The fall of 2000 Sisters Claire Murphy and Pat Ann Arathuzik joined them, helping in the parish while Helen continued her work preparing children for their First Holy Communion, visiting other parishes on the Reservation.  In 2007 Helen went to Monrovia, CA, to retire.
Helen was a very quiet person who loved to read, was known for her smile, and quiet, happy disposition.  In her silence she was a positive presence which was felt with her great gift of pun making sending everyone into rolling laughter.
Early in 2010 a call came again from Cloquet to help with the catechetical programs in the parish.  Sister Helen along with Sister Peggy Dawson went to Cloquet for two years.  Both Sisters felt in 2012 that they had contributed as much as they were able to the parish and returned to Maryknoll, NY to retire.
Helen was very fond of her family and kept current with the happenings in the lives of her brothers and sisters.  She knew all the names of her nieces and nephews as well as remembering their birthdays.  She wrote the following about her family and mission:"It has been so good to be back with family and friends in Cloquet, and with my much loved Obijwe people.  I have enjoyed all my missions.  Each culture brings new insights and glimpses of a loving caring God in the faces and spirits of the vast human family of ours—and new ties and relationships to the Universal Church.  What a blessed and humbling life is that of a missioner."
Helen's brothers Arthur, William Jr., James and sisters Irene Polley, Jeanne Sell, and Maryanne Baumann are not able to be with us this morning but plan to have a celebration of Helen's life at Cloquet where the rest of her relatives, friends and the people from the Reservation may attend.
We welcome and thank our Maryknoll brother, Fr. Edward Davis, who will preside at our Liturgy of Christian Burial.