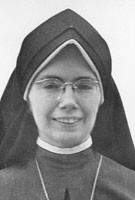 Sister Helen Higgins, MM
Born: December 29, 1920
Entered: February 1, 1952
Died: May 7, 1996
"We are Easter people and Alleluia is our song!"
Sister Helen enjoyed singing but none of us expected she would be singing her Alleluia with a heavenly choir of angels this Easter season. Helen was hoping she would be singing in China as a member of the Kona Community Chorus, but it seems God wanted her singing her Alleluia in heaven.
On Tuesday morning, May 7th, Father Jim Berry noticed Helen was not at Mass, so he gave her a call. She responded that she was not feeling well – but nothing serious. That evening, around six, she was not in the parking lot ready to go to a Parish Council meeting. In checking her house Jim discovered she had died.
Helen Ralston Higgins was born in Edgartown, Massachusetts on the island of Chappaquiddick on December 29, 1920. Her parents were Frederick Ralston Higgins and Katherine Agnes Higgins (Higgins). Helen had a sister two years older, Marion, and a cousin adopted by the family.
Helen's early education was in the local public schools. She received her college degree in history at Regis College in Weston, Massachusetts. Both her sister Marion, and Helen were honor students with Helen ranking eight in a class of 140 students.
After teaching in public schools for ten years Helen joined Maryknoll in February, 1952 and at Reception received the name of Sr. Thomas More. After First Profession in 1954 in Valley Park, Missouri, Sister spent a year at Maryknoll and 5 years as a teacher in Chinatown and St. Louis.
Soon after her Final Profession in 1960, Helen was assigned to Hawaii where she was to spend the rest of her mission life as a dedicated teacher. Helen enjoyed her profession and continued to teach in grade schools in Punahoa and St. Ann's Kaneohe.
In 1970, Helen graduated from Clark University in Worcester, Massachusetts with a Master of Arts degree in History. On her return to Hawaii, Helen taught social studies and was chairperson of the department until 1980. During this time, Helen returned for brief periods to assist her sister in the care of her parents before their deaths.
After finishing Congregational Service in 1985, Helen returned to Hawaii, this time to the Big Island to begin pastoral work in St. Michael's parish in Kona, Hawaii, a ministry which she deeply loved and will long be remembered by the people with whom she lived and worked these past 10 years.
According to the records, Helen was now receiving retirement funding… but what a retirement! She was a Eucharistic minister, CCD teacher, organist, Hospital chaplain, Past president of the Kona Literacy council, coordinator of the Filipino and Tongan ministries and member of the St. Vincent de Paul Society. In addition to all these activities, one of her greatest joys was singing with the Kona Community Chorus.
Helen had a wide range of friends both in the parish and the larger community. Possibly because she has no immediate family living, Maryknoll and her parish became her family. Upon hearing of Helen's sudden death the parish wanted so much to have her buried in the church cemetery, just a short distance from where she celebrated and sang her Alleluia. Mass will be celebrated by Fathers Jim Berry and Jack Ryan on Monday evening, May 13 and burial will be on Tuesday morning, May 14 at 10 a.m. There will be 18 Maryknoll Sisters able to attend and we also expect a large number of clergy and other religious.
As Easter people may we rejoice in Helen's new life and wait for the time when we will meet merrily in Heaven.
We want to welcome our Maryknoll brother, Father Emile Dumas as our presider in this Memorial liturgy of Resurrection for Sister Helen Higgins.