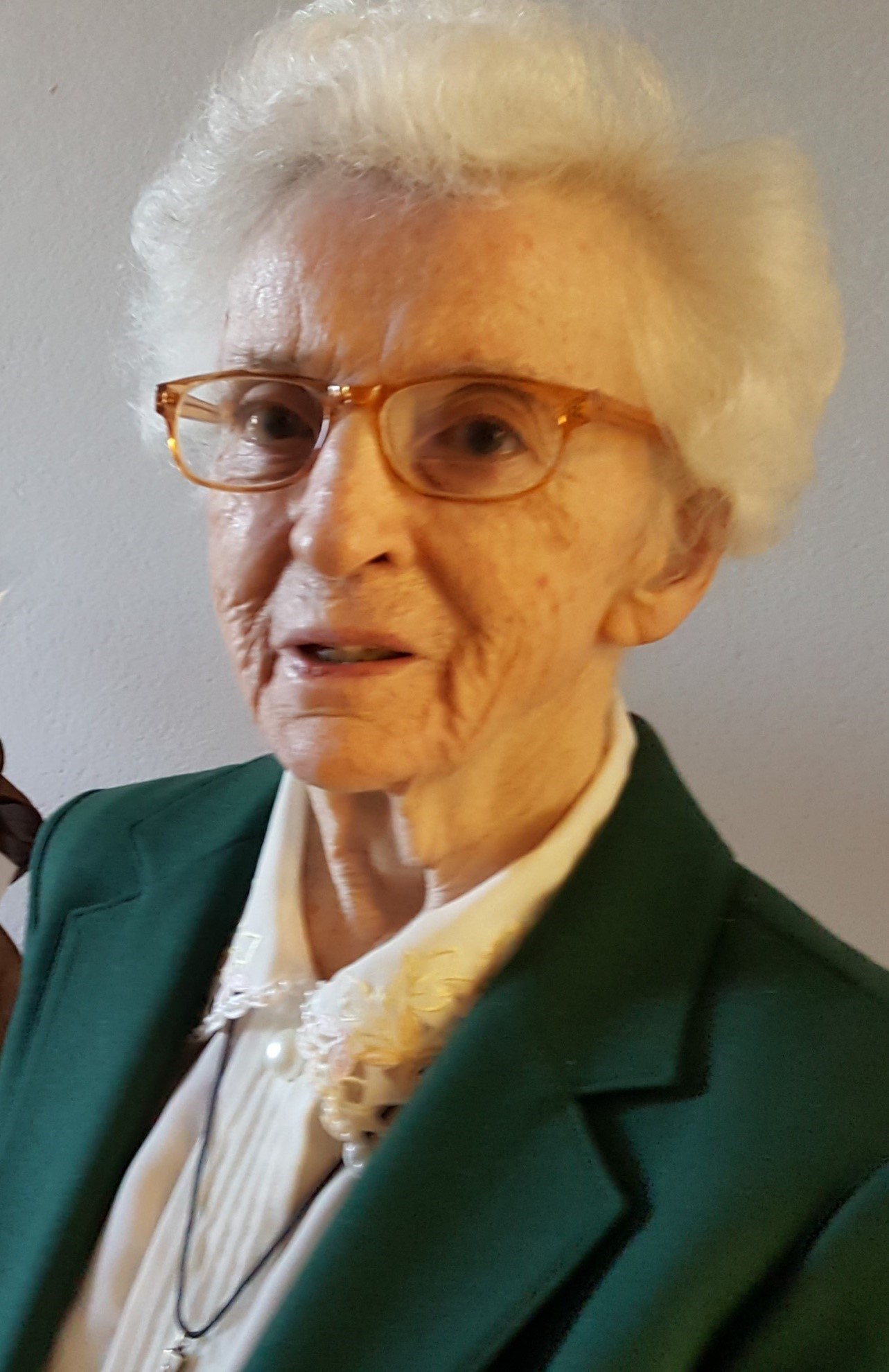 Sister Helen Kenny, MM
Born: August 30, 1931
Entered: September 6, 1949
Died: January 4, 2020
Sister Helen Kenny went peacefully to God on Saturday, January 4, 2020. She was 88 years old and had been a Maryknoll Sister for 70 years.
Helen Marie Kenny was born on August 30, 1931 in Manhattan, N Y to James Patrick Kenny and Margaret (Hanley) Kenny.  She had three sisters and one brother.
Helen attended St. Agnes Academy, College Point, NY graduating in June 1949. On September 6, the same year, she entered the Maryknoll Sisters Congregation from Holy Family Parish in Brooklyn, NY and spent her first six months working in the kitchen at the Maryknoll Fathers' Preparatory Seminary at the Venard in Clark Summit, PA.  At her Reception into the Community, Helen Marie Kenny became Sister Mary Kenny. After the Second Vatican Council, she returned to her original name.
Helen made her First Profession of Vows at Maryknoll on March 7, 1952 and her Final Vows also at Maryknoll on the same date in 1955.  From 1954 through 1957 she attended the Catherine Labouré School of Nursing in Boston, MA where she earned her Nursing Diploma. She was then assigned as Nursing Supervisor at Queen of the World Hospital, Kansas City, MO the first integrated hospital in the United States begun by the Maryknoll Sisters.
Helen was assigned to Hong Kong in 1958 and for the next two years, while working at the Kwun Tong Clinic, studied Cantonese Chinese. Now ready to engage in regular hospital work, she became part of the staff of Our Lady of Maryknoll Hospital in Wong Tai Sin where she worked in the OR and as Ward Supervisor.  Helen returned to the United States for further studies and graduated from Villanova University, PA in 1969 obtaining her Bachelor of Science Degree in Nursing with honors. She then enrolled at Columbia University and by early December of 1970 had obtained her Master of Arts Degree in Nursing Administration and was back at Our Lady of Maryknoll Hospital in Hong Kong.
There, from 1972 to 1984, she became involved in the development of the Community Nursing Service and, to ease a way out of the acute nursing shortage in Hong Kong, helped open the School for Enrolled Nurses.   She also served in the hospital as Director of Nursing Service, in the Out-patient Care Clinic and Coordinator of Nursing Care for some 260 patients.
Among Helen's favorite programs was the summer Pastoral Ministry Program she developed for the Seminarians of Hong Kong's Holy Spirit Seminary. Its goal was to develop in these future priests a strong foundation for ministry to the sick and dying and their families. So important did this program become that after five years it became part of the Hong Kong Catholic Diocese Pastoral Care Program.
Helen returned to Maryknoll in 1985 for Center Service in the Maryknoll Sisters Nursing Home and when she returned to Hong Kong in 1988 saw the need to engage in volunteer services.  Her heart was set on creating badly needed programs of support for cancer patients at all stages of their illness.  She set up the first hospice and palliative care team with a home care program for terminal cancer patients at our Lady of Maryknoll Hospital and became the Project Director for the Society for the Promotion of Hospice Care. This resulted in the building of the Bradbury Hospice, the first hospice set up in Hong Kong.
From 1993 to 1994 Helen joined the Keswick foundation and became the Coordinator of the Make-A-Wish Foundation that assists terminally ill children to realize their dying wish.  At the Keswick Foundation, she learned about a new cancer endeavor that provided terminally ill cancer patients with a warm and peaceful environment. Helen set out with new vigor to help set up Maggie's Cancer Caring Center in Hong Kong. In 2008 Helen was Programme/Service Director of the new Maggie Cancer Caring Centre, the first such cancer caring center outside of the United Kingdom.
Sister Helen was much admired throughout Hong Kong and received many awards in recognition of her outstanding humanitarian works, but she was also always quick to credit the people she worked with as the ones to be admired. She demonstrated that everyone can live out the spirit of humanity regardless of physical conditions, cultural backgrounds or professional capacity.
By 2012, Helen had many health issues that necessitated her return to our Center at Maryknoll.
On January 4, 2020, after her Sisters had spent long hours and days praying by her side and accompanied by several members of her devoted and faithful family, Helen went peacefully home to God.