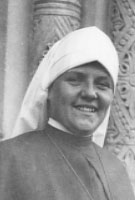 Sister Helen Mary Murphy, MM
Born: September 30, 1910
Entered: June 5, 1933
Died:    September 27, 1989
On Wednesday, September 27, 1989 at 9:35 A.M., Sister Helen Mary Murphy died peacefully in the Maryknoll Nursing Home. Today, three days later, we celebrate the Liturgy of the Resurrection for her. It is her 79th Birthday! I imagine there is conversation in Heaven today because her father died on his birthday just as a special Mass for him ended. They may be talking about which is better – to die or to be buried on your birthday!
Mary Helen Murphy was born in Everett, Massachusetts on September 30, 1910, the oldest of four children of James and Madeline Tierney Murphy. Both Mr.& Mrs. Murphy came from Canada, he from Bonavista, Newfoundland and she from Lachine, Quebec. Sister has two brothers and one sister.
After graduation from Our Lady of Perpetual Help Grammar School and Bishop McDonnell Memorial High School in Brooklyn, Helen attended Hunter College at night for a year, many years later graduating in Education from Mary Rogers College.
On June 5, 1933 Helen entered Maryknoll and at reception was given the name of "Sister Pauline Marie". First Profession was made at the Motherhouse on March 25, 1936 and Final Profession March 25, 1941.
Sister was assigned to the West Coast in 1937 where she served at the Japanese School in Los Angeles and in San Juan Capistrano until 1940 when she returned to New York for nine years of service at Bethany and in The Field Afar Offices.  Sisters praised her for her loyalty, thoughtfulness and generosity.
In 1949 Sister was assigned to Siuna, Nicaragua where she fell in love with the people and thoroughly enjoyed her kindergarten classes. Teaching was clearly something she enjoyed and did very well. After five years in Siuna, Sister was assigned to Panama where again she did classroom and catechetical teaching. During these years she wrote to Mother Mary Columba one March day to congratulate Mother on the growth of the Maryknoll Family. This action was typical of her thoughtfulness.
Following two years of study at Mary Rogers College, Sister was assigned to Chicago in 1965 where she remained with short interruptions for furlough until 1981. During Sister's time in Chicago, she served for two years as Assistant Superior at St. Therese's while teaching in the school. She also worked with the Cardinal's Committee for the Spanish-Speaking and is pictured in the local newspaper as one of the Church workers out on the street talking with the people after two nights of rioting in June of 1966. Sister enjoyed her work with the Spanish-speaking in Chicago and eventually moved from St. Therese's to our promotion house and then to an apartment so as to be nearer to her ministry.
Steadily declining health necessitated Sister's return to the Center in 1981 and move to Maryknoll Nursing Home in 1983. For a while she was able to visit and move somewhat freely but as time went on her dependence on the staff increased. Through the whole time, her good friend of Chicago days, Sister Joanne Bastien, anticipated her needs and stayed by her side.
The Gospel acclamation today says it all: "Our Savior Jesus Christ has done away with death and brought us life through His Gospel." Let us rejoice in our Sister's accomplishment of her life.
We thank Fr. William Donnelly, M.M., for joining us today for the Mass of the Resurrection.