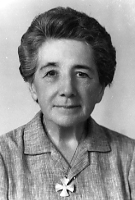 Sister Ignatia McNally, MM
Born: February 2, 1914
Entered: December 7, 1933
Died: July 14, 2011
We gather this morning to celebrate the life of Sister Ignatia McNally who died peacefully on July 14, 2011, in Maryknoll Residential Care IV. She was 97 years old, and had been a Maryknoll Sister for 77 years.
Eleanor Mary McNally was born on February 2, 1914, in Dover, New Hampshire to Marie (Yonk) and James Thomas McNally. She had four brothers and one sister.
Eleanor entered the Maryknoll Sisters at Ossining, New York on December 7, 1933 from St. Anne parish in Dover, New Hampshire. At her Reception, she received the religious name of Sister Mary Ignatia. In China, where everyone uses a surname, she became known as Sister Mak, for McNally. She was quick to associate that name with her love of the Eucharist. Mak in Chinese means wheat. She made her First Profession of Vows on June 30, 1936, at Maryknoll, New York and her Final Vows on the same date in 1939 in Tungshek, Meixian, South China.
During her long life, Sister Ignatia displayed three great loves: her Maryknoll Sisters , the Chinese people with whom she spent all her missionary life, and the sick.
Sister left a message for her Maryknoll Sisters, to be read at her funeral. On April 29, 2008, she wrote:
Dear Sisters All,
Before leaving my beloved Maryknoll for my new home in Heaven, I wish to say a big Thank You which I will carry to heaven for all of you whom I have touched during these 75 (now 78) years both on the missions and during my returns to Maryknoll for renewals. I really have had a very happy life and I thank God and all of you who share so much love with me. I also thank God for the many gifts I have been given to use wherever I was with you and with our people in Mission.
Her love for her Sisters was inclusive and extended in a special way to the leadership at Maryknoll. She wrote:
Here at Maryknoll we all have been blessed by God, who has given us such wonderful leadership and freedom to follow God's Words to the Apostles: 'Go out to the whole world and proclaim the Gospel to every creature.
Community living was for Sister Ignatia a place to express and receive love, and for sharing:
Living together we have all shared with one another and love one another in our religious and mission life. I really can not thank you enough for your goodness to me; your patience, love, and sharing in the times we lived together.
Sister Ignatia's love and concern was not reserved only for her Sisters in Maryknoll. She had a special love for the Chinese people for whom she could never do enough or give enough of herself.
In the short "history" she wrote of her life, her praise for the Chinese is simple, spontaneous and uncompromising.  "We loved all the people and everyone shared with one another." For Sister, there were no exceptions. Even when they failed to complete the catechumenate classes, she could find virtue in their decisions. "The Hakka people were honest," she wrote, "and if they felt they could not take the step for Baptism and the Sacraments, they would say so and maybe later on they would join in another catechumenate.
In early 1951, Sister Ignatia, along with six other sisters and four Maryknoll priests, were placed under house arrest for 10 months. On November 25, 1951, the Sisters and priests were ordered to leave China," she said, "I prayed daily for all whom we left behind and knew God would take good care of them all."
This love was apparently mutual. When she was leaving the Wu Hua mission the people lined the sides of the road out to the main road. "They were crying", she said, "and I was crying… I blessed the people all the way out."
Throughout her life Sister Ignatia had a special charism for compassionate ministering to the sick. Shortly after entering Maryknoll, she began to study nursing at Ossining Hospital, a ministry that served her well. Her first assignment, in 1936, was to the Shanghai China Mercy Psychiatric Hospital. In 1938, when the Maryknoll Sisters withdrew from the Shanghai Hospital, Sr. Ignatia was assigned to Guangdong, South China. There she worked with Bishop Francis X. Ford in direct evangelization. She found that this work was also an outlet to bring healing and compassionate comfort to people. Many of the evangelization sessions took place in the evenings since the women worked in the fields during the day. "I would pray and visit the old and sick," she said, "and the days went by quickly."
Expelled from China, Sister Ignatia was assigned to Hong Kong. There she delighted in helping to set up Our Lady of Maryknoll Hospital, constructed to care for the poor and sick refugees from Mainland China. She was appointed its first Administrator. Ten years later, 1963, she was assigned to Taiwan where she was to serve for the next 30 years in medical, social and pastoral ministries. Here she displayed special care and love for the victims of Hansen's disease, always seeking way to enhance the quality of their life.
In 1993, Sister Ignatia retired to the Maryknoll Sisters retirement community in Monrovia, California. Even there she helped out by being infirmarian, taking care of medical records and in prayer ministry through correspondence with women in the California State Prison. In 2003 at the time of her 70th Jubilee as a Maryknoll Sister, she returned to Maryknoll, New York for her final years. From 2007 she resided in the Sisters Residential Community until her death.
To her Sisters she left this message;
We have been entrusted with this opportunity to proclaim the Gospel in all parts for the world in many different ways. We have been given the freedom to go forth and freely share our God-given gifts with one another and the peoples to whom we have been sent. What a great trust our loving God has put in us.
We welcome our Maryknoll brother, Fr. Ernest Lukascheck, who will preside at our Liturgy of Christian Burial.