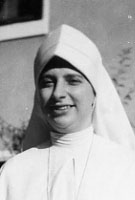 Sister Irene Fogarty, MM
Born: June 14, 1926
Entered: September 6, 1945
Died: April 15, 1997
Our Sister Irene Fogarty died on April 15, 1997, at 6:15 p.m. at Maryknoll, New York. She was surrounded by her Taiwan Sisters.
Irene Mary Fogarty was born in Brooklyn, New York, on June 14, 1926, one of three children, to Lucy McKaigney and John Fogarty.
After graduation from Bishop McDonnell Memorial High School in Brooklyn in 1945, Irene worked in the Chemist Club Library, New York City, and was a kindergarten teacher in Brooklyn. She entered Maryknoll on September 6, 1945, and later received the religious name of Sister Mary Francis Jogues. In her own words, Irene described why she came to Maryknoll and why she stayed.
"I can't remember exactly when or where I felt God's call to be a missioner. But I thought, not that, Lord. Leave my country? Learn languages? Eat strange foods (finicky eater that I was)? Go far from home, my family and friends?"
Now I must truthfully say, "Yes, I minded leaving my home, my family, my country. Yes, I found (and find) learning Chinese hard and frustrating… and further I think God has done some practical joking with me by arranging my mission career to be one involving four changes in Chinese languages as I moved from the Hakka dialect in our area of mainland China, to Cantonese in Hong Kong, to Mandarin here in Taiwan and now (when even God and I should know better) to beginning the Taiwanese dialect spoken by the majority of people here in Taiwan. Yes, I minded and mind the heat and the cold and mosquitoes and the strangeness of some situations. I minded the blisters and the toenails I lost in long mountain walks. I minded the difficult situations through which I've lived; and minded even more the difficulties I created for others. I minded and mind most of all the faint and weak squeaks that seem to come out of me when I try to shout from the house tops the message God desires all people to hear. But all this has been nothing compared to what I've received in love, in deep peace and happiness from God, from my Sisters and from all with whom I have worked."
Shortly after making her first profession of Vows on March 7, 1948, at Maryknoll, NY she was assigned to the South China Region, going first to Tungshek for language study. Her gift for the Chinese language later became apparent when she was able to deal with technical corporation papers on land and housing matters which were written in Chinese. Irene was left-handed and the Chinese people, with whom she worked, were fascinated watching her write Chinese with her left hand.
Irene served in the Kaiying area in the Guangdung Province of China until 1951, when along with other missioners she was expelled. She spent the following year in Hong Kong working with refugees before returning to Maryknoll, NY to do mission education work in the Midwestern United States. Following this, she continued her studies and received a Bachelors Degree in Education from Maryknoll Teachers College and a Masters Degree in Education from Hunter University.
In 1960 Irene returned to Hong Kong where she taught for three years at Maryknoll Sisters School. She then transferred to Taiwan to work with the Sacred Hearts Sisters, a Taiwanese community recently founded by Maryknoll Bishop Frederick Donaghy. Later, she became a part-time teacher at three universities in Taichung City and supervised the Maryknoll Sisters Dormitory for College Women. Following this, Irene conducted leadership training courses for lay leaders at the Populorum Progresso Institute. She was also vice president of the Major Superiors' Association. Irene's zeal for mission was tireless. The Sisters she lived with remember her leaving early in the morning on her bicycle and returning late at night.
Irene also had a very warm and funny side that made her a wonderful community person. As she herself mentioned earlier, she was really bothered by mosquitoes. Before the days of bug sprays she invented her own solution to prevent mosquito bites. When she knew she would be sitting down for a period of time and thus likely to tempt passing mosquitoes, she would get into a large laundry bag that went all the way up to her waist and thus protect her legs. However, if she forgot something she would simply stand up and hop across the room reminding the Sisters of the sack races they ran as children. Irene was a great reader and since she read National Geographic cover-to-cover every month, she knew all about the mosquitoes that bit her.
Irene was also known as Miss Fix-it. In her huge and deep pockets she always carried a full tool kit as well as a flashlight, jackknife, scissors and calendar. She fixed anything and everything and was generous with her time and her talents. During the tense period when the Sisters were under house arrest in China in the late 1940's, she entertained them with magic tricks. Later in Taiwan she enlivened regional meetings and celebrations by setting her own words to well-known tunes to really capture the spirit or event such as a birthday of one of the Sisters.
In 1985, Irene returned to China as a teacher of English at the Institute of Technology in the Guangdung Province and at Fuzhou University, Fujian Province. Although often reluctant to be assertive about her own needs, returning to China was something Irene had truly wanted to do and the Taiwan Sisters were happy to see her fulfill her dream.
In June 1989, Irene, along with other teachers, again had to leave China when the universities were closed after the army's suppression of student demonstrations in Tienamen Square on June 4. As soon as the universities reopened, she returned to China and taught for another two years. Irene's passion for teaching was obvious to all who knew her and especially her students. One of the students handed her the following letter after her last class. (In China, Sisters are not addressed as 'Sister' nor do they wear the habit or any obvious religious symbol.) "To my dearest teacher, Miss Fogarty, I remember my first impression of you. You came in with a heavy bag, your gray hair showed that you were not young, but your pink skirt, your brisk walk, your kind smile and your loud voice indicated that you were young and energetic. You were quite different from what I had thought. I used to think that old teachers cannot make their classes lively and interesting. I knew I was wrong as soon as I took your lesson.
"We have learned a lot from you during these two years. From you we know how to think, how to love other people and how to deal with difficulties. Your attitude toward life gives us a deep impression. It seems you never lose heart no matter what happens. When I meet difficulties, I always think of your smile. Your smile encourages me, and I know I will not give up. Now, you are going back. How I wish you would never leave! I'll cherish your smile in my memory! I'll remember you forever."
Irene regularly wrote to over 100 of her former students in China. We thank the Taiwan Sisters and the Sisters from Irene's group – Mary's Group – for sharing their reflections and recollections of Irene. We welcome our Maryknoll brother, Father Peter Brian, with whom Irene has shared mission in Taiwan, who will preside at this Eucharist of the Resurrection.