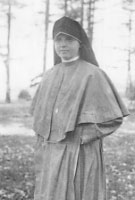 Sister Irene Sullivan, MM
Born: May 5, 1901
Entered: September 24, 1924
Died: May 26, 1974
Many of you will be surprised at the news that Sister Irene Sullivan died quietly and peacefully at Bethany on Sunday, May 26, 1974, about 3 P.M. Though she had been through more than one medical crisis over the past two years, we didn't expect death on this particular day. In fact she had phoned the Sisters at the Cloister at noon to tell them that one of the priests was having difficulty breaking the host and she felt that they would want to know about it. Then she extended her greetings to all.
Sister Irene had reached her 50th year of Maryknoll dedication and had wanted so much to celebrate the actual anniversary of entrance, September 24th, with members of her immediate family but God had other plans for her. Happily, she was able to celebrate her Golden Anniversary quietly at Bethany with the other Jubilarians on April 27th. Her friends and benefactors with her brother, were able to join the gala celebration at the Center the following day.
How much she missed her Sisters at the Cloister, despite her beautiful spirit of surrender, can be guessed from a note she wrote to "everybody on the hilltop" after celebrating with them the Feast of St. Therese last fall:
"It is difficult to describe what yesterday (Oct. 1, 1973)meant to this absent Sister. Every minute was precious….I reached this point (in writing this note) when I called the Cloister to thank all for what they did to make my day such a happy one and Sister Madeline said she would do it for me. I thought later I would wind up this note and send it along but only after I tell you that I have accepted my residing at Bethany until God calls me home. It is not easy, but I believe it is God's will for you and for me. I hope you will continue to keep me in your prayers."
Sister Irene Sullivan was born on May 5, 1901, at Hull, Massachusetts and entered Maryknoll from Framingham, Massachusetts on September 24, 1924. She began her missionary career by working at the Field Afar Offices in 1925 and then was assigned two years later to be Mother Mary Joseph's secretary. Then on October 4, 1932, two years after her final profession of vows, she entered the Cloister, as one of the "pioneers" of the group of ten Maryknoll Sisters whom Mother Mary Joseph and Bishop Dunne escorted to our hilltop. She states this understanding of her missionary vocation when in 1971 she wrote to Sister Barbara Hendricks,
"Thank you for my mission cross. I always wanted one and it is a great joy to have one though I shall never see the missions. But are not all our missions,my missions? Be assured that you and all our missions have top priority in the apostolate of suffering God has seen fit to give me"
As recently as April 15th, Sister Irene, wrote what was no doubt one of her last notes, saying in part,
"Thanksgiving and praises fill our hearts this Golden Jubilee for fifty precious years of consecrated service to Jesus and Mary in loving union with my two dearest friends(Sisters Callista Gillespie and Elvira Selgas) with whom I look forward to sharing this joy in heaven"
We hope and pray that after the travail of her almost fifty years of suffering, she has indeed gone to enjoy the peace that comes from total surrender.
The Mass of the Resurrection will be celebrated on Wednesday, May 29, 1974, at 12 noon at the Cloister with Father Leo, Sister's brother as Celebrant and with her long time friend Father Frank Winslow, M.M. as homilist, followed by burial at our Cemetery.