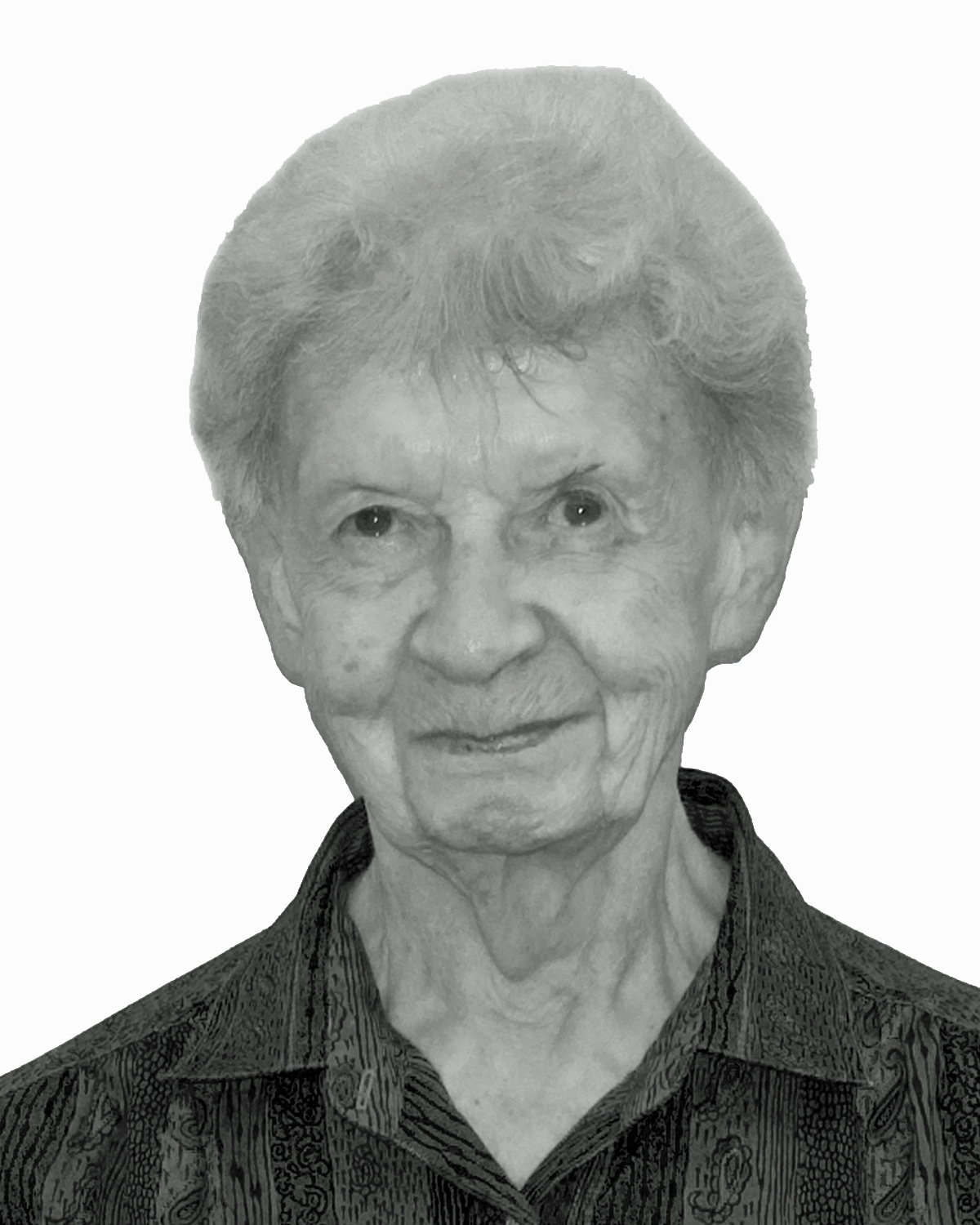 Sister James Florence Blanchard, MM
Born: September 22, 1928
Entered: September 6, 1947
Died: April 14, 2015
We are gathered today at this Eucharistic Liturgy to celebrate the life of our dear Sister James Florence Blanchard who died suddenly on Tuesday morning April 14, 2015.
Florence Blanchard was born on September 22, 1928 in Charlottetown, Prince Edward Island to James Edward a prominent dentist and mayor of the city, and Florence Gallant Blanchard, a well known artist.  Her mother died at the young age of 45.  Florence was sent to a boarding school, Notre Dame and Mt. St. Vincent, in Halifax, Nova Scotia.  She had several cousins there who watched over her and saw that she received the care and love she needed plus a good education. Florence attended High School and also studied Elementary Arts before her graduation in 1947.  Her only sister, Phyllis, married Patrick Quinn and they lived many years in Ireland before her death in 1977.
When Florence expressed her interest in becoming a religious, her pastor asked her why she did not want to enter the local community. She told him that she wanted to "spread the word of God to those who have not heard it". The pastor then directed her to the Maryknoll Sisters in New York.   She entered the Maryknoll Sisters Congregation on September 6th 1947. In one of her letters, her high school principal wrote, "We found Miss Blanchard a young lady of neat attractive appearance, very pleasing personality and good habits, always courteous and most willing to cooperate with others". Those who knew James Florence would say this was the "Hallmark" of her total life.
Sister made her first vows at Maryknoll, New York on March 7, 1950 and received the name Sister James Florence. She made her final vows in Tanganyika, East Africa on March 7th 1953. After first profession Sr James Florence assisted in the administration offices at the Motherhouse, but soon her wish came true, when in 1952, she was assigned to Tanganyika, East Africa. Sister Margaret Rose Winkelmann, then superior in East Africa, assigned her to Kowak Maternity Clinic and Dispensary to work with Sr. Mary Bowes and to receive some medical exposure. After about one year, Sister was assigned to Nyegina Mission.When the new mission of Rosanna was established, she and Sr Margaret O' Brien were sent to open the new house there.  At all of her missions she was engaged in catechetical work, women's development, home visiting and teaching sewing skills to young girls in remote villages in the vicariate of Musoma. Almost daily she was on the road and was able to change tires when stuck in mud without getting any of the mud on her white habit! Sister Margaret Rose Winkelmann wrote of Sr James Florence, "She has adapted herself easily and naturally to conditions on the missions. She is generous, has a pleasant and even disposition". The people found her name long and difficult to say, so they named her "Sister Jamesi" and this name followed her throughout her mission life. When Jamesi was assigned to a different mission place she said "I will miss Isongo, but every mission is Home".
In January 1961, after her furlough at Maryknoll, New York, she returned to East Africa with Sr Anita MacWilliam. They sailed on a cargo ship named The African Crescent. Her sense of humor is clearly seen in the letters written during that voyage. At one point the ship docked at Beira, Mozambique (now Msumbiji). Writing a letter from there, the Sisters wrote: "If ever a Jesuit tells us about composition of place in reference to meditating on the four last things, especially the 4th last thing, HELL, we will just think of Beira and the blistering heat, humid, sweltering, damp, torrid 14 days we spent there". However on arriving in the harbor of Dar Es Salaam, Tanganyika and seeing Sr Dolores Marie and Sister Mary Ann Fuchs coming in a barge to meet their ship, all the trials of the long voyage were forgotten and they felt they were now home again with Maryknoll in Tanganyika.
When the new mission of Bwiregi was opened, Jamesi was assigned to continue her ministry among the Wakuria women. In May of 1974 Jamesi suffered a severe stroke. Sisters Miriam Agnes O'Keefe and Margaret O'Brien administered First Aid. Then immediately, Fr Edward Hayes and Sr Agnes got her into a car for the long (over 10 hours) and tedious trip over rough dirt roads to Mater Hospital in Nairobi, Kenya. Jamesi had suffered an aneurysm of the brain, was unconscious, could not speak or swallow and her right side was paralyzed. She received excellent care at both Mater and Nairobi Hospitals with Agnes at her side. As soon as she was able to travel Jamesi returned to Maryknoll New York in August 1974. For 22 years Tanzania was Jamesi's home as we can see so well in the Maryknoll movie "Bride of Africa".
After her arrival in the U.S., Jamesi went to Burke Rehabilitation in White Plains, NY for speech evaluation. She made great progress and Sr Kathleen Keane and Sr Emily Hodrus, continued to work with Jamesi at Maryknoll.  We saw with our own eyes Jamesi's determination to recover -walking, speaking and entering into life at the Maryknoll Center. She was a member of the Seashells House group and in 2012 became a member of the Eden community.
Jamesi was able to perform Congregational Service as the Mail Room Clerk from 1989 to 2007 and then became a volunteer there in 2008 until her fall in 2014. She was always courteous, pleasant, had a generous spirit and lovely disposition.  Jamesi was 86 years of age at the time of her death and a faithful member of the Maryknoll Sisters Congregation for 68 years.  Always thinking of others, Jamesi donated her body to science.
We welcome today our Maryknoll brother, Father Robert Jalbert, who will preside at our Memorial Mass to celebrate the life of our Sister Jamesi.