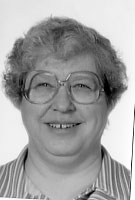 Sister Jane Gregorich, MM
Born: August 5, 1932
Entered: September 6, 1951
Died: March 29, 2001
"May my roots go down deep into the soil of God's wonderful love and may I be able to understand how long, how wide, how deep and how high God's love really is; and to experience this love for myself though it is so great I will never see the end of it, or fully know or understand."
Today's first reading from Ephesians offers us a striking reflection on the life of our Sister Jane Gregorich whose life-long commitment to the mission of Jesus in Chile, Guatemala, El Salvador and the United States was continually given new life through the many relationships she formed with the people with whom she lived and worked.
Sister Jane Gregorich died peacefully on Thursday, March 29, 2001, at Phelps Memorial Hospital. Jane was sixty-eight years of age. She was looking forward to her celebration of fifty years as a Maryknoll Sister at our Golden Jubilee here in May.
Jane Grace Gregorich was born August 5, 1932, in Joliet, Illinois. Jane and her twin sister, Joanne, were the youngest of nine children born to John Gregorich and Jennie Jerman Gregorich. She had two brothers and six sisters. Jane attended St. Joseph Elementary School in Joliet and graduated from St. Francis Academy in 1950.
Jane became interested in religious life while still in elementary school. She focused more specifically on cross-cultural mission while in her first year of high school and finally contacted Maryknoll during her senior year. Years later, when asked why she became a Maryknoll missioner, Jane responded, "I just knew that I really wanted to go and help the poor in other countries." Jane entered Maryknoll on September 6, 1951, at Maryknoll. At Reception, she received the religious name of Sr. Marie Michel. She made her First Profession of Vows September 8, 1954, and her Final Profession of Vows on the same date in 1960 at Maryknoll.
Jane attended Maryknoll Teacher's College where she received the Bachelors of Education degree in 1960. Upon graduation, she received her assignment to Chile. Jane would spend the next seven years as an elementary school teacher in Santiago. She taught grades 1 and 2 in a parish school that was established for poor children who could not otherwise afford to go to school. After one year teaching in Curepto, Jane returned to Santiago. The next five years found her in Talcahuano where she was involved in a variety of educational and pastoral ministries.
Jane returned to the U.S. in 1973 to help care for her parents. Following this, she offered to give Congregational Service working in the Communications Office for one year and then as a member of the Center Council. In 1977, Jane returned to Chile where she did catechetical work first in Copiapo and later in Puente Alto. In 1980, Jane joined the Development Department at Maryknoll where she would spend most of the next seven years working in mission education and promotion.
In 1987, after Congregational Service, Jane made the decision to change Regions and applied to the Mexico-Guatemala Region. After arrival in the Region early in 1988, she chose ministry in Guatemala at the hospital in Jacaltenango. Jane worked as the Director of the Nutrition Center at the hospital. Her responsibilities included teaching nutrition and food preparation to indigenous women as well as supervising the care of malnourished children. Health and hygiene were always important themes at the Center. Malnourished children and their mothers lived at the Center for several months until the children's nutritional status improved and the mother was able to care for the child at home. Health work was new to Jane and she found it extremely challenging. She felt a deep sense of accomplishment when a malnourished child was discharged from the Center to return home in good health.
In 1991, Jane went to El Salvador where she was involved in pastoral work in an urban area of San Salvador. She returned to Maryknoll in 1992 for Congregational Service. She worked in Mission Awareness/Promotion from 1993-1997 and then as a clerk in the Mail Desk section until the present time.
Everyone who knew Jane commented on her generosity. She was always willing to help wherever there was need. Whenever someone was looking for volunteers to help with anything, Jane was quick to respond. She always seemed to be able to anticipate where she could be of assistance and made herself readily available. Last Tuesday morning, she had planned to arrive late to the office as she had to go and have a passport photo taken in preparation for a family trip this summer to Europe to visit her father's birthplace in Yugoslavia. Jane went to the office first and made coffee as she always did and then went across the street to have her photo taken. She was on her way back to the office to begin work when she became ill and collapsed.
In an interview last October with the Catholic Explorer, the Joliet Catholic newspaper, Jane noted that she planned to be in the U.S. until 2002. She stated that her intention was to go "anywhere that I could use my Spanish to help people help themselves." Jane added that she saw her own role as a missioner as that of a catalyst in the process of helping the poor to help themselves. She stated: "The poor were active in ministry with others as well as in teaching their own children. This was the way that they could help others and make the church vibrant and alive."
We offer our deepest sympathy to Jane's family. We welcome our Maryknoll brother, Father Thomas Henehan, who will preside at this Eucharistic Liturgy of Christian Burial, and Concelebrant, Father James Starasinich, Jane's cousin, as we lovingly remember and give thanks for the life of our Sister Jane.