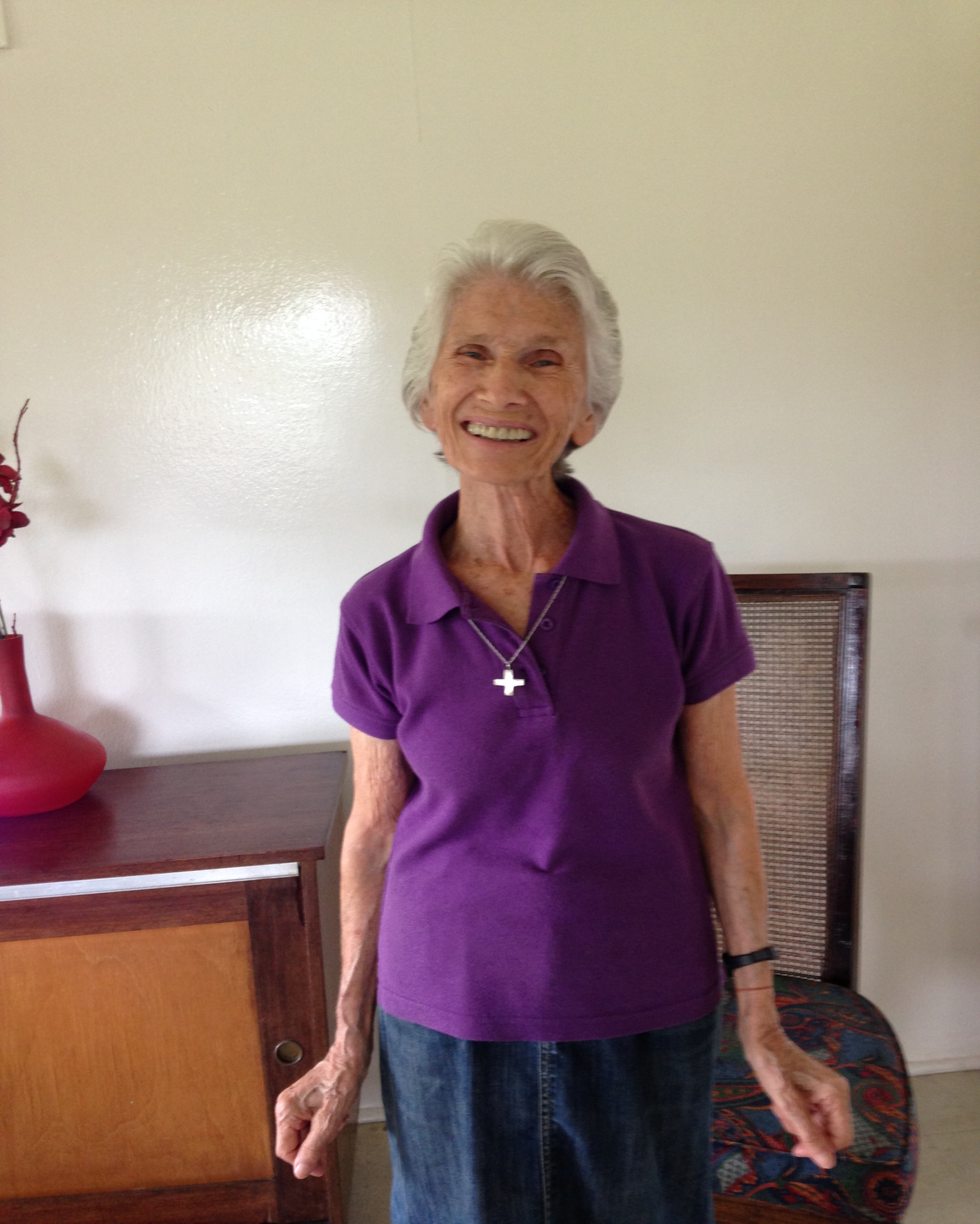 Sister Jane Zawadzki, MM
Born: April 20, 1929
Entered: September 6, 1950
Died: August 3, 2017
In the early morning hours of Thursday, August 3, 2017, our much loved Sister Jane Zawadzki died peacefully at Maryknoll, N.Y.  Jane was 88 years old and had been a Maryknoll Sister for 67 years.
Jane (Janina) was the youngest of five girls and three boys born to John Zawadzki and Angela Wioncek Zawadzki, who had immigrated to the United States from Poland.  Jane and her twin brother John were born on April 20, 1929 in Brooklyn, NY.   John predeceased her, as have her parents, her brother Matthew, and her sisters Agnes Binkowski, Stella Barsz and Natalie McGuinness.  She is survived by her brother Joseph Zawadzki and his wife Rosemarie of Queens, NY, and her sister Carolyn Goldman of Albertson, NY and several nieces and nephews.
Jane did her primary education with the Felician Sisters who Jane highly praised.  They became her models.  Since Polish was spoken in her home, Jane did not speak English until she went to school.  She often recounted how the Sisters insisted that their students have a good base in English.  After graduating "cum laude" from 8th grade, Jane attended Girls Commercial High School in Brooklyn, earning her diploma in 1947.   She worked for three years as a clerk with the Metropolitan Life Insurance Company before entering Maryknoll from Our Lady of Consolation Parish in Brooklyn on Sept. 6, 1950.  At reception she received the religious name Sister Marysia Franck, but later received permission to drop the second part of the name.  She was thus known as Sister Marysia until several years later when she returned to her baptismal name Jane.  She made first profession of vows at Maryknoll, NY, on March 7, 1953 and final profession on the same date in 1959 in Siuna, Nicaragua.
Jane's first assignment was in 1956 and her subsequent 53 years in overseas mission can be seen in three clear and significant experiences.  The first ten years were spent in Siuna, Nicaragua, a poor, remote mission where the Sisters' stories and spirit of comraderie and friendship are legendary to this day among Maryknoll Sisters in Central America.  Jane was a primary school teacher in Siuna and having learned well from the Felician Sisters, she was intent on giving her students a good base in the subjects she taught.  At the same time, like the other Sisters in Siuna, this city girl learned to ride horseback in order to visit students' families.
Her abilities as a primary teacher were called upon again in her second mission experience from 1966 to 1984 at Colegio San Vicente in Panama City, Panama. During the 18 years she spent in this mission, working with the Vincentian Fathers in the school and doing catechetical work in Sacred Heart Parish in Ancon, Jane became a legend on her own.  One could not go anywhere with her in Panama without someone she had taught or had worked with calling out to her.  They were eager to update Jane on their lives and praise her endlessly for how well they were doing thanks to the good educational base she had given them.  She had been firm and exacting, insisting on excellence, but all seemed to recognize how good, loving and interested Jane was to each one.
The Vincentian Fathers eventually turned Colegio San Vicente over to the Archdiocese of Panama and to lay leadership.  With no other sisters in the school Jane chose to give Congregational Service.  From 1984 to 1987 she worked in the Treasury Office at Maryknoll, NY.   When leaving Panama at this time, Jane was given the Panama Canal Commission's Master Key award in the order of Celestial Beacon.  She returned to Panama in 1988 and with pride said that at the age of 60 she was making a major personal transition from teaching in a school to pastoral ministry in a parish.  This began her third and longest mission experience.
Jane spent the next 25 years in Las Mañanitas, a then rapidly growing area on the outskirts of Panama City.  People from rural areas of the country were migrating to the area, living in make-shift houses in order to claim small pieces of property until they could gradually build more stable cement block homes.  Jane found her teaching talents were easily transferable.  She grew with the people, the parish and the geographical area that more than doubled during her time there.  From the beginning she was one with the people, providing both serious content and constancy in personal formation and in building the parish community and multiple small Christian communities.  Her gentle, friendly manner and love for the people led her to excel in many things for which she seldom gave herself credit.  She became so well known in Las Mañanitas that even the taxi drivers used "La casa de la Hna. Jane" (the house of Sister Jane) as a reference point for giving directions in the heavily populated area where streets and paths had no names.
When news of Jane's death reached Panama, a Mass was celebrated in San Jose Church in Las Mañanitas on the following Monday, August 7, presided by the current and former pastors with whom Jane had worked.  Former students and many other friends in Panama were in attendance.  It is not surprising that Jane chose Panama for her prayer ministry.  We would like to both praise and thank the housekeepers, nurses and aides who have lovingly cared for Jane during her difficult illness.  Her many friends among the Vincentian Fathers have sent condolences and regrets that they could not be present today.  As one said, "Her wonderful example encourages us to continue a spirit of selfless service and gentle perseverance."  Today's Memorial Mass is being celebrated for Jane who has bequeathed her body to science.
We welcome Maryknoll Father David LaBuda, another missioner to Central America who will preside this Memorial Mass for Sister Jane.