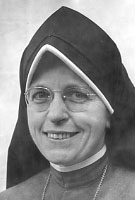 Sister Janet McConnell, MM
Born: August 11, 1911
Entered: December 8, 1938
Died: January 15, 2008
Early Tuesday, January 15, 2008, just before the 7:00 o'clock Community Mass, Sr. Janet McConnell died in Residential Care IV, Maryknoll. She was 96 years of age and was to have celebrated her 70th Anniversary in Maryknoll next month. Thus ended Sister's wonderful personal presence, a characteristic remarked upon no matter where she was in mission. Perhaps no where was that presence more evident than on 4th floor, where she is said to have ministered daily to both Sisters and staff. Even in the dining room she will be missed as a treasured "lady of the round table," a person of joy, compassion and wit.
Rose Monica McConnell, sometimes called Rosemary, was born on August 11, 1911, the daughter of David and Rose Carpenter McConnell in Cromarty, Manitoba, Canada. She had two sisters and three brothers including Fr. John F. McConnell, Maryknoll priest and renowned Scripture scholar.
Rose graduated from St. Ursula High School in Dublin, Ontario, in 1931, which was followed by a year of secretarial studies at Loretto Commercial College in Toronto, Ontario. After working several years as a secretary in Detroit, Michigan, Rose entered the Maryknoll Sisters from Gesu Parish in the Diocese of Detroit on December 8, 1938. She made First Vows at Maryknoll on June 30, 1941, and received the religious name of Sr. Mary Janet which she retained for the rest of her life. She was assigned to Hawaii in 1943 where she made her Final Vows on June 30, 1944. On November 6, 1944, she became an American citizen.
At the time of Sister's assignment World War II was raging, consequently, there was no air travel and ocean travel was dangerous. She was among a number of Maryknollers whose departure from California on a freighter was "top secret". Upon arrival in Honolulu, Sr. Janet was one of four Sisters assigned to staff the Social Service Agency of the then newly established diocese of Honolulu. Only one of the Sisters had formation in social work, so Sr. Janet was assigned to be Intake Person for the agency. Her very manner and interest in people made her a natural for social work. This was confirmed in 1949 when she was assigned back to the Maryknoll to do studies that led to a Bachelor of Arts degree at Manhattanville College, Purchase, NY, and a Masters degree in Social Work at Fordham University in New York City. Sister returned to Hawaii in 1955 and resumed work at the Social Service Agency where she expected always to be in mission. In 1960, however, she was surprised by an assignment to the Bolivia-Peru Region. Following language study in Cochabamba, Bolivia, she worked for one year in Lima, Peru. In 1962 Sister Janet returned to Bolivia where she worked in the parishes of Montero and Santa Cruz for 17 years, with the exception of four years, 1971-1974, when she served as Furlough Director at Maryknoll, New York. In Bolivia her social work consisted mostly in assisting people to cope with the problems that arise from extreme poverty. She found the work satisfying. She told of one of her favorite mission experiences in 1968 when floods drove farmers from their land. With the sponsorship of the Bolivian government, Sr. Janet and another Maryknoll Sister accompanied 300 flood victims into the jungle to where they had received grants of land to re-establish their lives. It was a short-term ministry, but Janet felt it enabled her to share the lives of the people in every way.
Sister Janet seemed to know herself well and requested to return to the United States in 1979 when she felt she was still active. Her departure from Montero, Bolivia, was a sad one for the people which was described in a newsletter by the Sisters in Bolivia. Although Janet was a diminutive woman in size and self-appraisal, for the Bolivians she was the opposite in heart. In the article the Sisters noted that when Janet arrived in Montero she "almost magically became a part of people's lives." One woman was quoted as tearfully saying, "She cares for us, for all of the poor, as if we were her very own life, her very own body and soul.. .she's our mother." Maryknoll Father Dennis Brown, a friend, said of her: "We have been fortunate in these past 17 years to know Janet. And in knowing her, to have seen and touched the compassion of God."
Upon her return to the States, Janet assisted the Promotion Team in California from 1979 until 1986 as the office moved from San Pablo, to San Francisco and finally to Monrovia. She chose then to retire at Monrovia though she remained active in pastoral work by weekly visits to a nursing home in the nearby town of Duarte. She also continued to do social work volunteering a half day a week as receptionist at the Santa Anita Senior Center. She chose to return to the Maryknoll Center in September 2001, and in November 2003 she made the decision to move to Residential Care IV because of health concerns.
Janet's compassion and her enthusiasm for life seemed to make her oblivious of her age and health conditions. Two days before she died she had asked one of the Sisters, "To pray that I get well." Earlier she had said, "My mind and heart want to keep up with everything, including world news, especially where people are suffering." In a 2004 interview she had said that "being in Residential Care we can be in mission to one another, and we can share with our aides, nurses, the housekeeping staff.. offering whatever we can for others – like sticking with a walker when I want to graduate to a cane! Each night I tuck everyone into my heart — the promised prayers, all my loved ones here and beyond I felt most like a missioner visiting people who had troubles or had been abandoned, listening and caring for them. Now I am on the receiving end from my Sisters and our caring and compassionate staff Being here is my mission." Sister Janet's prayer ministry at this time was her beloved Bolivia.
The stories and sentiments recounted about Sister Janet are endless. As a dear friend of hers on the 4th floor wrote: "Mother Mary Joseph once said, 'I wish all my daughters to be noble women.' Our Janet was truly the noblest of the noble."
We offer our sincere condolences to Sister Janet's family.
Sister Janet has donated her body to science. The Memorial Liturgy for her today will be presided by Maryknoll Father William Coy. We are happy to welcome him, another Bolivian missioner, as we celebrate the wonderful life of our Sister Janet McConnell.