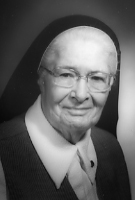 Sister Jeanne Therese Oshrin, MM
Born: September 10, 1918
Entered: December 7, 1939
Died: December 11, 2010
Sister M. Jeanne Therese Oshrin died peaceflully in the Maryknoll Sisters Residential Care IV on December 11, 2010. She was 92 years of age and had been a Maryknoll Sister 71 years.
Adeline (Sister Jeanne Therese) Oshrin was born to Pauline (Orkin) and Paul Oshrin, in Brooklyn, NY on September 10, 1918. She had three sisters, Zelda, Racie and Celia.
Adeline attended Public School No. 16 and Girls Commercial High School, both in Brooklyn, graduating from the latter in June 1936. Her long standing friendship with Jeanette Magona from a neighboring Italian Catholic family in Brooklyn was a major influence in her decision to become a Catholic. Two days after her graduation from high school, she was baptized Adeline Mary and became a member of Epiphany Parish. Jeanette was her Godmother. Reflecting on this moment 50 years later during her Golden Jubilee celebration as a Maryknoll Sister, Sister Jeanne Therese said, "I have no regrets regarding my life choices – first to become a Catholic and then to join Maryknoll." And this was truly evident throughout her life in her devotion to Maryknoll, her ministries and in fidelity to her religious life. Her friend Jeannette became a Maryknoll Sister taking the name of Sister Adele Marie Magona, after her dear friend Adeline.
At confirmation Adeline Mary chose the name Therese. Adeline Mary worked for several different companies for the next three years, and in 1939 she entered the Maryknoll Sisters in Ossining, NY from Epiphany Parish in Brooklyn. She received the religious name Sister Mary Jeanne Therese which she retained throughout her religious life. She made her First Profession of Vows on June 30, 1942, and her Final Vows on the same day in 1945 at Maryknoll, NY.
In 1943 Sister Jeanne Therese was assigned to Bethany, a retreat house for lay people in Ossining. In 1945, she began working for the Maryknoll Society at The Field Afar office doing secretarial, supervisory and editorial work. In 1948 she was assigned to the Philippines shortly after the devastation of World War II in that country. There she was to spend twenty years of her missionary life. With the exception of one year in 1953, when Sister Jeanne Therese worked in the school office at St. John the Baptist College run by Maryknoll Sisters in Jimenez, Misamis Occidental in Mindanao, she served as secretary to Sister Miriam Thomas, who was President of Maryknoll College in the Philippines.
Sister Jeanne Therese was assigned to Hawaii from 1960 to 1968. There she served as part-time teacher at St. Anthony School in Maui and in the school office. She then spent two years as local secretary to the Superior at the Motherhouse in NY.
In June 1965, after hearing that her dear childhood friend and mentor, Sr. Adele Marie was suffering from a terminal illness, Sister Jeanne Therese wrote to Mother Mary Coleman "…Sister [Adele Marie] and I grew up together and she did much, after the grace of God, to instruct me in the Faith. When I was baptized, Sister was my Godmother and she has been one all through the years in every way… I've always been very grateful to God for her."
Returning to the Philippines in 1968, she resumed her former ministry as secretary to the President of Maryknoll College with the additional responsibility for the physical plant and in charge of construction work of the new Maryknoll College building and campus in Quezon City.
In 1977 in compliance with the Presidential Decree No. 176, mandating that all educational institutions be owned, controlled and administered by Filipino citizens, the Maryknoll Sisters relinquished the ownership and administration of Maryknoll College to the Maryknoll Foundation, Inc. This was not easy for Sister Jeanne Therese who had given so many years of her life to this ministry. She went to Davao City serving, with renewed enthusiasm, in administration and fund raising for the Davao Medical School Institute of Primary Health Care. She returned to the Maryknoll Center in NY in 1979 where she gave 24 years of faithful service in the Direct Mail office and as Secretary in the Mission Awareness Promotion Office until her retirement in 2004. Her co-workers experienced her as the "heart of the office!"
The following is an excerpt from a letter Sister Jeanne Therese wrote in May 2003 to the Congregational Leadership Team, who invited members of the community to share their gifts and talents:
"I feel that at Maryknoll I have received more gifts and talents than I have had to offer… It has, indeed, been a very grace-filled time for me since I entered on December 7, 1939. As far as gifts and talents go, I have had good health and have been able to contribute that aspect here at Maryknoll, in the Philippines and in the six years I was on Maui, Hawaii… Perhaps my greatest contribution is my prayer life. This is an absolute necessity for me and involves all I do."
In 1993, the members of the of Maryknoll College Class of 1968 gathered for their reunion at the Maryknoll Sisters Center in New York, expressed their appreciation for Sister Jeanne Therese's contribution to their student life, "We really mean it when we say we were 'energized' by your presence."
In 2006 failing health necessitated Sister Jeanne Therese's moving to the Maryknoll Residential Care Unit III where she resided until a few days before her death when she was transferred to Unit IV. At the time of her death, two Sisters were praying quietly at her side. Sister Jeanne Therese had taken the Mission Institute for her prayer ministry.
We welcome Sister Jeanne There's family and friends. We also welcome and thank our Maryknoll brother, Father Joseph La Mar, M.M., who will preside at this Liturgy of Christian Burial.