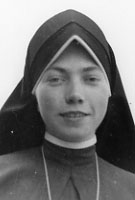 Sister Jessie Lucier, MM
Born: February 23, 1902
Entered: June 8, 1922
Died: February 14, 1987
In a week of celebration – of our community feast day of canonical recognition and of First Commitment – we gather once again, this time to celebrate the conclusion of a life journey with God. Sister Jessie Lucier died at 4:20 P.M., on February 14, 1987 in her home on Long Island.
Jessie Mary Lucier was born in Loretto, Minnesota eighty-five years ago, on the 23rd of February, 1902, the child of Edward and Olive Merle Lucier. She had two brothers, Donald and Maurice. She first attended one-room schools in rural Montana and completed high school in St. Paul, Minnesota.
Jessie attended the College of St. Catherine for one year before she was accepted into Maryknoll in 1922 and, when she was received she took the name "Sister Mary Francisca". She made first vows on December 8, 1924 and final vows here at Maryknoll in 1927. In those sane years, she received a degree in Biology at Catholic University. Upon completion of that degree, Jessie was assigned to Hong Kong; nine months later she went to the Philippines where she taught high school science at Malabon for five years. She was an excellent science teacher and was appreciated for her work with the students, but large community life was never easy for her.
Jessie returned to the United States in 1936 and was in various Congregational houses and works as well as at the Motherhouse until the mid-1960s.
In 1965 Jessie began taking courses in Braille at the Jewish Guild for the Blind which led her to earn a scholarship for a Master's Degree from Columbia University in Special Education for the Handicapped. She then worked as a home teacher for the Lighthouse in New York City. She wrote to Mother Mary Coleman in 1965: "I cannot resist this opportunity of sharing my joy at having been able to do a few things for and with the blind." Way ahead of her tine, Jessie supported in 1966 a pilot project to prepare teachers for the guidance of integrated classes of blind and sighted children, a prelude to the current node of mainstreaming handicapped children insofar as is possible.
In 1969, she joined two Maryknoll Sisters who were involved with (DAYTOP) Training for Living Institute, a drug abuse program in the City. This was to be her community until she died. Her involvements were many and varied – helping with research re: drug abuse, home visiting among both blind and sighted and visiting the elderly. She became a spiritual director for her Chapter of the Catholic Union of the Sick in America and was active with the President's Committee on Employment of the Handicapped. She never missed the news and wrote both national and local Congresspersons on issues that concerned her and those she loved. An attentive, loving friend, she had a gift for supporting others in their suffering.
Jessie was always loyal to Maryknoll – both to the Congregation and to individual Sisters – and she went home to God on February 14, a day that holds great significance for Maryknollers around the world.
We offer our sympathy to Jessie's family, and welcome Maryknoll Father Pete Byrne who will lead us in the celebration of the Eucharist of Resurrection.