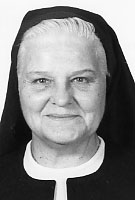 Sister Joan Bielmann, MM
Born: November 1, 1921
Entered: September 6, 1947
Died: June 28, 2005
Around 11:00 p.m. on Tuesday June 28, 2005, in our Maryknoll Residential Care IV, with our Sisters praying at her bedside, Sister Joan Bielmann's was brought into the joy of Eternal Life. Joan was 83 years of age and had been a Maryknoll Sister for 58 years.
Mary Joan Bielmann was born in Buffalo, N.Y. on November 1, 1921 to Matilda Riehle and George Joseph Bielmann. She was the second of thirteen children. Her family meant a great deal to her and she loved being a member of a family of eight boys and five girls. She often shared stories of her brothers and sisters and would remark: "When you see one Bielmann, you see all thirteen. We closely resemble each other!"
Joan attended St. Thomas Aquinas Grammar School in Buffalo and Mount Mercy Academy, for three years. In 1943 she took a five-month course at the Denny Comptometer School. Following this from 1943-1947, she worked for the Joseph Strauss Company, in Buffalo as a bookkeeper. She also did clerical work for the Pastor of St. Thomas Aquinas Parish.
Her desire to enter Maryknoll came at an early age, but because she was the oldest girl she felt she had to work to help her family. She kept her desire alive by reading books about Maryknoll Missioners. Joan wanted to become a religious "To learn more about God and be able to teach others." In addition, she wanted to be a missioner and described it in this way: "To be able to go to China or other foreign land and teach those who never heard of God. I have always wanted to help the poor and sick people."
Joan's dream was realized on September 6, 1947, when she entered Maryknoll at the Venard in Clark's Summit, Pennsylvania. At Reception she received the name Sister Mary Catherine Janet. She made her First Profession on March 7, 1950 at Maryknoll, N.Y. and her Final Profession on the same date in the Philippines in 1953.
Her first mission assignment was to the Philippines in 1950. For the next four years in Manila, Joan used her many talents, as a kindergarten teacher, bookkeeper, housekeeper, kitchen and maintenance supervisor. From 1954-1956 she taught in the high school and did maintenance supervision in Dulawan, Cotabato on the Island of Mindanao, Philippines. In 1956 she went to Manapala where she supervised the hospital kitchen and taught religion. In 1959, she went to Paco where she taught kindergarten and was bookkeeper until 1964. Joan then spent a year at Malabon and two years at Lipa, Batangas as Novice Assistant, teacher and bookkeeper. In 1967 she returned to Manapala where she was Maintenance Supervisor and acting Administrator of a 200-bed facility, at St. Joseph's Hospital until 1974.
While doing maintenance supervision at St. Joseph's Hospital in  Manapala she showed her concern for all the employees by forming a club called "SIR", S-spiritual, I-intellectual, R-Recreational Club. They held weekly meetings and some formed a Glee Club, others a Debating Club and yet others, Arts and Crafts Club, which broadened the horizon and interests of the employees. Joan was very solicitous for the welfare of each one, she would encourage them to improve themselves by going to night school and would arrange their schedules accordingly. She also arranged other activities for the employees, such as basketball teams and taught woodworking and carving. The carved creches were very much in demand. "I like this work very much, she would say, as it gives me an opportunity to work closely with the Filipinos and I have learned much from them."
Joan returned to Maryknoll, NY in 1974 where she served in a number of departments, including Housekeeping, Center Health Unit as Medicine Clerk and Home Care Aide. She also served as a Center Council Member from 1975-1977.
In 1977, she asked to transfer from the Philippines to the Center and gave as a reason: "In view of our Maryknoll Medical Facility being here at the Center in the near future, I would like to be engaged in some type of Physical and Occupational therapy work with our sick and aging sisters. I wish to transfer from the Philippine Region to the Center at this time because I have been in the Philippines for almost 25 years and I feel that I would now like to give 4 or 5 years of service here at the Center or Bethany. I would also like to have the opportunity to think about or perhaps prepare for a second career.
Always willing to serve and give of her best self, she took different courses and workshops. In 1977, Joan attended seminars and workshops in Gerontology at the Institute on Aging and Human Values at St. Thomas Aquinas College, in Sparkhill, N.Y. In 1981 ,she received a Nursing Aide Certificate after completing a program specifically directed towards geriatric care, and in 1985 she received Certification as a Nursing Assistant.
During her service in Health Care, from 1977 to 2002, Joan held positions in Center Health Unit, Maryknoll Nursing Home and later Maryknoll Residential Care. She served as Physical Therapy Aide under the supervision of Mrs. Meg McGarrity , Registered Physio-Therapist, and later worked as Nursing Aide. Joan dedicated her time to the sick and elderly Sisters. She would write letters, or do special things for them. She would spend time just being with the Sisters and listening to them. In June 2002, Joan's own health was diminishing and she was assigned as a patient to our Residential Care facility until June 2005, when she passed away.
Sister Joan Bielmann was very much the epitome of all that you will find in Mother Mary Joseph's description of a Maryknoll Sister. She was joyous, generous, mindful of others, devoted to mission and deeply spiritual.
"Her Christ like charity to the young and old was a reflection of God's love. Her Heroic Generosity, was obvious in the generous giving of her time and her talents in every possible phase of her mission life, as she said: "I am willing to do anything asked of me." She shared her Gracious courtesy and kindness to all and was unfailing in her loyalty to her Sisters and to the community. Her Adaptable disposition, was shown in her attending to whatever she was asked to do and adjusting to conditions and places. All of us observed her Solid piety, and can truly say, she was a contemplative in action. Her faithfulness to prayer, mindful of God's presence, brought comfort and peace to all. Even during her illness she was faithful to her Prayer Ministry for the Philippine Region. And her Saving grace of humor, joyful and gentle smile, brought much happiness and energy to all whom she met."
"It is the passing on of the beautiful in ourselves which makes for peace and harmony." MMJ, 1933
We are grateful to Joan for having touched us with her life and her presence among us has enriched us with peace and harmony.