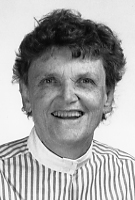 Sister Joan Campbell, MM
Born: May 7, 1927
Entered: October 30, 1947
Died: December 12, 2013
On the morning of December 12, 2013, the Feast of Our Lady of Guadalupe, Sister Joan Campbell very suddenly went home to God at Maryknoll Sisters Home Care III. She had donated her body to science and, a few days before her death, she had checked to see that all of these documents were in order. Sister Joan was 86 years old and had been a Maryknoll Sister for 66 years.
Upon hearing of Joan's death, Sister Rachel Kunkler, her close friend of 48 years, wrote: "Joan was a total gift to us in Tanzania, to Africa, to the Congregation. I always wish and pray that our new sisters anywhere in mission will have a Maryknoll Sister who is so imbued with the culture, the politics, the social issues and the love and respect of the local people, like I had in Joan."
Joan Anne Campbell was born on May 7, 1927 in Atlantic City, New Jersey, to James D. and Marie Duffy Campbell. Her parents and her seven siblings have all predeceased her. After graduating from West Catholic Girls High School, Philadelphia, in 1944, Joan was employed as an assistant bacteriologist at Franklin Sugar Company, Philadelphia, and from 1945-1947 as an assistant pharmacist at Misericordia Hospital also in Philadelphia.
Joan entered the Maryknoll Sisters on October 30, 1947 in the first group at the new novitiate in Valley Park, MO. At her Reception she received the religious name Sister Jeanne d' Arc, made her First Profession of Vows on May 8, 1950 at Valley Park, and her Final Profession on the same date in 1953 at the Maryknoll Center in New York. After graduating from Fordham University in 1954 with a BS in Pharmacy, Sister Joan was assigned to work at Queen of the World Hospital located in Kansas, MO. She studied mathematics at Villanova University in 1967, and theology at Maryknoll Seminary from 1974-1975.
In 1957, Sister Joan was missioned to the then Tanganyika, now Tanzania, and was assigned to teach Science and Mathematics at Marian College in Morogoro, a newly opened secondary school.  The education of girls was a great need at the time. From the moment she first entered a classroom Sister loved teaching. She said she "took to it like a duck takes to water" and spent most of her years in Tanzania in education. According to Sister Rachel Kunkler, her success as a teacher was due in great measure to the fact that Joan was an enabler, "She enabled others with a seemingly effortless support and belief in them… She used this same gift with the students… Her belief in others made things happen."
In 1961, Sister Joan was assigned to open and serve as Headmistress in the Isango Girls Upper Primary in Musoma.  She called this "the school on wheels" as it had three temporary locations before the buildings were finally ready, on the shores of Lake Victoria. In 1964, Sister turned over the administration to an African Sister and moved on. From Isango she returned to Marian College for a short time and then was asked to open a new secondary school for African Sisters in Kurasini, Dar es Salaam. Because the Sisters were older when finishing their religious training, it was difficult for them to continue their education in government schools.  Sister Joan opened and set up the school, was there from 1967-1969 and then turned it over to a Tanzanian Sister.
Sister Joan was gifted with an incredible mind, and a strong loving heart. She was also humble. Her friend Sister Phyllis Hilbert, SSJ, with whom Sister Joan lived and worked in Arusha, remarked, "She did not need to be recognized for her achievements or for her incredible mind."  Sister Rachel added: "She walked through life as a delightful observer, entering in which invited. Joan was a lady, gracious, supportive, but always full of integrity, and with a great sense of justice."
Following a year of Promotion work in the United States, Sister Joan returned to Tanzania and taught religious education at the Arusha Diocesan Seminary from 1972-76. She returned to the United States and from 1976-77, she taught at Fort Wright College, Spokane, WA. She was assigned to Bolivia from 1977-1981. After learning Spanish, she did pastoral work in a parish in Cochabamba.  Although very grateful for her time in Bolivia, Sister Joan realized that her heart was in Africa. She returned to Tanzania in 1982 where, for the first time in Tanzania, she used her pharmaceutical training. She spent two years in a hospital in Makiungu in the Singida Diocese where, with Sister Katherine Taepke she did medical safaris and helped replace the Sister pharmacist.
Her next assignment was back to the Arusha Diocese where she began a religious education program for teachers. Tanzania allotted two religion periods per week in all schools. Sister Joan saw that many lay teachers were willing to teach religion but did not have the background.   Sister Joan started a program entitled Religious Education for Awareness. They gave the program on weekends with excellent attendance and included many topics for personal and professional enrichment. Sister trained replacements and by 1991, she knew the teachers were ready and she turned the program over to them. Sister Joan wrote: "From the beginning it was our desire to have Tanzania counterparts to work with us, to obtain proper education for them and to turn the program over when it was well grounded."
From 1992 to 1995, Sister Joan gave service at Maryknoll in the Mission Projects Funding Office. Her friend Sister Phyllis wrote. "It seemed she wrote grants so concisely that the funder could do nothing but say "yes." The phrase she taught me I continually use:  How can you help me?"
Returning to Tanzania in 1996 she did tutoring in Iringa, helping young women prepare to enter secondary school and tutoring students in Mathematics and English. This was followed by her service at the African World Section House in Nairobi, Kenya, with Sister Patricia Gallogly.
Sister Joan participated in the Tanzania Regional Government and was a Delegate to the Special Chapter of Affairs in 1968-69. She always responded willingly to any assignment she was given. When she returned to Maryknoll to stay, she left many friends and hundreds of students grateful for all she taught them, in and out the classroom. Back at Maryknoll in 1992, Sister Joan continued to be of service. She volunteered in various Congregational Services offices. She helped in the Mission Projects Funding Office, the Direct Mail Special Donors Office and in the Rogers Library.
Sister Joan's keen mind enabled her to converse on almost any topic. Her friend Sister Phyllis summed it up this way. "She could see the underlying issues and, when asked, would advise with the wisdom of Solomon. She was a mystery and was so beyond my limited interests and knowledge… She knew every aspect of history, politics, and almost any other topic worth knowing."
She was an avid reader and when her eyes failed, she used "her ears to continue learning." In 2012, her declining health necessitated a move to Maryknoll Sisters Home Care III where she remained until her death. When Sister Rachel visited last May, Sister Joan told her: "I don't have a care in the world here. Everything is provided for me." According to Sister Rachel, "She was at home; she was at peace and not resentful of a thing."
We welcome several members of Sister Joan's family who have joined us today. We also welcome our Maryknoll brother Fr. Leo Kennedy who will preside at this Memorial Mass as we celebrate the life of our Sister.