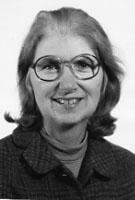 Sister Joan Carroll, MM
Born: April 8, 1925
Entered: September 6, 1947
Died: October 31, 2002
This morning as we begin our celebration of the life of Sister Joan Carroll, we welcome her many family members and friends. At last evening's Vesper Service we heard how much Sister Joan's family meant to her and how much she looked forward to your visits. Thank you for being with us today.
The gathering song which we just sang, "Here I Am Lord", beautifully exemplifies Sister Joan's spirit of openness to God and to life. She was a woman of deep faith, love and trust. Prominently displayed in her room, in large print and beautifully laminated, was the following prayer:
"Lord Jesus, help me to walk with you each day. The sorrow and joy – the pain, the failures and triumphs of my life are truly small dyings and risings that lead me to closeness with you. Free me to forgive and accept forgiveness. Give me the faith I need to walk with you always. Amen."
On Thursday morning, October 31, 2002 Sister Joan heard God "calling in the night" and prayed her final "Here I Am Lord" as she died peacefully at Phelps Memorial Hospital, Sleepy Hollow, New York. Sister Joan was seventy-seven years of age and had been a Maryknoll Sister for fifty-five years.
Joan Patricia Carroll was born in Bayside, Long Island, New York on April 8, 1925, the eighth of nine children (six sons and three daughters) to Matthew and Catherine Cavanaugh Carroll. She received her early education at Sacred Heart Grammar School and Bayside High School. After graduation, she pursued her studies at Pratt Institute College, Brooklyn, New York and received a Bachelor of Science degree in Home Economics.
Joan became interested in mission and Maryknoll through her cousin who was a Bishop serving in Patna, India, and from reading the Maryknoll magazine, "The Field Afar." She entered at Maryknoll, New York on September 6, 1947, shortly after graduating from Pratt Institute. At Reception, Joan received the religious name of Sister Teresa Francis. In 1950, she made her First Profession of Vows and that same year was assigned to the Philippines where she made her Final Profession three years later.
During Sister Joan's many years in mission in the Philippines she taught grade and high school students as well as special needs students. In 1954, four years after her arrival in the Philippines, she went to the Caroline Islands which was then part of the Philippine Region and for eleven years taught eighth grade boys and girls at Cardinal Minszenty School in Koror. Sister Joan taught all the regular grade school subjects but was particularly interested in science. She worked diligently to make her lessons both practical and interesting and often had her students work on various interesting projects and experiments. After eleven years in the Caroline Islands, Sister Joan returned to the Philippines and resumed her teaching responsibilities.
Sister returned to Maryknoll, New York in 1970 and pursued her studies at Rogers College and obtained a Bachelor of Arts degree in Education. While studying she did clerical work in the college library and volunteer work in citizenship training in the town of Ossining. She returned to her beloved Philippines in 1972 and taught high school for two years on the southern island of Mindanao before moving to Manila to collaborate with the Daughters of Charity in a Center for Displaced Persons at Santa Isabel College. At the Center, she did pastoral ministry with Vietnamese refugees.
In 1977, Sister Joan returned to Maryknoll, New York. For four years she worked in the Data Processing section of the Development Department. During this time she also participated in various Workshops and Field Placement in Special Education. Upon her return to the Philippines in 1981, she became involved in the education of special children and prepared them for the reception of the Sacraments.
Sister described her many years in mission in the Philippines as follows: "For eight years here in Baguio, I have had the wonderful and happy privilege of being in ministry with children who are mentally challenged, physically disabled, blind, deaf or autistic – telling them about God's love for them. For the last two years, I've been in ministry to deaf young adults. In working with them, I have been a facilitator and teacher. I helped the deaf connect with people who could help them in their needs. A number of the deaf students I worked with were able to develop skills to become more independent and helpful citizens in society."
Upon hearing of Sister Joan's death, Sister Ann Braudis who is currently working in Baguio wrote:
"Here in Baguio, Joan is very lovingly remembered for her extraordinary kindness to the people. Yesterday, Mr. Francisco was reminiscing about how he came to know Sister Joan. In 1987, his nine year old daughter, Janine, was in a terrible accident with third degree burns covering a large part of her body. The child was in extreme pain and the family was desperate because they quickly ran out of money for the child's treatment. Joan heard the child crying and entered her hospital room to see if she could help. Realizing the plight of the family, Joan began a successful campaign through the local radio and newspaper to raise money for Janine's treatment. Eventually Janine was transferred to Germany where she went through years of reconstructive surgery. Janine is now engaged to be married."
There are more stories to be told but perhaps this will suffice to give an idea of what Joan's presence here in Baguio meant to poor and struggling people.
On her application for a transfer to our retirement home in Monrovia, California Sister Joan wrote: "The Lord gave me a special gift in being able to relate to special children. I have the patience to be with them. However, my limitation is: I can only work with them and tell them about God on a one to one basis. Often in Baguio I did this by going to the child's home and teaching him or her there."
During her retirement years in Monrovia, Sister Joan continued preparing children for First Communion until failing health necessitated her return to the Center in 1998. At the Center, Sister Joan graciously accepted a prayer ministry assignment to pray for Bangladesh.
We again extend our deepest sympathy to Sister's family and friends. We welcome our Maryknoll brother, Father Robert Lloyd, who will preside at this Eucharistic Liturgy of Christian Burial as we remember and thank God for the life of our Sister Joan Carroll.