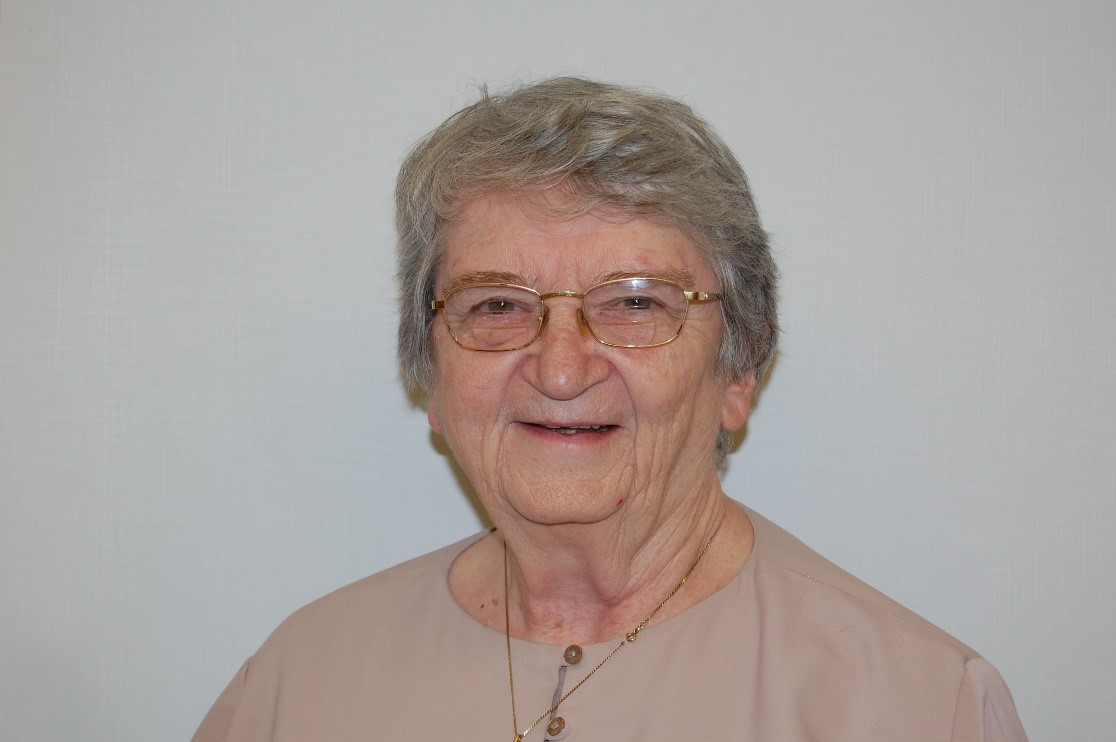 Sister Joan Chatfield, MM
Born: October 7, 1932
Entered: September 6, 1950
Died: March 1, 2019
Sister Joan Chatfield died on March 1, 2019 at Straub Medical Center, Honolulu, Hawaii. She was 86 years old and a Maryknoll Sister for 68 years.
Joan was born in Elizabeth NJ, on October 7, 1932 to Henry S. Chatfield and Angela Mc Cahill Chatfield. After graduating from Mt. St. Dominic Academy in Caldwell NJ in 1950, Joan entered the Maryknoll Sisters novitiate at Maryknoll, NY on September 6, 1950. At her Reception into the community she received the religious name Sister Dominic Rosaire. She made her First Profession of Vows on March 7,1953 at the Maryknoll Sisters Center, Maryknoll, NY and her Final Profession on March 7, 1959 at the Maryknoll Sisters' Regional House in Punahou, Honolulu HI.
Sister Joan attended Maryknoll Teachers College, Maryknoll, NY in 1952 and graduated from Manhattanville College in 1956 with a Bachelor of Arts Degree in Biology and Chemistry.  When she was at Manhattanville College, Joan was prepared and ready to go to medical school. Then she received word that a science teacher at St. Ann's High School in Kaneohe, Hawaii had fallen ill. Joan therefore was sent to substitute for the ailing teacher for one year, and has been in Hawaii ever since. For the first several years of her mission, she taught at St. Ann's High School in Kaneohe for three years, St. Anthony's High School on Maui for eight years, and at Maryknoll High School for four years.
Sister Joan earned a Master's Degree in Theology from the University of San Francisco, CA majoring in New Testament and Early Christian Community Studies and a Ph.D. in Religious Studies from the Graduate Theological Union and Pacific school of Religion, Berkeley CA with a Major in Sociology of Religion.  In 1974, she returned to Maryknoll, NY for a four-year period as Director of the Mission Institute.  She returned to Hawaii and began a life of ecumenism and interreligious dialogue based firmly on her own Catholicism and the teachings of the Second Vatican Council. Sister Joan believed that her study of Sociology of Religion clearly prepared her to initiate an interfaith dialogue among faith groups. All this brought her into faith journeys, and many connections but all with a focus on responsible change.
She became the Executive Director of the Institute for Religion and Social Change, an organization promoting peace and justice through interfaith dialogue and active work for equality and healing in many social contexts.  In 1984, Sister Joan was the first woman to be invited to preach at the Red Mass in the Cathedral of our Lady of Peace. Her theme was "Reconciliation and Responsibility."  She said "These were two virtues notable by their absence in the last legislative session."  Joan was wholeheartedly committed to the premise that change is possible and can only be achieved when we learn to respect each other's values and differences.  From 1983 to 1989, Joan was the ecumenical officer for the Catholic Diocese of Honolulu trying to make changes in churches, communities and in society. During those years she was instrumental in establishing an interfaith ministry for the frail and elderly, Project RESPECT (Realistic Effective Support Programs for the Elderly through Churches and Temples).
Sister Joan joined the faculty of Chaminade University and became the Dean of the School of Humanities and Fine Arts in 1990.  There were times when Joan was challenged by some views she held, and there also were times when Joan was the challenger. Joan believed that if the church is going to be effective as a human community, it has the responsibility to speak out for issues related to social justice.
From 1999 to 2003 Joan served as the Director of Research, Education, and Planning at the Maryknoll Sisters Center in New York. During that time, Joan made the effort to visit every Sister in the congregation who was studying in an undergraduate and graduate program to find ways in which to improve the system of education in the congregation.  She did not use her exceptional intelligence as an elite privilege, but rather as a gift in the service of others.  Joan was committed wholeheartedly to the mission of Jesus through Maryknoll.  She loved being a Maryknoll Sister. She joyfully and graciously shared enduring friendships in our Maryknoll community as well as with many others from different faiths and walks of life. In all those connections that brought so many people together she truly lived a life of selflessness.
Sister Joan's compassion was evident in her dedication to caring for Sister Maria Rosario Daley in her last years.  She was a person of deep faith in God. Her faith journey was nurtured by those who care, those willing to work for justice and equality, those energized by their own faith journey. Her Commitment to social justice, her gift of human compassion and her ability to bring people together from all religious faiths are threads that are woven through the fabric of Joan's life.   Joan was involved in numerous groups locally nationally, and internationally. She was named among the "Living Treasures of Hawaii" for her many years of education, community service, and advocacy in Hawaii.
We are happy to welcome with us this morning members of Sister Joan's family, and we are also pleased to welcome Father E.J. Resinto, the Pastor of Sacred Heart Church, to celebrate Sister Joan's Mass of Christian Burial.