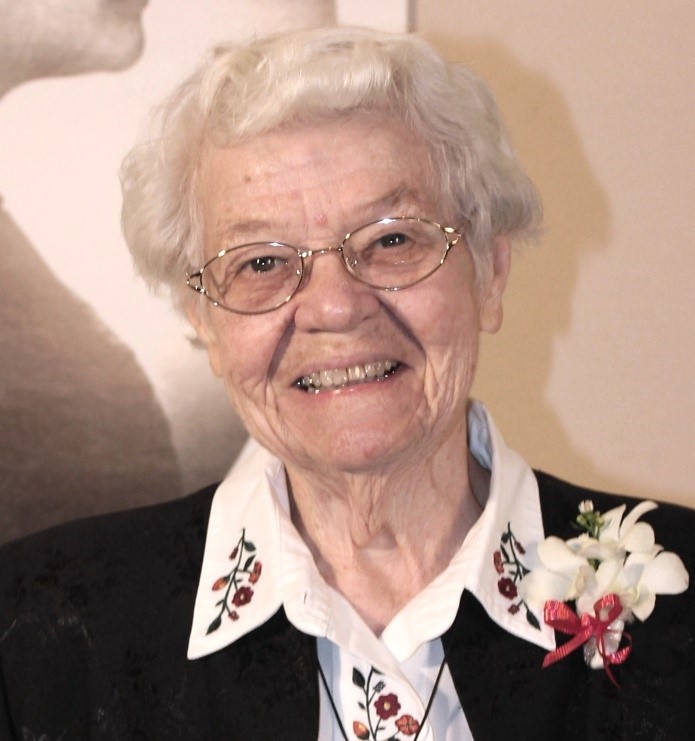 Sister Joan Crevcoure, MM
Born: October 12, 1926
Entered: October 5, 1946
Died: October 18, 2019
Sister Joan Crevcoure died on October 18, 2019. Sister Joan was 93 years old and had been a Maryknoll Sister for 73 years.
Joan Judith Crevcoure was born in Green Bay, WI on October 12, 1926. She was the third child born to Joseph Michael Crevcoure and Mae Bernadette (Fortier) Crevcoure. In 1940, Joan graduated from Annunciation Grade School in Green Bay, WI and in 1944 from West High School, also in Green Bay. She then attended Rosary College (now Dominican University) in River Forrest, IL from 1944 to 1946. It was at Rosary College, where she participated in a Vocation Club, that she resumed contact with the Sinsinawa Dominicans, her elementary school teachers, to whom she attributes her early interest in becoming a sister. At the time of her 50th Jubilee Sister Joan recalled that she knew from the third grade that she wanted to be a missionary.
Joan wrote to Mother Mary Joseph in April 1945 to inquire about entering Maryknoll. In December of that year. she wrote again to say that her parish priest recommended delaying entrance until her brother returned from overseas military service. Joan entered the Maryknoll Sisters at the Motherhouse in Maryknoll, NY on October 5, 1946. On April 6, 1949, Sister Mary Michael Joseph (the religious name Joan had received at her Reception into Maryknoll) made her First Profession of Vows at Maryknoll, NY. In 1950, Sister Joan obtained her Bachelor in Education Degree from Maryknoll Teachers College.
In 1950, after only a few months teaching at St. Anthony's School in the Bronx, Sister Joan was assigned to Hawaii. For the next twelve years, she was engaged in formal classroom teaching: 11 years in Honolulu at Maryknoll Elementary School in Punahou and one year at St. Michael's in Waialua. On April 6, 1952, in Hawaii, she pronounced her Final Vows. It was also during those years that, in 1958, she earned her Master's Degree of Education from the University of Hawaii.
At age 36, in 1962, Sister Joan was assigned to the Marshall Islands where she served until 2004. At Assumption School on Majuro, from 1962 to 1969, she taught large classes of 50 plus students in grades 5 and 6. From 1964 to 1969, she also served as principal of the school. After school hours, she offered adult education classes and helped tend Outer Islands girls who lived at Assumption School as boarders.  Sister was asked to return to Hawaii for the school years of 1969-1972 as Administrator of Maryknoll School.
In the summer of 1968, urged by Jesuit Father Lenard Hacker, Sisters Joan and Rose Patrick St. Aubin took their first trip to Arno Atoll to contact isolated and scattered Catholics who were converted to Catholicism by the German Missionaries in the early 1900s. Until 1973, trips to the Outer Islands were in summer months, long weekends, or other school holidays. This first trip seeded the future of the itinerant Outer Islands Ministry. Pastoral and educational ministries reached islands on the atolls of Arno, Jaluit, Wotje, Ailinlaplap, Namdrik, Mili, and a return to Likiep, the first mission site of Maryknoll Sisters in the Marshalls.
Sister Joan's book, Ocean Pathways, reflects life and mission during her time in the Marshalls. Most of her accounts are written in the first person plural, inclusive of those with whom she lived, the Maryknoll Sisters, others responsible for the Catholic presence, especially the Jesuits, and always the Marshallese people.
Sister Joan acknowledged the impact of isolation on herself in her first years in the islands. Early on she pondered, with Sister Rose Patrick, whether they might not do more in a wider mission field serving many more people. She wrote that they had "No assurance except that this is what God wants us to do, where God wants us to be. We have been called and sent – how we rejoice!"  Ocean Pathways (pg. 202)
Regardless of the endless concerns with transportation and procurement of supplies, pastoral and educational enrichment did happen for two-plus generations of Marshallese people. Through collaborative efforts, there were women's groups for health, family life enrichment, cooking, agricultural attempts, and basic education. The role and rights of women were celebrated and safe-guarded. Sister Joan's gifts in the educational field spilled into curriculum development and training of local teachers and principals, in the catholic and government schools. She was also adept in practical architectural planning, from water catchments to new school facilities and local churches.
Faith growth and sharing was a clear priority for Sister Joan. Outer Island trips involved gathering Catholic communities for prayer, sacramental preparation, bible study and music. The concern for the future of the small, priest-less Church Communities led to the training of local Prayer Leaders, men and women, who would be responsible on their islands for small parishes into the future. Sister participated in the translation of catechisms, song and prayer books, and a Sunday format for prayer. It is hard to find a letter or to have had a conversation in which she did not refer to God. "God is good" threaded through all. "How blessed we are to have answered when Jesus said, 'Come'." Ocean Pathways (pg. 235)
Sister Joan loved Maryknoll and was grateful for all that was possible because of being a Maryknoll Sister. She avidly read all Sisters' congregational mailings, no matter how long it took for them to arrive. She cherished renewal times to re-connect with Maryknoll Sisters and keep up-dated with changes in the world and theology.
Her life and ministry in the Pacific did not keep her heart just in the islands. There were loving stories of her parents, and times with her brother and his family at their lake shack. Her pride held strong for the Green Bay Packers. Old friends, former students and new acquaintances were all important to her.
From the Micronesia Region, Sister Joan was assigned to our Maryknoll Sisters Residence in Monrovia, CA on November 1, 2004. Her hope for retirement was for a slower pace and to contribute to our larger Maryknoll Community. Sister served on the Governance Committee while there, wrote Ocean Pathways, and was commissioned with a prayer ministry for Micronesia.
Sister was reassigned to our Maryknoll Sisters Center, on March 1, 2015, where health needs could more readily be available. Upon her death, she generously donated her body to science.
"And so the story continues within the infinite, mysterious plan of our loving Creator-God. The past changes however; some ocean pathways merge, fade or become overgrown; others lengthen or broaden; new ocean pathways open as other pathways close and the tides of time continue to wash over the moving sands of a thousand ocean shores."  Ocean Pathways (pg. 240)
We welcome Father Michael Duggan, MM as presider as we celebrate this Liturgy of Resurrection.