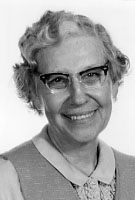 Sister Joan Gaspard, MM
Born: April 18, 1916
Entered: December 29, 1935
Died: August 2, 1982
Sister Mary Joan Gaspard's work was finished when God called her to Himself on August 2, 1982, at 5:15 p.m. Sister Joan's sister, Mrs. Irene Bolduc, along with Maryknoll Sisters Grace Dorothy Lim, Earnest Chung and Rose Lauren Earl were at the hospital as Sister quietly stopped breathing. 
Bernice Lillian Gaspard was born April 18, 1916, in Minneapolis, Minnesota, to Joseph T. and Jewel (Petra) Gaspard. She was educated by the Dominican Sisters in Minneapolis and the Sisters of St. Joseph of Carondolet at St. Catherine College, St. Paul, Minnesota. Bernice entered Maryknoll on December 29, 1935, and at Reception received the name "Sister Mary Joan." She made her First Profession of vows on June 30, 1938, and pronounced her Final Vows in Honolulu on June 30, 1941.
Sister Mary Joan received her B.A. in Mathematics in 1940 and was assigned to Hawaii that same year. She taught religion and math at Maryknoll High School until 1950; and was engaged in teacher training for the diocesan Confraternity of Christian Doctrine (CCD) program from 1952 to 1955. Sister Joan then went to St. Ann's High School in Kaneohe where she taught religion and math until the school closed in 1969. Through the years it was noted how many of her former students returned to renew acquaintance and to say thanks for all that Sister had done for them.
With the closing of the high school, Sister's ministry among the parishioners of St. Ann's began. She took the census, visiting Protestant and Catholics alike. Her gracious, joyous and lovable personality helped her make friends wherever she went. Many returned to Church and the sacraments. Sister always tried to relieve the needs of the poor as far as she could. She was a frequent visitor at the Hawaii State Mental Hospital in Kaneohe where, together with the Filipino Catholic Club, music was provided for the liturgies with the patients.
When Sister moved from St. Ann's in 1981 to the Maryknoll house on School Street in Honolulu, she became involved with the Senior Citizen respite work. Her life was full and overflowing. She loved working with the elderly and often her "old" friends cried when she was changed from one district to another. Prayer was Sister's walking and traveling companion. She worked always in the presence of God.
At 3:30 p.m. on the afternoon of August 5th, Sister Mary Joan's body was brought to St. Theresa's Church in Kalihi where she had been attending Mass since moving to School Street. The Maryknoll Sisters formed a bodyguard for the casket as it was carried to the altar. Irene, Joan's sister, Maryknoll Sisters and others followed to view the body. The Hymn "Be Not Afraid" opened the Vespers Service, with "Ecce Ancilla Domini", one of Joan's favorites, concluding the service.
Many Sisters from other communities and numerous friends came to pay their respects throughout the afternoon and evening. The elderly, whom Joan served, cried openly and spoke of how dear she was to them. She will be greatly missed.
Father Raymond Gaspard was celebrant of the Mass of the Resurrection, concelebrated with ten priests, some of whom were former students of Sister Joan's; Father John Stankard, M.M., gave the eulogy. Members of St. Ann's parish choir added their voices to the beauty of the liturgy.
August 6th, which was a beautiful Hawaiian day, at 9:00 a.m., Sister Mary Joan was laid to rest in Diamond Head Cemetery next to our Sisters who have died in Hawaii. Father Ray, together with Maryknoll Fathers Vaughn and Nolan, offered the final prayers at the grave site.