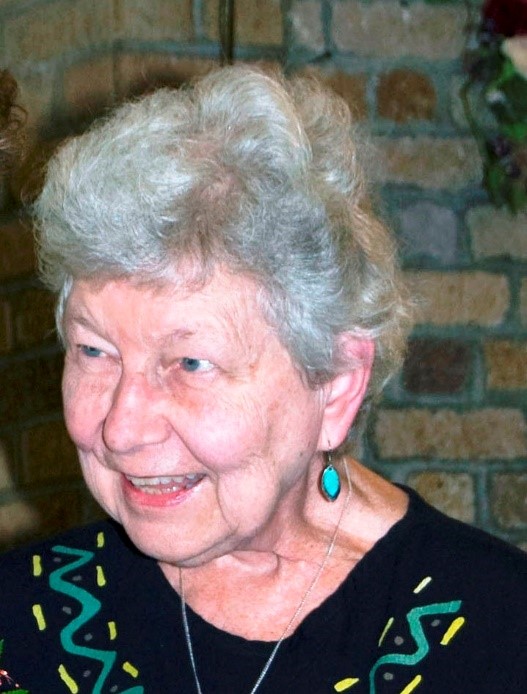 Sister Joan Marie Berninger, MM
Born: April 13, 1933
Entered: September 2, 1953
Died: February 10, 2020
Sister Joan Marie Berninger, M.M. died on February 10th, 2020 at the Maryknoll Sisters Center, Maryknoll, NY. She was 86 years old and had been a Maryknoll Sister for 66 years.
We are happy to have with us this morning to celebrate the life of our Sister Joan Marie Berninger her brother Michael Berninger; her sister, Lynne Reynolds, and Lynne's daughter Leslie Westerberg.
Sister Joan has left us what she called her Autobiographical Statement. It is this that we share with you this morning. Joan began with this quote:
"May I, like the sea, live the ebb and flow of life with beauty and grace."
Joan continues:
On April 13, 1933, I was born in LaSalle, Illinois – the first surviving child of Lillian Catherine Funfsinn and John Alexander Berninger who were struggling with the rest of the United States to move ahead in life after the Great Depression. It was a special day for my parents who had lost their first born, a son, John. It was surely a special day for me as I began the great adventure of life. April 13 was Holy Thursday, and Eucharistic "thanksgiving" has been a constant thread in my life.
Graduates of "normal" schools of the time, my parents were teachers. My father was studying to be an accountant which he abandoned to take a job to support our growing family. In 1937 they were able to buy a small piece of property in Peoria, IL where they built our tiny home. It was to be a family gathering place for the next 60 years for my sisters and brother: Janet Henderson (St. Louis), Lynne Reynolds, Sally McCarthy and Michael Berninger (Peoria) until my mom peacefully died there in 1997 – as she had wished.
I received an outstanding education from the Sinsinawa Dominican Sisters in grade school, and the Corondelet St. Joseph Sisters in High School. I am forever grateful to Sister Josita, OP who patiently gave me piano and organ lessons for 25 cents a lesson and instilled in me a treasured gift of music, and to Sister Mary Dermot, OP who raised our 8th grade consciousness to the meaning of Christian Service.
It was also the passion and dedication to mission of my high school teacher Sister Julia, CSJ that sparked my call to Maryknoll. She pointed out the three founders of Maryknoll depicted in the stained glass window of our Cathedral, and had us read the serialized story of Sister Joan Marie Ryan which was run every Friday in our diocesan newspaper. My father became seriously ill during my high school years, and I delayed coming to Maryknoll in order to help support the family. I worked as a secretary for four years, played the organ and sang at our parish Church of St. Bernard (three consecutive Requiem masses every morning), funerals, Sundays and high holy days. The Easter Vigil in those days was celebrated in the early morning with the Pastor in the Sanctuary and me in the Choir Loft. I also had a fun job as piano accompanist in a Dance Studio for ten hours every Saturday during those years.
I entered Maryknoll in September 1953. My father died in 1958, but along with my mother, he was able to be present for my Reception and my Profession.
In 1958, I was diagnosed with Hodgkin's disease and was entered into an experimental cancer treatment program at St. Vincent's Hospital in New York City. Following surgeries, radiation and chemo therapy treatments, doctors declared me "cured" in 1967 and the Governing Board assigned me to Maui, Hawaii, where I taught World Religions and was guidance counselor at St. Anthony High School with the Marianist Brothers for the next ten years.
Prior to assignment I had received a Bachelor of Education from Maryknoll Teachers' College. In 1967 I received a Master's in Religious Education from Manhattanville College of the Sacred Heart, Purchase, New York. In order to qualify to teach art and music in our college (1961-1967), the community sent me to New York University in Manhattan. The year our College closed, former teachers were called back to conduct one last class. I still delight in the painted walls of Rogers Basement which my "final" art class completed.
In 1977 I was assigned to direct the Mission Institute for five years. This was a rich and formative time in my life, opening up vistas of new theologies, meeting profoundly spiritual resource persons and missioners from around the world. I also had a unique experience of visiting Cuba during that time with the United States Catholic Mission Association (USCMA).
In 1982, I was elected Center Coordinator for a three-year term. In 1985, I was invited to become principal of a small elementary school in the new, two-year-old Diocese of Las Cruces, New Mexico. The Bishop, Ricardo Ramirez, asked me to become the first Superintendent of Catholic Schools for the Diocese where I remained for 17 challenging years. New Mexico State initiated new educational requirements during those years requiring me to pursue administrative certification at New Mexico State University. This experience earned me a second Master's in Education and life-long friends and co-workers at the State Department of Education.
In 2002 I returned to the Center as Congregational Services Coordinator working with three successive Leadership Teams until administrative restructuring in 2012. These years were truly happy ones – learning from and sharing ideas and projects with dedicated, creative lay employees and professional resource persons from outside the Congregation. In 2013, I accepted the Leadership invitation to join the Integration/Formation community in Chicago where I spent nine happy months until my good health of so many years began to break down, requiring me to return to the Center.
When my Mother learned that Maryknoll sent Sisters overseas, her one concern was that my lowest grades in school had been in geography! Over the years, learning "geography" first hand in many places has been a highlight of my life. In 1972, a National Foundation for the Humanities summer grant allowed me to study Buddhism for four months in Kyoto, Japan with visits to Taiwan and Korea. Then in 1981 I facilitated the Inter-Assembly Conference in Hong Kong. During Renewal in 1995 I pursued Mission Studies at Selly Oak Colleges in Birmingham, England. In 2002 I participated in the Joint Justice and Peace Conference in Santiago, Chile. In 2005 I was a delegate to the Inter-Assembly Conference, Cochabamba, Bolivia. I visited Guatemala and Mexico during Renewals, studying Spanish. Who else from little ole' Peoria, Illinois can say she has seen the Northern Lights, and the Southern Cross?
Mine has been a rich and happy life, and I hope a generous life. I am not a spiritual person who can draw from and quote from the spiritual wells we learn about and try to imitate. I have always lived with more questions than answers. As the end of my life draws near, I still feel very alive and daily eager for "what comes next?" The people I have known, the friends I have, my wonderful family, Maryknoll, each day – all are precious as I try to heed Micah's admonition: This is all that is asked of you: act justly, love tenderly, and walk humbly with God.
My heart is filled with gratitude.
This letter was signed by Joan Berninger
We welcome with us today our Maryknoll Brother, Father Michael Duggan, MM, who will preside at this Memorial Mass for our Sister Joan who generously donated her body to science.