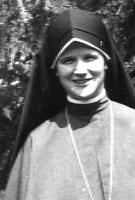 Sister Joan McKay, MM
Born: October 12, 1920
Entered: July 2, 1940
Died: August 5, 2007
Sister Joan McKay died quietly on Sunday, August 5, 2007 at 10:30 p.m. in Maryknoll Residential Care IV. Sister was 86 years of age and had been a Maryknoll Sister for 67 years.
Joan Rita McKay was born in San Francisco, California on October 12, 1920, the youngest of John and Margaret (O'Rourke) McKay's five children.
Joan graduated from St. Brigid's High School in San Francisco and studied for ten months at St. Vincent's Business School. Later she received a Certificate in Social Leadership from Coady Institute in Antigonish, Nova Scotia. Both of these trainings served her well. She was a social leader in so many ways throughout her life and always offered her expertise in finances to the community wherever she lived.
Joan entered Maryknoll from St. Anne's Parish in San Francisco on July 2, 1940 at Maryknoll, New York, where she also made her First and Final Profession of Vows on March 7, 1943 and March 7, 1946. She served at the Venard in both the kitchen and finance office, and at Crichton in the Field Afar office before being assigned to San Francisco in 1950 to serve as Assistant Procurator. Joan remained in San Francisco until 1962, serving as Superior of the House in 1956 and again from 1959 to 1962.
The San Francisco house was a hub in those days for our Sisters traveling to Hawaii and Asia. Four Sister social workers helped staff Catholic Social Service while two Sisters in the house offered hospitality to hundreds of Sisters going or coming by ship and later by plane. Joan knew every dock and airport policeman, valet and parking attendant. As a result, she almost never paid a parking fee and succeeded in leaving the car in the most convenient space!
She also had an in with Hollywood greats whom she had met through her brother and friends. The tales were wonderful, funny, and ripe with the clarity of her ability to make friends. Joan even house sat for the cats of Fred Astaire's choreographer! For those of us who lived as young Sisters with her in San Francisco she held her role as House Superior lightly and she led us well, as we all did full time social work.
In 1962 Joan was asked to come to the Motherhouse to be in charge of the Purchasing Department. Four years later she left for what is now Tanzania, very happy to have an overseas assignment. Language study was followed by a brief stay in Makoko.
In 1969 Joan was assigned to the Western Region where she lived and helped at Monrovia for thirty-three years.
In 1970 she responded to a request from St. Anthony's School in Wailuku, Maui, to go for one year to help in the business office. She then returned as planned to the Western Region, again to live and help at Monrovia. There Joan became the bookkeeper, election polling clerk and staff member and also served as the Western Region Governing Board Coordinator from 1985 to 1988. On January 1, 1989, Joan was assigned to the Senior Region, and continued to live and work at Monrovia.
The Monrovia Sisters and those in the Western Region saw Joan as a wonderful community person, always ready to listen to others and respond to their needs, be it a ride downtown, an outing, or some conversation. She had a sense of humor that was subtle and catchy.
Prayer was important to Joan. She was a great communicator, as her letters reveal. Joan was shy but able to say what she thought and helped others to do likewise. In 2003, knowing it was time to return to New York she left Monrovia. The beautiful prayer service the Sisters held for her departure included the song, "Gentle Woman". Her health required assignment to the Eden Community on August 1, 2003 during which time her prayer ministry was for deceased Maryknollers and Zimbabwe.
As we gather today to say goodbye to our gentle, caring Joan, our hearts go out to you her family.
We thank Father Ernest Lukasehek, MM, for presiding at this Liturgy of Christian Burial with us.