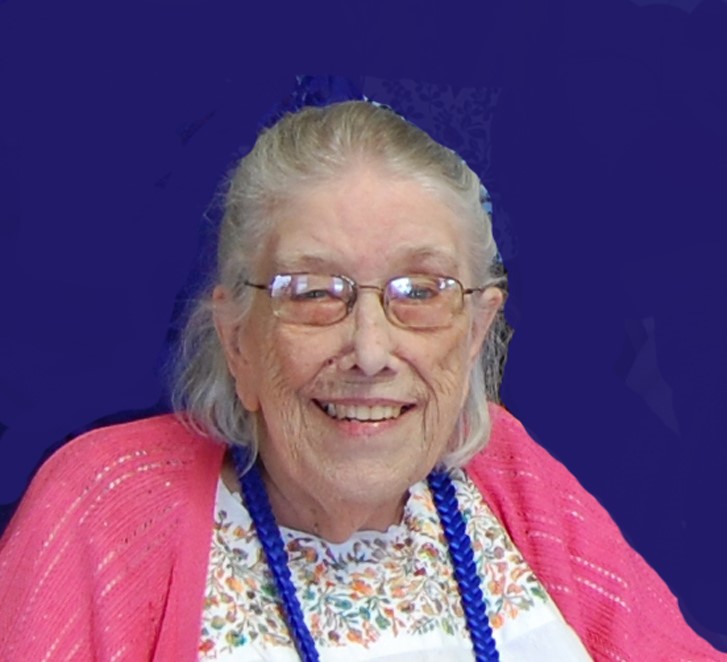 Sister Joan Uhlen, MM
Born: December 21, 1923
Entered: December 6, 1942
Died: August 12, 2019
Sister Joan Uhlen went home to God on August 12, 2019, at 1:29 pm.  Sister Joan was 95 years of age and a Maryknoll Sister for nearly 77 years.
Celeste Joan Uhlen was born on Dec. 21, 1923 in St. Louis, MO, daughter of Bernard J. and Lily Ann Pistorius Uhlen.  She had three brothers, Henry, Herbert, and Raymond and three sisters, Lorraine, Margaret and Marilyn (Sister Teresa of Jesus, OCD).  Her parents, her stepmother Ethel, and all her siblings have pre-deceased her.
Joan entered the Maryknoll Sisters on Sept. 6, 1942 at Maryknoll, NY, from Holy Ghost Parish in St. Louis, MO.  At her Reception on March 7, 1943 she received the religious name of Sister Joan Francis.  She made First Profession of Vows on March 7, 1945 and Final Profession of Vows on the same date in 1948, both at Maryknoll, NY.
Joan completed primary studies at Holy Ghost Grammar School in St. Louis in 1937 and graduated from Rosati-Kain High School also in St. Louis in 1941.  As a Maryknoll Sister she attended Mary Rogers College from 1944 to 1948, earning a Bachelor Degree in Education.  She received her first mission assignment that same year to Hawaii where she taught in St. Ann's Grade and High School in Kaneohe, Oahu until 1957 when she returned to NY and earned a Masters of Education Degree from Fordham University in 1958.  She returned to Kaneohe and served as Principal of St. Ann's Grade and High School until 1964 when she transferred to the Maryknoll School in Punahou, in Honolulu and taught English and religious guidance to grades 10 and 12 for four years.  While in Hawaii Joan continued to take courses in education and literature at the University of Hawaii.  She also began to share her gifts of playing the ukulele and the harmonica.
In 1968 Sister Joan returned to the U.S. for a renewal period and to do promotion work for the Congregation.  In 1970, she received a new assignment to Middle America and her first position was in Rogers Hall in Yucatan, Mexico, working with students in art, films and multi-media. In 1972, Sister Joan was assigned to Condega, Nicaragua, where she began doing pastoral work with parish and diocesan teams and creating educational courses for women and children's groups.  In 1974 she moved to Pueblo Nuevo in Esteli, continuing to do pastoral work, adult education and economic development projects there before returning to Condega in 1978, and to Ocotal in 1980.  Twice, between 1985-1987 and later between 1997-1998, Joan took time from her work in Nicaragua to do promotion work for the Maryknoll Sisters in the U.S.  When returning to Nicaragua in 1988 she began work in Leon, dedicating herself to the nearby area of Chacraseca. Joan attracted many volunteers from far and wide over the years, including Catholic and non-Catholic church groups, many who went and still go annually to provide countless services for Nicaraguans, from building homes to providing animals and equipment for farming. They also worked with the people of Chacraseca, raising funds from abroad and laboring to build the spiritual center in Chacraseca called Casa de Paz (Peace House) where Joan began her "rocking chair ministry."
In her 2000 Christmas letter to her family, friends and many correspondents, Joan told about a dream she had had two years earlier.  She wrote:  "When I retire I would like a place in Chacraseca where I can sit on a porch in a rocking chair, and have some other rockers around; if someone wants to come and pray with me, or reflect with me, or tell me about their joys or troubles, or whatever, I will be available; if they want a spiritual retreat they can do that too; a day, three days, a week.  I will direct it, or arrange for someone to do so."  The Christmas letter went on to say her dream had become a reality when Peace House was inaugurated on May 28, 2000.  Not only was it a house with several rocking chairs, but it included a Meditation Forest of 210 trees of 11 varieties planted by the people of Chacraseca, as well as a large carefully cultivated labyrinth and small garden areas of vegetables, herbs and medicinal plants.  By the time of the writing of the Christmas letter Joan reported having already given eight retreats of various lengths, to people of Chacraseca, Leon, New York, and Tulsa, Oklahoma!
With the help of her friends, Joan has left an interesting, informative and inspiring archival legacy of her life of mission in two volumes of chronologically assembled Christmas and other letters, journal entries (including the Sandinista and Contra war days), pictures, awards and countless other items that tell of her extraordinary life as a Maryknoll Sister, from her first assignments in Hawaii down through her many years in various places in Nicaragua.
It is no wonder that Joan found it difficult to leave her adopted country and people, despite her failing health.  Already the last Maryknoll Sister in Nicaragua and knowing she could no longer stay there alone, the CLT (Congregational Leadership Team) sent two Sisters with a letter calling her back to Maryknoll.  They wrote, "We are aware that you had hoped to die and be buried in your beloved Nicaragua – right there in Chacraseca – close to the Peace House you have built so lovingly.  . . . Love, service and friendship have grown abundantly from small seeds planted 20 years ago when you first came to Chacraseca and 35 years since arriving in Nicaragua.  The beauty of the Peace House sits comfortably amidst a community that has transformed itself through personal hard work, a spirit of mutual concern, and the solidarity of peoples from all over the world."
Joan returned to Maryknoll to join the Eden Community in April 2008. As long as she was able she continued to play the ukulele and harmonica and her prayer ministry, of course, has been Nicaragua.  Today we welcome her friends as well as Maryknoll Father Marty Lowery who will preside at the liturgy of Christian burial.