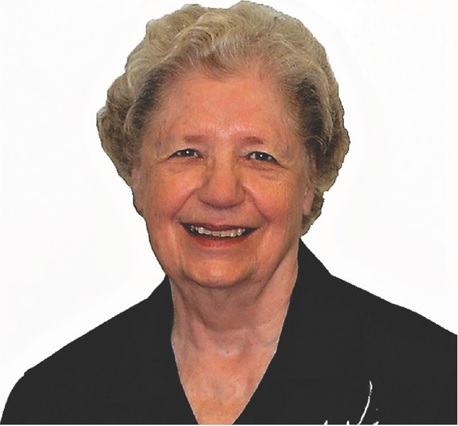 Sister Joanne Bastien, MM
Born: October 17, 1931
Entered: February 1, 1953
Died: January 3, 2023
A verse from Psalm 30 comes to mind as we enter into the celebration of life for our dear Sister Joanne Bastien: "weeping may remain for a night but rejoicing comes in the morning". At 12:45 AM, on January 3, 2023, Joanne went peacefully and joyfully home to God.
Joanne Dorothy Bastien was born in St. Cloud Minnesota to William J. and Magdalena (Arendt) Bastien on October 17, 1931. She had one brother, Joseph, who lives in Texas, and three sisters, Florence, Marjorie and Rose—all of whom have pre-deceased her. She remained very close to her family, remembering nieces and nephews with cards and letters, and treasuring many pictures of them throughout her life.
Joanne attended St. Peter's grade school and, after graduating from Cathedral High School in 1949, she went on to receive her diploma as a registered nurse from St. Catherine College of Nursing in St. Paul Minnesota in 1952. Joanne entered the Maryknoll Sisters in Valley Park, Missouri on February 1, 1953 from St. Paul's parish in St. Cloud, MN. Her first profession was at Valley Park on September 8, 1955, when she received the religious name of Sr. M. Anne Noel, which she retained until after the 1968 chapter. She served as a nurse both in the novitiate and later at the Motherhouse.
Her first assignment was to Ceylon in 1956, but this lasted just a year; government unrest forced foreigners to leave the country in 1957. Joanne was then assigned to Hong Kong, making her final vows there on September 8, 1961. From the comments of the sisters there in Hong Kong as Joanne approached her final commitment, she was much loved for the things we too remember well—kindness, compassion, and a willingness to go the extra mile for the sisters and for the Chinese people in the clinics and schools for refugees in Hong Kong.
1963 saw the beginning of Joanne's pain-filled fifty-year journey through both physical and mental illness. Her back injury made moving around and even resting turn into sources of radiating pain, and depression haunted her at times. Many surgeries and medications alleviated some of the physical pain, but never all of it. She moved between Monrovia, the Center and her family, often hospitalized, but never giving up hope. She wrote of her recurring depression in 1968: "I love Maryknoll so much it is hard to understand the why of God's plan for me."
Joanne moved to our Chicago Chinatown house in 1968, and she called this the happiest time of her life in community. She was exceptionally talented in arts and crafts, and taught these in the grade school there. She also worked with the girl scouts, cooked for the house and made items for the bazaar—Joanne did all this while dealing with varying levels of a life of pain.
In 1980, Joanne transferred to the Center, feeling she could use her many talents in craft work and activity planning. She became an invaluable part of the team in what was then called the Maryknoll Nursing Home—working with both groups and individuals—she was much loved by staff and sisters.
In the next few years, Joanne found some relief in a pain management clinic, and she moved from the Center to Monrovia seeking a smaller community. When she left Monrovia for the last time in 2010, the coordinator wrote: "In her quiet way, Joanne has been a vibrant highly-participating member of the Monrovia community."
At the Center, Joanne joined Chi Rho and entered into community life as much as she could—making a special contribution creating small hand-crafted baskets which she filled with candy for the sisters here on St. Nicholas Day. She had insight into her needs and asked to transfer to Eden in 2022 where she shared life as deeply as she could. One story by an interview group captures both her humor and her sensitivity. Helping out wherever she could, she once said: "It's a good job filling salt and pepper shakers—just a dash can change bland to tasty. Like zest in life."
In keeping with her life of generous and loving service, Joanne has given her body to the New York Medical College. We give thanks to all those sisters, nurses, Maryknoll Sisters Home Care administration and social service staff who loved Joanne and cared for her in these final years.
We welcome Fr. John Lange, MM who will preside at this celebration of a life that was truly and lovingly given for God and for others.