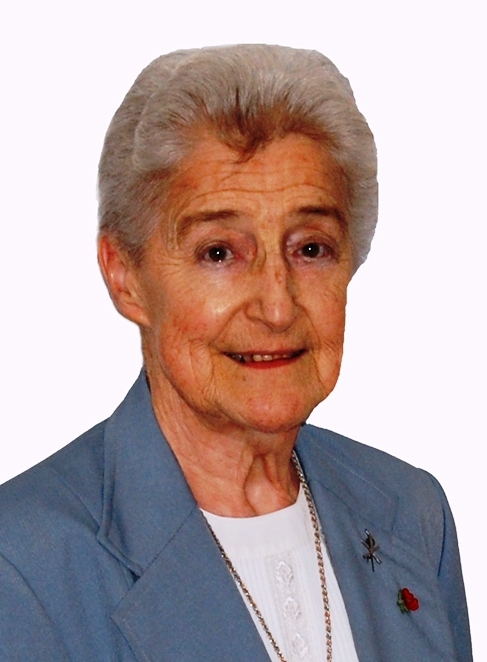 Sister Josephine Lo Presti, MM
Born: October 10, 1925
Entered: September 6, 1949
Died: November 13, 2018
Sister Josephine Lo Presti, a Maryknoll Sister for 69 years, died on November 13 at the Maryknoll Sisters Center, Maryknoll, NY.  She was born in Toronto, Ontario, Canada, on October 10, 1925, to Augustine (Rinella) Lo Presti and Joseph Lo Presti, and had four brothers and three sisters.
Sister Jo, as she was known among us, graduated from St. Joseph's College High School in 1944. That same year, she enrolled in St. Michael's Hospital School of Nursing. She graduated and obtained her license as a Registered Nurse in 1947. She was employed at the same hospital until she entered the Maryknoll Sisters at Maryknoll, NY on September 6, 1949. Received into the Congregation on March 7, 1950, she made her First Vows on the same date, and the same place in 1952.  Her religious name was Sister Mary Antonia until she returned to her baptismal name after Vatican II.
Her first assignment was to the Sisters' Infirmary at the Maryknoll Sisters Center. In 1953, she received her first mission assignment to the Bolivia/Peru Region. After language study in Cochabamba, Bolivia, she joined the first group of Maryknoll Sisters to be assigned to Puno, Peru. From 1954 to 1957, she taught primary students in San Ambrosio, a boy's school established by the Maryknoll Society.
In 1957, Sister Jo was assigned to Riberalta Hospital in the Vicariate of the Pando. Bolivia. The hospital was a joint project of the Maryknoll Society and the Bolivian Government administered by the Maryknoll Sisters. It was here that Sister Jo would discover and develop her special gifts. Passionate about nursing care, she embraced both the people and the work with enthusiasm and dedication. The hospital was a model, lauded not only by the townspeople, but by government, church and medical professionals.  Sister Jo loved the professional standards, but within a few years, she recognized that Maryknoll would not always be there. The Sisters were the only professional nurses in Riberalta and were giving excellent service.
When Mother Mary Colman, the Mother General, came to visit, Sister Jo presented a plan to begin a school of practical nursing. The plan was approved, and Sister Jo set about finding funding, designing a building, developing a staff and a professional curriculum. In the following years, students from that school, Mary Health of the Sick, graduated and served in medical posts, not only in Riberalta, but in distant settlements throughout the area and in other parts of Bolivia. That was only the first of many amazing projects Sister Jo would develop over the years.
When Santa Maria University in Arequipa, Peru began a School of Nursing, university founder and Rector Fr. William Morris of the Society of Mary called on Sister Jo to be one of the first professors. Sister Jo remonstrated that she had no degree. When the Dean, Sister Cristoferis, and the Rector insisted, she accepted.  While teaching, she fulfilled the requisites and defended a thesis of such merit that the University conferred the degree.  A colleague, Maria Colabella and a student, Maria Zeballos, became Maryknoll Sisters. Other students later became Dean of Nursing and faculty members.
When the University changed hands, Sister Jo went on to other projects. She served at Bethany when it was a nursing home for Maryknoll Sisters, pursued further studies at the University of Western Ontario, and studied the Glenn Doman techniques at the IAPH (Institutes for Achievement of Human Potential). She used the techniques she learned during her studies to train parents in the care of brain damaged children in the Cerro Colorado area of Arequipa, Peru. During the many years of nursing, Sister Jo not only cared for the people of Bolivia and Peru, but many Maryknollers in the Society and the Congregation also benefitted from her skills.
Always a student looking for ways to help people, Sister Jo saw the possibilities for helping families with The Billings Ovulation Method. With her usual passionate energy, she studied the method, and determined how it could best be used in her mission context. She founded CORFAM, (Centro de Orientación Familiar), a diocesan family service in Arequipa, Peru, with the blessing and gratitude of the local archbishop the Most Reverend Luis Sanchez Moreno Lira. Her students joined her and the service flourishes today under the direction and staffing of those she inspired. Not satisfied with organizing, staffing, funding, and making it a permanent service, Sister Jo wrote a book in Spanish for those who would carry it forward.  The official presentation of the book, The Billings Natural Family Planning Method at Santa Maria University of Arequipa, Peru, was a media event covered and commented on by both Church and civil authorities.
Sister Jo returned to the Maryknoll Sisters Center in 2001. She had a short assignment to Monrovia from 2002 to 2003, when she returned to the Center ChiRho Community. In 2013, her health needs led to her assignment to Eden Community until she left us to enjoy eternal life. May she enjoy seeing the Face of Christ whom she served, and hear Him say, "I was sick and you visited me." We are pleased that Father Joseph Kowalczyk, M.M., a fellow missioner in Peru, will celebrate Sister Jo's Mass of Christian Burial.