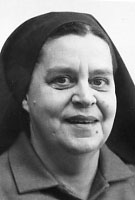 Sister Josephine Onstead, MM
Born: June 11, 1919
Entered: December 8, 1941
Died: June 2, 2005
Early Thursday morning, June 2, 2005, in Phelps Memorial Hospital in Sleepy Hollow, our Sister Josephine Marie Onstead slipped quietly off to meet her God. We were happy and grateful that she was not alone at the time. She was sharing a room with Sister Margaret Rose Winkelmann who said that the nurses came in frequently during the night to check Sister who had not been responding well during the day. At an early morning check, they found that Sister Josephine Marie had died peacefully in her sleep.
Josephine Marie Onstead was born in Norwalk, Connecticut, on June 11, 1919, to Mary Sprague and Joseph Stevens. In Norwalk she attended Center Elementary School, Center Junior High School and Norwalk High School, graduating in 1937. She worked briefly as a file clerk in the Norwalk Chamber of Commerce Office and then as a typist at the Crawford Knapp Hat Factory in Norwalk.
Josephine Marie entered Maryknoll from St. Mary's Parish on December 8, 1941, and later received the religious name of Sister Ignatius Marie. She made her First Profession of Vows at Maryknoll, New York, on June 30, 1944. She took courses at Maryknoll Teachers College and was assigned to Los Angeles, California, in 1945 to work with the Sisters who were teaching Japanese-American children in the Maryknoll Sisters' School. Sister Josephine Marie made her Final Profession of Vows in Los Angeles on June 30, 1947. Three years later, in 1950, she was assigned to San Juan Capistrano and in 1951 she went to Mt. View, California. Sister Josephine Marie always fondly remembered this time in California.
For reasons of health, Sister Josephine Marie returned to Maryknoll, New York, in 1952. From 1971 until her retirement in 1988, she worked in the Direct Mail office of the Development Department. She loved this work and was well known for the warmth of the letters she wrote to sponsors, donors and friends of the Maryknoll Sisters. During this period she also took courses at the Maryknoll School of Theology. Sister Josephine Marie spent several happy retirement years at the Center, during which time she remained close to some cousins, whom she would visit on occasion in Connecticut. As need dictated, she was admitted to Residential Care IV in November 1997. She had the prayer ministries of the Rogers Community and the Mission Institute.
Despite her precarious health, Sister Josephine Marie led a life rich in friendships and personal interests and hobbies. Her wonderful sense of humor endeared her to many. In the novitiate she was known as a good basketball player and she never lost her interest in sports. Posters in her room announced to all that she was a staunch fan of the New York Mets, so it was no surprise to anyone when the Mets won "big time" on the day Sister died. She kept up on current events, was very knowledgeable about literature and music, and was always eager to take courses to keep herself updated. She had a special gift of ecumenism, counting a number of Protestant pastors and ministers and a Jewish rabbi among her many friends. When possible, she would attend services at churches of different denominations.
Sister Josephine Marie's life was fragile in many respects, but it never held her back from being very sociable and reaching out to others. Prof. Ralph Buultjens, who taught at Maryknoll, was a dear friend who helped her pursue her interests of visiting museums and attending concerts in New York City. Through her saving and planning Sister Josephine Marie was able to fulfill her dream of visiting the Holy Land in the 1970's, going with a tour group led by a Franciscan Friar. She is remembered as setting forth on this trip wearing slacks and a veil, a unique combination! She was always a very sensitive and generous person, giving often to charities. Earlier this year she was most solicitous for the tsunami victims and was quick to donate to the Red Cross on their behalf.
For the 19 years that the PROP (kidney dialysis) group met here at the Center, Sister Josephine Marie, while not a member, would often attend their meetings. The members were grateful to Sister for her words of encouragement, her prayers that helped take some of their pain and discomfort away, her laughter and joking, all to help them "to keep on keeping on" in their struggle with kidney disease.
I want to thank the Sisters from Sister Josephine Marie's group and other Sisters and staff who have been spontaneous in sharing their memories for this letter. In particular, I have been touched by testimonies of the wonderful friendships Sister enjoyed with lay persons with whom she worked and with members of the staff on Residential Care IV, as well as friends who live in the Ossining area. Time and again, Sister Josephine Marie has been described as very warm and loyal to her friends for whom she even enjoyed hosting parties! To all Sister's very special friends, we extend our sympathy.
In Sister Josephine Marie's high school yearbook, the words printed next to her picture say: "Snappy, clever, full of fun, known and loved by everyone. She means what she says and she says what she means. For this we all admire her." Sister remained true to herself all along, and we shall miss her.
We welcome Sister's family and many friends. We also welcome Maryknoll Father John Northrup who will preside at our Liturgy of Christian Burial for Sister this morning.