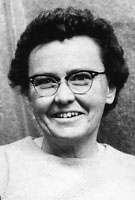 Sister Juan Maria Banks, MM
Born: December 13, 1926
Entered: September 6, 1949
Died: June 10, 1994
On June 10, 1994, scarcely more than an hour before the Center Community was to gather for the morning Eucharist, Sister Juan Maria Banks died peacefully in our Skilled Nursing Facility following a long illness of almost 20 years. It was 5:50 a.m., the Feast of the Sacred Heart. That morning's Responsorial Psalm could not have been more meaningful: "You will draw water joyfully from the springs of salvation."
Although some Sisters and Dorothy, Sister Juan Maria's most faithful younger sister, had been keeping watch through the night with Juan Maria, there was a brief interval of ten minutes or so when Dorothy was alone with Juan and it was during that time that God came for her. Thus, the privilege of witnessing the awesome moment of Juan Maria's passage from earth to heaven was to be exclusively Dorothy's. It was a richly deserved blessing following Dorothy's prolonged vigil from early May.
Mary Veronica was born to John Banks and Mary McMullen Banks on December 13, 1926 in New York City. She was the second child in a close-knit Catholic family of two boys and two girls. After completing her primary education at Incarnation Parish in New York City, Mary Veronica attended Cathedral High School from which she graduated in 1944. For the next five years she was employed as a Control Clerk by Shell Oil Company. During those years, Mary remained very active in parish life, volunteering her time and energy for the religious instruction of public high school children. Throughout, she also consistently maintained her desire to enter religious life. It was to Maryknoll she was most attracted because of the foreign mission dimension. She was eager to enter but her father had died in 1941, and so she delayed her entrance in order to help the family with her older brother's expenses in his studies for the priesthood.
Mary Veronica entered Maryknoll at the Venard on September 6, 1949. At Reception she received the name of Juan Maria, a name she kept for the rest of her life. Sister Juan Maria made her First Profession of Vows on March 7, 1952 at the Venard, and on the same date, three years later, pronounced her Final Vows at Maryknoll, New York.
After First Profession in 1952 and for the next four years, Sister Juan Maria lived at Crichton while she put her secretarial expertise to work at the Field Afar Mail Desk. In 1956, Juan was assigned to the Africa Region to work in the Shinyanga area of Tanzania where Kisukuma is the language of the people. For all 18 years of her active mission life, she remained an avid student of Kisukuma. Over the years, she sought to improve her language facility, the better to serve the African people through home visiting and teaching as a Sister-catechist. Those who lived with her in Shinyanga say she was especially wonderful with the children, perhaps because she was as playful as they were.
From her earliest days as a novice, repeatedly and consistently, Juan Maria was described as generous, even generous to a fault. She saw what needed to be done and applied herself earnestly. Nothing was too hard. For six years before her first stroke in 1974, after which she had to return to New York, she was an able safari medical assistant to our Sister nurses. From their testimony we know that Juan intrepidly ventured on tracks where even the most stouthearted driver might have hesitated. Though outwardly brusque in manner, it was her genuine kindheartedness which prevailed. This made of her house a favorite stopover for Maryknollers traveling through. There was another reason. Juan was an exceptionally good baker, a talent she shared generously with all whom she welcomed for refreshment. Then, as was her wont, she would wave them off with her inimitable, "Have a 'Juanderful' day!"
Her 18 years of active service in Tanzania were to be followed by 20 years of suffering and progressive diminishment at Maryknoll, New York. Initially, upon her return from Africa in 1974, she recovered well enough to set her sights once again on mission in Tanzania. She was highly motivated to study Business Administration so that, in her own words, "I can be of more service to the Congregation." The Community provided every possible support to help Sister Juan Maria realize her potential. She enrolled at Mercy College in Dobbs Ferry, but the effort proved too great. Her body was not able to keep up with her spirit. After only one semester, she could no longer ignore the reality of her failing health. In May, 1978, in a note to Sister Betty Ann Maheu who was on the Central Governing Board at the time, Juan wrote of her readiness to accept God's Will for her. She said: "I've been getting in some practice nightly in our little chapel up here and so I'll just cheerfully continue to get ready for my big day. I have a lot of family and friends after I meet God."
Today we are celebrating Juan's Big Day in the presence of many family and friends. We offer our deepest sympathy to Juan's family. We are also happy that so many of our Maryknoll brothers who were among those who stopped over at Juan's in Shinyanga over 20 years ago could also be here with us today. Included in their number is Father Thomas Shea, our celebrant at this Liturgy of the Resurrection. We warmly welcome each one of you as we accompany our Sister and friend on her final journey into God's loving embrace. Let our celebration begin in true African style, blessed by the rainfall, and with Juan's special greeting, let us all have a "Juanderful" day!