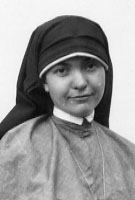 Sister Juliana Bedier, MM
Born: May 7, 1896
Entered: September 3, 1921
Died: November 23, 1982
We gather as family and Community to celebrate the liturgy of the Resurrection for our Sister Mary Juliana Bedier, who died in Maryknoll Nursing Home on November 23rd, 1982.  Perhaps some of us only knew Sister Juliana in these later years of diminishment, when she had lost the ability even to express herself.
However, those among us who knew, lived and worked with Sister Juliana, when she was most active and creative, will remember that she authored many books, was an artist and painter, an avid gardener, and a great entertainer with her folk songs and guitar. She did all these things with enthusiasm and dedication.
Looking back over her early experience and later years among Maryknoll's pioneer missioners in Manchuria and Korea, we find the source of inspiration for much of Sister Juliana' s creativity.
Blanche Mary Bedier was born in Davis City, Iowa, on May 7, 1896, the daughter of Louis Bedier and Lillian Wells Bedier. Let us learn of her life and mission through her own words: "My first memories are of horses and of flowers. There were horses hitched to covered wagons in which I rode on long trips; horses hobbled, grazing around the tent where we camped a while, till the men-folks could fell enough trees to build a house or a barn. I remember the Indian pony which I sometimes rode, sitting in the saddle behind my mother, holding onto her fearfully while we scrambled up mountainsides and through wild mountain torrents… My mother taught me to read and write and do a little arithmetic. The few books that I had were read many times. I grew up on Appleton's Readers, Black Beauty, Robinson Crusoe, Pilgrim's Progress, and a big book of Bible stories which was the most beautiful of all…"
"After some years we moved to a less cold and remote part of the West. Here I met and played with other children and went to a country school for a while. Then my father sent me away to a little Academy run by the Sisters of the Holy Cross at Ogden, Utah. In my late teens I became a Catholic."
"When my Academy days were over, I returned home, but after a few years I wrote to faraway New York to a little new Community of nuns that I had read about – an Order called the Maryknoll Sisters, who were beginning to take up work for foreign missions. The Sisters accepted me (9/3/21), and after trying me out for three years they let me make my profession (4/19/24), that is, I took temporary vows for three years, promising during that period not to marry, to own no property, and to do as directed by my Superiors. These were the vows of poverty, chastity, and obedience, taken by nearly all Catholic Sisters. I knew that at the end of those three years (4/19/27) I might renew these vows for life, if I wished to do so, and if the Community and the Superiors agreed."
"Soon after my first vows I was sent to the Orient for the opening of the first Maryknoll Convent in Korea. I studied the Japanese language – we were always studying languages – and later on helped in the opening of our convent and mission in Dairen, Manchuria. Soon everybody who wanted to learn English came to our school – Americans, British, Russians, Jews, Japanese, Chinese, Hindus, Germans, Danes, children of the mixed population of an Oriental port city. Some of the Sisters spent their whole time, and all of us spent some of our time, visiting the sick, instructing converts, doing social work among the people in their homes or in the hospitals…"
"After thirteen years in the Orient, I was sent home to America on Community business (1937). Every six years we hold elections and send delegates to talk over mission and community affairs. And, somehow, after I was home, I fell into a job and was kept here in the U.S. It was a strange country to me after so many years in the Far East. During my stay in the Orient, I had become acquainted with many people of many countries. The more I saw of people here and heard them talk, the more I wanted to tell them about the very real and dear and good people of the other countries of whom they know so little. So, I began writing books and will continue writing, God willing, as long as I have a story to tell."
Sister Juliana did, indeed, continue to write for many years. Over 28 of her books were published – including several Religion and Geography series. Together with Sister Chaminade Dreisoerner, Sister Juliana co-edited a series of Bible Stories called Crusade, and a series on doctrine and related activities called Treasure Chest. She also wrote many articles.
Macmillan Company, who published My Book About God, in 1948, said of it: "This book, written by Sister Juliana Bedier and illustrated by Sister Giovanni Trevisan, both Maryknoll Sisters, presents God as the father of all children, regardless of color and background, the importance of universal brotherhood, of prayer and Christian ideals. It is a book full of color and happiness, but also it gives boys and girls a simple introduction to Catholic social teaching. This book had its origin at Maryknoll whose members, through their worldwide work, appreciate so well the oneness of God's family."
Sister Juliana not only told her stories well, but as we see, her charism as a Maryknoll missioner guided and inspired her long years of witnessing to the Gospel and, in this way, she fostered a sense of social awareness among the youth of that time. When she could no longer write, or paint, or garden, or play the guitar, or even speak, her story continued to unfold. It is continuing to unfold for her now, as she lives on in God's eternal love.
We, today, are part of that story, and share in the gift of this woman's life and faith.
Father Robert E. Sheridan, M.M., is the celebrant of the Eucharistic Liturgy this morning here in the main Chapel of our Maryknoll Sisters Center.