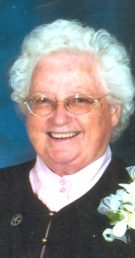 Sister Katherine Byrne, MM
Born: March 12, 1929
Entered: September 2, 1952
Died: June 28, 2017
Our Sister Kay Byrne died quietly Wednesday evening, June 28, 2017 at our Maryknoll Sisters Center.  She was 88 years old and a Maryknoll Sister for 64 years.
Katherine Theresa Byrne was born in Baton Rouge, LA on March 12, 1929 to Marie Fitzgerald and Philip J. Byrne, Jr.  She had one brother, Philip J. and one sister, Maryellen.  Both her parents and her brother have predeceased her.
While Kay grew up in Westfield, NJ, she had the experience of different cultures having lived for 10 years in both Europe and the West Indies, wherever her Father's work took the family. She attended Holy Trinity High School in Westfield, NJ graduating in 1946.  She then attended the College of Mount St. Vincent, in New York City where she earned a Bachelor of Science Degree in Nursing in 1950. After college, Katherine worked as a nurse in New York Hospital for two years.
On September 2, 1952 she entered the Maryknoll Sisters Congregation from Holy Trinity Parish in Westfield, NJ.  Sister Katherine made her First Profession of Vows on September 8, 1955 at the Maryknoll Sisters Center, receiving the name of Sister Philip Marie and her Final Vows on September 8, 1961 in Hong Kong.  Kay always regarded the opportunity to care for Mother Mary Joseph and later, Bishop James E. Walsh after his release from a Chinese prison, as "blessed" times in her life.
When, in 1956, she received her first overseas assignment to Kandy, Ceylon, she was delighted!  Sadly, political upheaval the following year resulted in cancellation of all the Sisters' visas.   The next 16 years were spent in Hong Kong as teacher, nurse and administrator.  Here Kay worked as a clinic nurse with the refugee poor and served as the Director of Nursing for Our Lady of Maryknoll Hospital in Wong Tai Sin.
Upon her return to the Center in 1971, Kay earned a Master's degree in Mental Health Nursing and Nursing Administration from Catholic University in Washington, D.C, in order to, as Kay put it "Learn what I could about facilitating change and help our sisters to grow without so much fear."
Following graduation in 1973 she was assigned to the Maryknoll Sisters Center, where she served as Director of Health Services.  Upon completion of her term in 1976 she returned to Hong Kong and she served as Assistant Matron at Caritas Hospital until 1979. Of these years Kay writes:  "Helping others discover God in their life was thrilling."
In 1980, Kay became a member of the Eastern U.S. Region to provide care for her mother and to teach Nursing Education in institutions for physically handicapped children until 1983.  During these years Kay had a series of surgeries for cancer which resulted in the amputation of her right arm.  As Kay said "these (handicapped) kids taught me how to cope with physical limitation."  And cope she did with such apparent ease and grace that we were all amazed.  Kay was a woman of courage, a woman always ready for the next thing.
In 1984, Kay joined the Nursing Faculty of Bethlehem University in the Holy Land where she taught both Mental Health and Public Health to Palestinian women and men.   While her students referred to her courses as "fun and games" the group dynamics and intervention skills she taught were quickly grasped.   During those years we admired her energy, stamina, creativity, empathy and independence.  Kay herself often referred to the years in Bethlehem as a five-semester retreat!
Returning to the US she served for a year in Albuquerque, NM, with SSED (Supportive Services for Elderly Disabled) and in an ecumenical retirement facility. She was then assigned to the Hawaiian Islands from 1987-1991 where she coordinated an Interfaith Caregiver Program on Oahu and later worked in Hilo, Hawaii helping home bound elders, handicapped elders and the homeless.
In 1993, Kay was appointed coordinator of a retirement house in Waterbury, CT where she did pastoral care at St. Mary's Hospital.  In 1998 at the request of our Monrovia Community in California, Kay was appointed Administrator at the Maryknoll Sisters Residence, where our semi-retired Sisters can continue to reach out in ministry.  Her calm and encouraging presence and peaceful way were much appreciated by all.
Kay often reflected of her journey in God's service:  from the gentle Buddhists of Sri Lanka who shared their quiet contemplative ways, to the neighbors in Hong Kong who taught her so much about caring and sharing the little they had, to her days in Bethlehem where walking in the footsteps of Jesus brought scripture into three dimensions, to the Hawaiian Islands whose multi-ethnic makeup of the people and the ohana spirit offered a wonderful milieu for the good News to take hold.
In 2009 Sister Kay retired at Maryknoll Sisters Center. When Kay recognized that she needed care, she asked to transfer to our Home Care Unit. She requested she be cremated.
We welcome today sister Kay's sister Maryellen and her husband Tom, her sister-in-law, Jean Byrne, Jean's children.
We also welcome our Maryknoll brother Father Jack Sullivan, M.M., who will preside at this Mass of Christian burial.