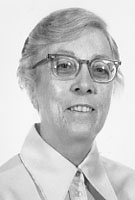 Sister Katherine Theiler, MM
Born: February 2, 1919
Entered: July 2, 1941
Died: July 24, 2006
Sister Katherine Theiler died at St. Francis Hospice in Honolulu, Hawaii on July 24, 2006 at 12:30 a.m. She was 87 years old and had been a Maryknoll Sister for 65 years. Her parents, her brothers Ralph (Bud) and Harry and her sister Viola have predeceased her.
Katherine's time in Hospice was a remarkable manifestation of the spiritual work she had been doing in such a large portion of her life. Her frequent prayer to her God, "I want what You want for as long as You want", had been used during so many diverse occasions but it held well during the long, slow slant to Eternity. The staff was both amazed and edified by her patience and cheerfulness. Her response was consistently one of gratitude, even concern, for the workers. A little smile, "I'm fine" she would say, although those who saw her frail body could only be grateful that she did not suffer severe pain.
Katherine was born in Tomahawk, Wisconsin on February 2, 1919. Her father Carl Theiler was a road builder requiring many moves. Her mother Nell Winker was quickly able to make any new residence a home. Their many locations meant Katherine attended more than seven grade schools, graduating from St. Mary's Parochial School in Tomahawk then going on to Tomahawk High School. She attended St. Teresa's College in Winona, Minnesota, earning a B.S. degree in chemistry and a minor in biology.
Between high school and college she had a year of recuperation following rheumatic fever and when her application to Maryknoll was first processed there was concern about her health. Sister Mercy intervened and she was accepted July 2, 1941, given the name of Sister Carla Marie at Reception. She was Professed on March 7, 1944 and assigned to teach in Hawaii. Her Final Vows were on March 7, 1947 in Honolulu where she was teaching at Maryknoll High School in the science department.
In 1955 she was assigned as superior and principal of St. Michael's Grade School in Waialua on Oahu. It was a country school with most of the students from families who worked on the sugar plantation. After three years she was assigned to St. Anthony's Grade and High School, Wailuku, Maui as principal and superior. After six years she was assigned to Maryknoll High School in Honolulu as principal, a post which she held for ten years. After 19 years in continuous leadership, she accepted a four year contract for Congregational Service at Maryknoll Sisters Center as Renewal Coordinator.
Katherine's time at the Center was rich. She claimed it was the most special of jobs because it was possible to reach out to Sisters returning from often difficult and tiring mission assignments and be a support to them. Many years later just the mention of her name would elicit loving stories from those who came back during her tenure. Katherine enrolled at the Maryknoll Seminary for a Masters Degree in Religious Studies which she received in 1978.
Concurrent with her studies, there was a committee in Hawaii looking into the formation of a retreat house. Sisters Rose Ann Vienhage, Rita Kane, Dolores Rosso, Marie Rosso as well as laity and others from different religious communities saw the need and received the support of then Bishop Joe Ferrario. Sister Rose Ann, as Regional Coordinator, encouraged Katherine to prepare for that ministry and made funds available for her study. From that initiative the Spiritual Life Center was brought into existence first at St. Pius X Parish, then at St. Francis School on the top floor of Marianne Hall, briefly at St. Stephen's Diocesan Center and in a rented house in Liliha, Nuuanu Valley. Residential retreat work spanned twenty years and Katherine's early experience with moving prepared her for a growing sense of equanimity as the situation became more difficult to sustain. In 1998 she retired from the Spiritual Life Center and became active as the Volunteer Coordinator for Contemplative Outreach in Hawaii.
Having attended several training sessions during the intervening years at Notre Dame International Retreat Center, Institute of Spirituality in Spokane, Washington and Mercy Center in Burlingame, California, she became qualified as a supervisor of Intern Directors, a program started in Hawaii to meet the great need within the Faithful. From its inception, Katherine has been prominently and predominantly ecumenical, working with Episcopal, Lutheran, Methodist, United Church of Christ, Disciples of Christ ministers and laity.
As Contemplative Outreach International in Butler, New Jersey grew in its organizational scope, Katherine continued to support their work, bringing members of their staff to Honolulu for training of local leaders. Currently there are more than 200 individuals meeting in prayer groups using a method of Centering Prayer originally presented by Fr. Thomas Keating, OCSO. In November 2006, Fr. Keating will return to Honolulu with three of this staff to present a lecture, a training session and workshop, an event originally planned by Sister Katherine. Now the local committee continues the plan which will be a wonderful tribute to her spiritual work in the community.
One of Katherine's adjunct ministries the last twelve years of her life was with the women from the Hawaii Alcoholic Foundation Sand Island Treatment Center. The women would come to Katherine to work through their fifth step in the twelve step program. Each woman would make her inventory, not unlike a general confession, to Katherine's listening ear and heart. In the marvel of God's plan, one of her caregivers at Hospice was a woman who never realized until Katherine's death that this was the person who had helped her along in her path toward health and healing.
We are grateful for Katherine's ministry which will continue in those whom she has trained, and for her vital part in the Manoa Local Community and the Central Pacific Region. We appreciate our Jesuit brother, Father Chris Cartwright who will be the celebrant of today's liturgy.