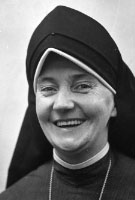 Sister Kathleen Keane, MM
Born: December 21, 1926
Entered: October 5, 1946
Died: August 14, 2005
On August 14, 2005 at 11:10 p.m. Sister Kathleen Keane went to be with her God and to join her parents, two sisters, Dorothy Donnelly and Caroyle Marshall, and her brother, David, in heaven. She died at Phelps Memorial Hospital in Sleepy Hollow, New York. She was 78 years of age and a Maryknoll Sister for 58 years.
Kathleen Eleanor Keane was born in Salem, Massachusetts on December 21, 1926, the second of eight children, to John R. and Margaret Riley Keane. Kathleen's birthday was always a cause for big celebration and the fact that it was close to Christmas made no difference at all. As recently as this past December invitations went out to many friends, the family gathered, and the feast began. Kathleen loved parties and giving gifts.
In one of the prayers for today's feast we read, "Touch our hearts, help them grow toward the life you have promised. Touch our lives, make them signs of your love for all." Kathleen's life touched many hearts and lives. In her big family she bore responsibility as an older sibling, beginning work after her first year in high school. She told Mother Mary Joseph as she prepared to come to Maryknoll that she would be grateful for the Community's help with some of the needed articles. Who would be more understanding of this than Mother Mary Joseph, who herself had had to delay her arrival because of family need.
Kathleen entered Maryknoll on October 5, 1946, made her First Vows on April 6, 1949 and her Final Vows on April 6, 1952 at the Motherhouse. She worked here in a number of offices, and at Bethany where she served as chauffeur until her assignment to the Philippines in 1954. With this move Kathleen began a multi-faceted career over the next fifteen years she was a member of that Region, broken only by furlough, study and some periods of illness. Kathleen served nine years at Maryknoll College in Manila where she taught, established a Co-op for employees, planned retreats and organized religion classes for children of the Co-op members.
She moved from the College to Manapla where for three years she worked with management around labor issues and the reorganization of Community Projects run by the Victorias Milling Company, a huge sugar cane business that had a hospital which was staffed by our Sisters. She was then one year at Jimenez where she helped set up a regional education program for Credit Union Leadership, supervised and worked on the construction of a college building, and in her free moments, taught religion. Then she moved to Davao del Norte and Davao City for three years where she worked for the Maryknoll Fathers doing research and planning. She also coordinated a Manpower Development testing and training program for the placement of applicants.
From 1969 to 1976 Kathleen was assigned to the Motherhouse partly in order to assist her mother who was ill in California and wanted to move back to Salem. It was during these years that Kathleen was able to graduate from high school with an  equivalency diploma, and complete certificate programs in adult education from the Coady International Institute of St. Francis Xavier University, Antigonish, Nova Scotia, Canada, and in social services from the University of California Los Angeles. She also did a Continuing Education course in Biblical Theology at Manhattan College. In 1974 she received her Bachelor of Science degree from Fordham University.
By 1976 Kathleen had experienced several incidents of poor health. Unable to return to the Philippines, she was assigned to the Eastern United States Region and lived in Pineville, Kentucky.
There, once again, she reached out to the poor and marginalized. The Kentucky Ridge Development Corporation (KRDC), an interfaith community service run by two volunteers located in the Appalachian Mountains, was in disarray and need of funds when Kathleen arrived. Neither water nor electricity even in her shack-like home existed. The service had been operating a thrift store and a kayak factory, the latter of which had closed. Kathleen hoped to build a community center and restart the kayak business. Fifty kayaks hung on the wall waiting to be sold. Many of us remember well Kathleen arriving at Maryknoll, her truck loaded with kayaks. For fifteen years Kathleen worked in this project. She re-opened the factory and built a nice community center where her people could gather, make and sell wood-crafts and quilts. In the end, because of her increasingly poor health, it was necessary for the KRDC Board to close the project. For Kathleen this was probably one of the saddest and most difficult experiences of her life. For her work there she was acclaimed as an advocate of the poorest people. She had secured jobs, clothing and essentials for many, giving them new strength and ability.
Kathleen returned to Maryknoll in 1993 and the following year was admitted to Residential Care where she remained until her death. None of us who knew her will forget the determination, love of life and kindness that marked her.
We express our deepest sorrow to the members of her family.
Today we welcome all who have come and are grateful to our celebrant, Maryknoll Father Thomas McDonnell, who will lead us in the Liturgy of Christian Burial.