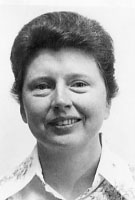 Sister Kathleen Stoessel, MM
Born: May 25, 1932
Entered: September 2, 1956
Died: June 18, 1981
Our Eucharistic Liturgy this morning is in celebration of the life and death of our Sister Kathleen Stoessel. We welcome and express our deepest sympathy to Kathy's family, especially her sister and her brothers and their families. We welcome also Kathy's friends from the Bronx and Bayside, New York.
Kathy was born in Dighton (Taunton), Massachusetts on May 25th, 1932. Her family later moved to Bayside, New York where she attended public school and then graduated from Queens College in Flushing. Following graduation, she taught in the Public School System in New York for two years.
On September 2, 1956, Kathy entered Maryknoll. This is her Silver Jubilee year. At Reception she received her religious name "Marie Daniel". Following first profession of vows on June 24, 1959, she was assigned to St. Anthony of Padua School in the Bronx, administered by the Maryknoll Sisters, where she taught for 7 years. In 1965 she pronounced her final vows.
In 1966 Kathy was assigned to mission in Bolivia. There she engaged primarily in Religious Education, teaching and training hundreds of Catechists in the Montero area. She organized Religious Education Programs in the schools and planned summer programs for the youth. She was active also in the Justice and Peace Commission work in Montero. Kathy knew and felt keenly the plight of the poor and under-privileged in Bolivia. She worked with the women in the market places. She reflected on their poverty and hardships. Unable to assist them materially, she strove to encourage and help them to be servants one to another. Her poem on the "Limits of the Apostolate" speaks for itself:
To love is to live with another the deep frustration of the immediately unsolvable.

Wanting with your whole being that his reality be different.

Having and feeling incapable of giving Lest in soothing your conscience, his dignity be robbed.

To be present, to see, to suffer with, and not to know what to do or where to go

To wonder at the infinite depths of donation demanded of some, and to experience the equally infinite but opposite weakness and incapacity of self

Aware that an escape is ever possible for you, while not for him. — filled with pain to feel his true gladness even in that.

To love is to be authentic, true self wherever you are, so real that another finds courage to share with you the otherwise unbearable burden of those human, living currents that make up the fabric of his everyday suffering life –

bridging a world of separation, loneliness and fear – that two now walk as one and a winding, dark, complicated road seems straighter, brighter, more direct because CHRIST is there.

O Lord, hear the cry of us who would be truly friends to our broken brothers in Bolivia –

Free us from the limitations, and sins that personally hold us back.

Fill us with your Spirit of Love that alone can transform our inhumanity and make us real.

—Sister Kathleen Stoessel, M.M.
Kathy died quietly at Columbia Presbyterian Hospital in New York on June 18, 1981. In reflecting on how she lived and why she lived – life, death, and resurrection were key elements.
Kathy remained in Bolivia until early 1978, although this had meant annual trips to the States. In 1977 she agreed then to return to the U.S. disposing of her belongings and turning over her work, she once again bid goodbye to her friends. It was no surprise to the Maryknollers there when she called back to them, "Don't sell my motorcycle!" Returning to the States, Kathy took care of her medical needs and then sought pastoral work in St. Luke's Parish in the South Bronx. Once again, her focus was Religious Education for the youth and young adults of the parish.
Our own Maryknoll Sister Candidates were assigned to work in the Religious Education Program with Kathy as part of their Formation Program. It proved to be a rich and very rewarding pastoral mission experience for them. Although the work was fraught with all the problems and human hardships of our American poor, it had its rewards. Kathy had no 'pat' answers to offer no foolproof techniques. Instead, she brought to her ministry an understanding of the people and of their suffering; a readiness to enter into their lives; and a deep spirituality to bear on their reality. Her time with our Sister Candidates was spent in training, in teaching and then in reflecting and praying over their experiences.
Kathy truly presented to each of us who knew her, whether in Bolivia, in The Center or in the Bronx, an opportunity and a challenge to touch the paradox or mystery of life.
Kathy was in touch with her personal limitations in mission and of her diminishing strength. Her response was to extend herself by enabling others to carry on that mission.
Kathy was deeply touched by her own suffering and accepted it as her personal mission within her mission call. Her response was to launch out into the deep and enter the sufferings and joys of her family, her friends and her Maryknollers.
Kathy dreamed dreams of how life could be – in Bolivia, in the Bronx, in the world. Her response was to live life as it was gifted to her.
Kathy drank fully of the cup of suffering. She had a sense of her own time and often it was "not yet". God's response was to let her body and her spirit pass through death at the same moment!
Surely, the glory of God was and is — Kathy fully alive!
The Celebrants of the Eucharistic Liturgy: Father Jerry Ryan, St. Luke's Parish in the South Bronx, main Celebrant, assisted by: Msgr. William F. Kelly and Father John Connelly, both of Sacred Heart Parish, Bayside, Father John Sherman (Homilist) of St. Stanislaus parish, Maspeth; and representative of the Bolivia Missioners, Maryknoll Fathers Jack O'Brien, Larry Burns, Gene Toland, Leo Sommer; and Father Dan Driscoll.