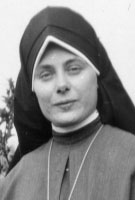 Sister Lisette A. Lampe, MM
Born: October 1, 1919
Entered: October 31, 1947
Died: June 17, 2002
This morning we gather to remember and to give thanks for the life of Sister Lisette Lampe who died peacefully on June 17, 2002 in the Assisted Living Unit of the Maryknoll Sisters Center. She was 82 years of age and had been a Maryknoll Sister for 54 years.
Lisette Alma Lampe was born in Cincinnati, Ohio on October 1, 1919 to Mary Alma Lass and Bernard Lampe. She had two brothers, John and Joseph. Lisette attended St. Andrew Grammar School and in 1937 graduated from Our Lady of the Angles High School, St. Bernard, Ohio. She then attended Good Samaritan Hospital School of Nursing and received certification as a Registered Nurse in 1942. Good Samaritan Hospital was affiliated with the College of Mount St. Joseph in St. Joseph, Ohio and Lisette, always a keen student, continued her studies by taking educational subjects such as Principles of Teaching and Educational Psychology. Later, in her ministry, she put these educational courses to good use as she taught midwives and nurse aides.
Lisette entered Maryknoll on October 31, 1947 at the newly opened Novitiate in Valley Park, Missouri. In the Novitiate she served in the infirmary and not only took care of the Sisters but also the staff who worked there. She gave a home-nursing course to the other novices and showed her ingenuity by recycling empty cartons and demonstrated how to turn them into backrests to enable bedridden patients to sit more comfortably. Lisette made her First Profession of Vows May 8, 1950 at Valley Park, Missouri and her Final Profession three years later in Kandy, Ceylon (now known as Sri Lanka).
Sister Lisette was assigned to Sri Lanka in 1950 to serve alongside sixteen Maryknoll Sisters in the 600 bed government hospital which was the second largest hospital in the country. Like the rest of Sri Lanka, Kandy was predominantly Buddhist and the Maryknoll Sisters were the first women religious to serve there. In order to get her certification to work in the hospital and to teach midwifery, Sister went to the capital city, Colombo, to take a six-month course. She was awarded the "Top Pass" in nursing, which meant the highest grade in the entire country that year. She learned Singhalese and served as Nursing Instructor in Midwifery at the hospital in Kandy from 1950 to 1959. The Sisters who lived with her recall that Sister Lisette had the reputation of being an excellent nurse among the nurses, midwives and patients. She was truly appreciated.
Sister was a gentle and exacting teacher, and also a very creative one. In the 1950's when visual aides were not all that common in teaching, she created wonderful ones. She was a quiet person with a good sense of humor which she nurtured by memorizing all the jokes in each issue of Readers Digest and then delighting the Sisters by telling them during meals. In 1959, due to the political changes which occurred in Sri Lanka, Sister returned to New York because Sisters were no longer permitted to continue to work in the hospital.
In 1960, Sister Lisette was assigned to Queen of the World Hospital, Kansas City, Missouri as Nursing Administrator. A year later, she returned to the Center and served as Staff Nurse in the Maryknoll Sisters Infirmary before receiving her second overseas mission assignment to Guatemala. At Monte Maria in Guatemala City she served as School Nurse for over 1,000 students and was also Infirmarian for the primary boarding school students. From 1965 to 1969, she worked in San Pedro Necta, Huehuetenango, in a rural clinic and hospital and helped in all the details of organizing and staffing the small hospital. One of her main responsibilities was teaching the young MAM Indian girls who were training to be nurse aides. Under her excellent tutelage and attention the young women became very competent aides. In Guatemala, Sister Lisette also used wonderful visual aides. In fact, for the past twenty-two years our Sister doctors in Guatemala, in their health promoter courses, have been using Sister Lisette's personal copy of the Birth Atlas which depicts normal pregnancy and childbirth.
Sister returned to the Center in 1970 and served as Staff Nurse at Bethany, which was the Maryknoll Sisters Nursing Home, and then in the Central Health Unit until 1980. While working at Bethany, she and another Sister took a course in Geriatrics and were introduced to new equipment for physical therapy. Since the equipment was very expensive and unaffordable Sister Lisette improvised and was able to do some of the same procedures without the expensive equipment.
From 1980 to 1989, Sister served in the Maryknoll Sisters Retirement Facility in Monrovia, California, providing nursing care and serving as driver and companion for Sisters going on medical appointments. She was also involved in ministry with families in the area.
Sister Lisette returned to the Maryknoll Sisters Center in 1990 and served as Special Needs Nurse keeping hearing aids serviced and getting wheelchairs and walkers for those who needed them. In 1996, failing health necessitated Sister's move to Assisted Living.
We offer our deepest sympathy to Sister Lisette's family and welcome our Maryknoll brother, Father Stephen Wood, who will preside at this Eucharistic Liturgy of Christian Burial as we celebrate and give thanks for the life of our Sister Lisette.