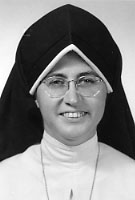 Sister Loretta Kruegler, MM
Born: December 4, 1931
Entered: September 6, 1949
Died: October 7, 2008
Mother Mary Joseph begins her description of a Maryknoll Sister by saying, "I would have her distinguished by Christ-like charity, a limpid simplicity of soul… " Sister Loretta Kruegler, whose life we celebrate today, was a shining example of these qualities not only in her work with the people in Panama and Nicaragua, but also in community with her Sisters.
Sister Loretta died suddenly at Phelps Hospital in Sleepy Hollow, New York, on October 7, 2008. She was 76 years old and had been a Maryknoll Sister for 59 years.
Loretta, the daughter of Francis A. and Katherine (Hernberg) Kruegler, was born on December 4, 1931, the youngest in a family of 11 children. She is survived by two brothers, John and James Kruegler. Five other brothers have already pre-deceased her: Francis, Joseph, Leo, Thomas and William Kruegler. William was a Maryknoll Father murdered in Santa Cruz, Bolivia in 1962. Loretta's three sisters: Jeanne (Kruegler) Kerwin, Sisters Catherine Bernard, and Francis Mary, both Sisters of the Congregation of St. Joseph of Carondolet have also pre-deceased her.
Loretta entered Maryknoll on September 6, 1949, from Sacred Heart Parish in Troy, New York. She graduated from Sacred Heart Elementary School and Catholic Central High School in Troy. At her Reception she received the name of Sister Loretta Martin. She made her First Vows on March 7, 1952, at the Maryknoll Center in New York and her Final Vows on the same date in 1955, in Panama. She earned a Bachelor of Arts degree in Community Service from Rogers College at Maryknoll, in 1972, and also a certificate in catechetics from the Catechetical Institute in Manizales, Columbia (ICLA).
In 1953, shortly after her First Profession of Vows, Sister Loretta was assigned to Ancon, Canal Zone, Panama City, Panama. There she served as a grade school teacher, parish minister and the coordinator of pastoral works in St. Joseph Parish until March of 1980.
That same year she was sent to Ocotal, Nicaragua, in the Diocese of Esteli where she again served as a parish minister. In 1983, she returned to the Maryknoll Sisters Center in New York for Congregational Service. There she worked in the Development Department until her return to Nicaragua in 1987.
In Nicaragua Sister worked with Ministers of the Word, with catechists and Christian communities. She loved to sing and sang well enough — although she said she could not read music — to prepare people for the liturgy. She met with women to reflect on different topics: on the Bible, on health issues, and on community related subjects.
Sister herself was good and easily touched by the goodness of other people especially simple people. She delighted in Leonidas, a Minister of the Word: "I admire her because she is so good," she would say. Sister also knew how important it was to enable women to realize their innate dignity as women. To this end she help them set up women's groups in many barrios in an effort to give them the support they needed to lift themselves out of their misery and poverty.
In 1987, having completed her Congregational Service, she returned to Nicaragua in response to an urgent request for volunteers for pastoral work. When asked why she would return to Nicaragua, when conditions there were so bad, and what she would hope to be and accomplish in such a dangerous and difficult situation, she answered, "I guess its compassion. I was reading that true compassion is making your home where suffering is. That's what I want to do. Mainly, it's accompanying people."
Mother Mary Joseph often spoke of the need for a missioner to have a compassionate heart. Sister Loretta possessed this quality to an eminent degree.
In Nicaragua, she served as a member of the pastoral team of San Juan de Limay, in the Diocese of Esteli; These were indeed dangerous and difficult years. Several times Sister found herself in a brush with bullets and death. In 1995, Sister returned again to New York to offer Congregational Service in the Development Department.
Throughout her life, Sister Loretta displayed to a very great degree that genuine simplicity and generosity of heart and soul that Mother Mary Joseph so desired for her Sisters. These qualities were most evident in Loretta's spirituality. During a Mission Institute in 1991, Sister Loretta gave a reflection on Martyrdom and Self Gift.
"I am discovering," she said, "that I am a seven on the Enneagram. We tend to cover pain, not look at it…. We want a lot of celebration and joy and resurrection. And that's valid, but there 's the other side. I wasn't fond of looking at the cross, and pain. I wanted to domesticate the cross. What my brother's death as well as all our modern martyrs mean to me is this: I need to see the pain. Not just his — but the pain of the oppressed especially where I've been part of the cause. I need now to look at my own pain also — not in a masochistic way, but in a redeeming way. And I need to celebrate this aspect of Eucharist: to lay my life on the line ".
In April 2000, following her Congregational Service, she returned to Panama, her original mission. There she worked in Las Mananitas as a pastoral agent for the next eight years. When Sister Loretta was re-assigned to Panama after her long years in Nicaragua, the Sisters in Nicaragua sorely missed her presence while those in Panama rejoiced welcoming her warmly for her wit, enthusiasm and compassionate spirit.
Sister wanted to stay in her mission as long as possible where she could keep sharing the little she had with others. "We have a garden and fruit trees in our back yard. The fruit and vegetables we grow we share with our neighbors." Loretta gave generously of herself until her health necessitated her return to New York on August 7, 2008. She departed with every intention of returning to Panama.
Sister Loretta had spent 46 years in mission with 35 years in Panama and 11 in Nicaragua. Sister was a woman of deep faith who had laid her life on the line. She had once remarked, "My faith is well defined" As a member of a large, devout and devoted family, she had learned as a child to be adaptable, to take people as they are, to get along well, especially with simple people with whom she spent most of her adult life. Sister came from a faith-filled family, all of whom had a strong devotion to the Rosary of Our Lady. It is indeed fitting that Sister died on the seventh of October, the Feast of Our Lady of the Rosary.
We offer our sincere condolences to the Kruegler family, relatives and friends and remember today the peoples of Panama and Nicaragua. We also welcome our Maryknoll brother, Father Carroll Houle, who will preside at our Liturgy of Christian Burial this morning.