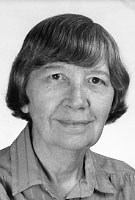 Sister Loretta Marie Hoffman, MM
Born: November 20, 1915
Entered: September 7, 1942
Died: April 2, 2005
Sometime around 10:00 p.m. on Saturday, April 2, 2005, in Residential Care at Maryknoll, New York, our Sister Loretta Marie Hoffmann slipped quietly off to meet her God. Her death caught us by surprise, as did the blessed coincidence of her dying on that particular day. Our attention was called to the fact that since 1995 Sister Loretta Marie's prayer ministry assignment was to pray for the Holy Father. Even given her illness, she seemed to have sensed that her work on this earth was complete when only a few hours earlier, before the eyes of the whole world, the Holy Father, Pope John Paul II preceded her in death.
Loretta Josephine Hoffmann was born in Brooklyn, New York, on November 20, 1915, one of three children of John P. and Margaret Zorn Hoffmann. She had a sister, Mary, and a brother, John. She did primary studies at Holy Family School and graduated from Bishop McDonnell Memorial High School, before going on to obtain a Bachelor of Arts degree from St. Joseph's College, Brooklyn in 1937 and a Master's degree in History from Fordham University in 1941. After graduation she had begun teaching school in Brooklyn when she decided to join Maryknoll in 1942.
Loretta entered Maryknoll from Holy Family Parish in Brooklyn, New York, and at Reception on March 7, 1943 received the name Sister Loretta Marie. She made her First Profession of Vows on March 7, 1945, at Maryknoll, New York, and was assigned to the Hawaii Region where she made her Final Vows in Honolulu on March 7, 1948. She taught English and American History in Maryknoll High School, Punahou, until September 1948 when she and two other Maryknoll Sisters were assigned as pioneers to setup a mission school, named Mindszenty School, in Koror, Palau Islands. Six years later Sister Loretta Marie moved to Yap in the Western Carolines, now part of the Federated States of Micronesia, where once again she pioneered a new mission and setup a school. At that time these island missions were a part of our Philippine Region.
In 1961, Sister was recalled to the United States to be Assistant Novice Mistress at our Maryknoll Sisters Novitiate in Topsfield, Massachusetts, a position she very much enjoyed. She was needed back in Koror, however, where the people loved her and returned there in 1965. She resumed her teaching ministry for four years before returning again to Honolulu. Her forty-six years in mission with the Pacific Islanders were divided Palau, where she was both principal and teacher in the Mindszenty School. At various times Sister Loretta Marie served as house superior or on the Regional Governing Board, and for ten years she served as Regional Finance person. Always a very competent and efficient person, she was known for her quiet sense of humor and ever serene nature that helped the Sisters get through difficult times in the Islands.
A history of the Catholic Church in Palau tells the story of how a Christmas pageant was being performed on the proposed second deck of the building where the Sisters were beginning the school in Koror. A section of the deck suddenly collapsed on one side, sending people sliding ten feet down to the ground. The Sisters admired Sister Loretta Marie's calm presence at the time, assuring that no one was hurt and then ceding to the people's wishes that the pageant continue on the lower level. Sister is warmly remembered for getting through other unlikely moments as well, such as dealing with financial matters. She was always very helpful to the Sisters, and her financial reports came to be the highlight of their Regional Assemblies. Competently prepared and very clear, the reports were presented by Sister Loretta Marie with a humor that never failed to leave the Sisters in gales of laughter.
In 1991, the Church of Palau celebrated its 100th Anniversary and the Centennial Committee sent Sister a round-trip ticket to and from Hawaii to be part of the festivities. There she was recognized as the first principal of Mindszenty School and as representing the sixteen Maryknoll Sisters who were assigned to Palau between 1948 and 1973. It was a blessed time for Sister to experience the fruit of her early labors, as she found so many of the Palaun people now involved in Church activities. The occasion also provided the opportunity for Sister Loretta Marie to bid "aloha" to her many friends in the beautiful pacific islands, as she was assigned to Monrovia that same year.
Sister celebrated her Golden Jubilee with the Monrovia community where she lived for nine happy years. In 2000, due to health reasons, Sister herself asked to be transferred to Assisted Living at Maryknoll, New York, and when she needed more care she moved to Residential Care IV.
We extend our sympathy to them Sister Loretta Marie's family and many friends here and in the Central Pacific Region.
We welcome Maryknoll Father Clyde Phillips who will preside at our liturgy of Christian burial this morning.