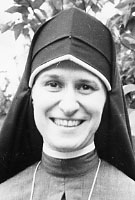 Sister Louise Trevisan, MM
Born: October 15, 1905
Entered: December 7, 1938
Died: October 28, 1987
We are gathered here in Maryknoll' s chapel this morning to celebrate the life of Sister Louise Trevisan. Her new life began last Wednesday evening, October 28, when she slipped away in a very unobtrusive way, perhaps the way she would have chosen had she been the architect of her plans for life and death.
Our celebrants today are Father John Devaney, rector of the Passionist Monastery, Father John Foley, co-pastor of Immaculate Conception Church and homilist, and Maryknoll Fathers John Northrop, John Scott, and Patrick Hoffman. Deacon Wilbur D'Arche of the parish is also present in the sanctuary. Sister will be buried in the Maryknoll plot at Queen of Heaven Cemetery, Rowland Heights.
Louise Trevisan entered Maryknoll from Philadelphia on December 7, 1938, at the age of 33. She was one of four children of Angelo and Vera Mora Trevisan. Her brother, Albert, preceded her in death.
Louise graduated from the local Philadelphia grammar school and parochial high. Over the next six or seven years she attended the School of Design for Women, Pennsylvania Academy of Fine Arts, and University of Pennsylvania. She took further courses at Columbia University, New York City. Prior to her entrance to Maryknoll she traveled to Italy and France to broaden her interest and knowledge of sculpture and art. During this latter period, she did some free-lance art work for New York publishers, taught gifted students at a New York school, and engaged in Catholic Action at Casita Maria in Harlem.
At her Reception of the habit at Maryknoll on June 30, 1939, Louise took the name of Sister Maria Giovanni. She made her first Profession of Vows on June 30, 1941 and her Final Vows three years later. After her First Profession Sister was assigned to the Editorial Department of the Maryknoll Fathers for the next twenty-eight years, where she designed and illustrated visual aid units on mission for children in primary grades and for adult education programs. She also illustrated and wrote many articles over the years which were published by Ave Maria Press, Catholic School Journal, Catholic Educator, and The Sign Magazine. For fifteen years during this period she also conducted art classes at Maryknoll College.
In 1968 Mother Mary Coleman asked Sister Louise if she would care to go to Manila to attend the East Asian Pastoral Institute and Sister was delighted at the opportunity. Some of the Jesuits, upon meeting her, recalled her work in catechetical art in the United States. They asked if she would stay on in the Philippines after the EAPI course to write and illustrate a course in catechetics for Filipino children. Sister agreed and spent many months researching Filipino culture and customs as she wanted this course to be culturally authentic for Filipino children. Each lesson brought out some custom or way of thinking peculiar to the Filipino people and Sister would draw on these to bring out some point in Christian living. The Bishops of the Philippines were loud in their praise of Sister's course.
In 1972 she returned to the States, taking up residence at Maryknoll Center. She did some writing, and also gave appreciation lectures at various places, including convents of the Contemplative Dominicans, the Poor Clares, the Redemptoristines, and others.
In 1976 she sent a letter, requesting transfer to the Monrovia Convent. In her request she stated that "if there is something to be done for the poor of the locality, I shall gladly engage in it." There were many poor in area nursing homes who needed her visits and this ministry claimed much of her time for the next ten years.
About five years ago Sister Louise started her annual "Toy Apostolate," an ecumenical project based at Immaculate Conception Parish. Today there are over 800 toys of all kinds, shapes, and sizes in the convent basement – the 1987 crop! They have all been washed and refurbished by Sister. They will shortly be on their way for distribution at Christmas, together with food and clothing, to the poor of the area. This project has been Sister's main interest in these last years.
At Monrovia Louise's love of nature expressed itself in the tree-marking project which she undertook. A visit to Monrovia these days is a journey through seven acres of carefully-marked trees, a tribute to Sister's thoroughness and care in all she did.
When asked about her 1987 Renewal, Sister Louise wrote: "At present I do not plan a renewal; I am happy in working for the very poor and wish to continue while God grants me health of mind and body."