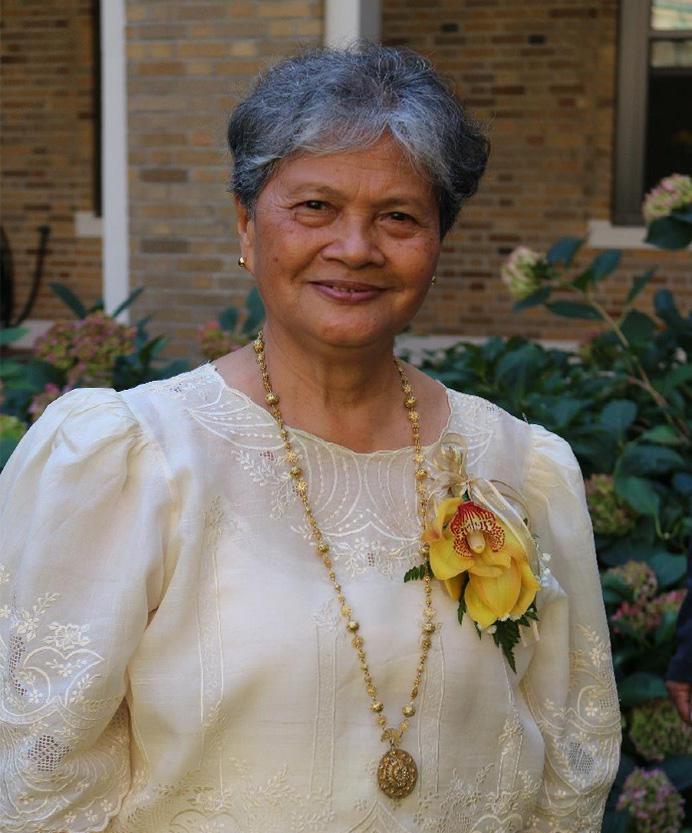 Sister Lourdes Fernandez, MM
Born: March 27, 1943
Entered: June 26, 1967
Died: July 7, 2023
Loving greetings of peace to this community gathered in our Main Chapel here in Maryknoll, to our Sisters, relatives and friends of Lourdes in many parts of the world. Thank you for joining us in this livestreamed Memorial Mass for our dear Sr. Lourdes Fernandez. We warmly welcome her sister Gloria Valdez, who came from Montreal Canada with her daughter Mona Lisa, son-in-law Ralph Agaloos and their baby. We welcome Fr. Clyde Phillips, brother, friend and co-missioner who will be our celebrant for this Eucharistic celebration.
Our Sister Lourdes Fernandez is best described as exuberant with life; a life that was deeply conscious of the loving presence of God at every moment. The sudden loss of "exuberant Lourdes" can be inconsolable for us all and especially for our Presence Sisters who continue their hope-filled and loving journey on the mysterious pathways of God's mission. Yet, Lourdes gives us much solace in her new presence. She entered God's eternal peace on July 7, 2023, in Moundou, T'Chad, in Central Africa.
Lourdes was born to Simeona (Reyno) Fernandez and Primitivo Q. Fernandez in Ramon, Isabela, Philippines on March 27, 1943. She was the eldest of four brothers and two sisters. Her parents and her brothers Manuel, Celso, and Carlos have pre-deceased her. She is survived by her sisters Nena and Gloria and her brother Diosdado and many nieces and nephews.
Lourdes entered Maryknoll on June 26, 1967, at the Holy Rosary Novitiate in the Philippines, from San Roque Parish in Ramon, Isabela. She made her first profession on June 6, 1971, in the then Hong Kong/Macau Region. Lourdes had her Reflection Year at the Center in 1973 and made her Final Vows in Hong Kong on November 27, 1975. Before entering Maryknoll, Lourdes had already received a Bachelor of Science in Education from Colegio de Santa Rita in Manila in 1964.
Hawaii was Lourdes' first mission assignment where she taught at St. Ann's School in Kaneohe from 1969 to 1971. She was then assigned to Hong Kong/Macau Region where for three years she engaged in a variety of educational ministries teaching English, Religious Education, and Special Ed. In 1973, Lourdes began her pastoral involvement with the Workers Formation Program. In one of her Advent letters, Lourdes described her concern for young workers who spend a large part of their lives in factories producing goods for a global market. Hong Kong she saw as a "zooming city, with …so much production going on in such a small city." In the mid-80s with the influx of migrant workers to Hong Kong, Lourdes worked as a teacher and coordinator at the Asian Workers Exchange program.
In 1991 – 1994, Lourdes came to Maryknoll, New York to do her Congregational Service as staff writer and worked in multi-media for the Communications Department.
In the early 1990s, the Cold War ended. During this time, the Leadership Conference of Women Religious (LCWR) made an appeal for volunteers to help rebuild the Church in Eastern Europe. The call for this mission was described by Peter Loshi of Korce as follows: "The Church of Albania is in real need of people who are really committed in rebuilding this spiritually destroyed nation…. Our roots are deeply touched by suffering… yet the future will be bright, for this soil is very fertile. Let us plant the seed and fruits will appear later." In 1995, Lourdes together with Sisters Winifred O'Donnell, and Vivian Votruba, responded to this need. Later, Sister Gertrude Gallagher joined them.
Lourdes' initial involvement was teaching at the Preca College in Korce, then gradually a pastoral engagement at St. Joseph the Worker in Progadec. Among many other services, Lourdes was especially fond of the core Christian community of young men and women who made promises to be "little candles," missionaries themselves, wherever life took them. For the occasion of the 25th Anniversary of their arrival there, Lourdes documented her joyful service in Albania in her book, Light a Candle: A Memoir, A Special Assignment in Albania, published in 2021.
The mission was handed over to the Apostolic Administrator of South Albania in 2002, after which a number of international clergy and religious congregations continued its endeavors. Lourdes left Albania in February 2002 to give Congregational Service in Mission Awareness Promotion.
In 2006, Lourdes requested to join the Central Pacific Region, which supported her desire to return to Albania. Lourdes also saw her presence in Albania as a "mission outreach beyond the Pacific Islands territories." She had received an invitation from the Dominican Sisters who were very open to a "new experience of inter-congregational, international community life." She taught Religious studies and English at the Lambertini School in Elbasan City and later, did pastoral work with the St. Vincent de Paul in Gramsh with the Daughters of Charity.
Upon her return to Maryknoll, Lourdes was appointed to the Congregational Vocation Team with Sisters Norma Pocasangre and Gloria Tamayo. She began in 2013 and was based in Baguio City, Philippines. She finished in 2019 and thoughtfully reflected on her vocation ministry thus, "My work visiting schools, colleges, and universities for vocation promotion talks and conversations with students and single female teachers is blossoming, but these blossoms need care and nurturing. These talks and conversations in the context of ecology, vocation, and mission are all intertwined."
The Pandemic years limited movement globally. In her 2022 New Year's newsletter, Lourdes related the year of 2021 as a Death experience for her family. She wrote, "18 members ages ranging from 28 to 88 passed away. Quite a shock really especially when it happened almost every week! But Life without Death won't be real."
In July 2022, Lourdes happily joined the new mission commitment begun in the Congregation. She responded to the invitation by saying, "I do not know what this will entail, I would like to be open to God's Spirit." Together with Sisters Norma Pocasangre, Claudette LaVerdiere, Charlotte Hobler, Peg Dillon, Maggie Mkenda, and NgocHà Pham, they discerned together for a new mission. The Sisters chose to remain as Presence community serving in different places. Very soon afterwards, the three who were going to T'chad began French language lessons to prepare for their mission. Lourdes, along with Claudette, Norma, and Ha arrived in Moundou, T'Chad on May 11, 2023.
On Monday, July 3, 2023, Sr. Lourdes fell in her room striking her head against the wall resulting in a concussion. She was seen by the doctor daily and her condition was stabilized. However, by Friday noon, July 7, her condition deteriorated rapidly. While medical personnel worked to stabilize her, Sr. Hà prayed the Hail Mary in Sr. Lourdes's ear. Almost immediately after "maintenant et à l'heure de notre mort," (now and at the hour of our death) Lourdes became very calm, and moments after, she made a detour to heaven. Standing at her bedside, Sisters Claudette, Norma, and Hà felt the very presence of God.
The sisters in Chad who lived with Lourdes, their beloved companion for such a short time, mourn her passing but they will always remember her for her exuberance and beautiful spirit every day. She was lovable. Everywhere she went, whether to the market or to the church, or to school, she made everyone laugh and feel happy. She was always eager to walk around and meet the people of Moundou. She loved the children very specially and could hardly wait to begin her mission in this beautiful country. Our Sister Lourdes was laid to rest on July 15, 2023 in Moundou, T'Chad.
Lourdes' enthusiasm and commitment to mission mark her Life. She was passionate in many things she endeavored: through her beautiful, creative newsletters, as a fierce Scrabble player, or when savoring food and wine with accompanying stories about the recipe and the vineyard and the people from where it comes. We can still hear her hearty laugh. Exuberance would aptly define Lourdes and she has truly been a gift to us.