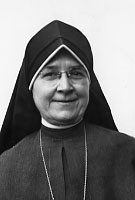 Sister Loyola Vollet, MM
Born: December 29, 1897
Entered: June 24, 1924
Died: June 20, 1988
With the peaceful smile that has characterized her whole life in mission, Sister Mary Loyala Vollet returned her steadfast soul to God at 09:30 A.M. on June 20, 1988 in our Maryknoll Nursing Home.
Sister Mary Loyola was born Estelle Theresia Vollet in St. Louis, Missouri in 1897, one of seven children of John and Mary Aiblinger Vollet. Her two brothers and four sisters have died and we should rejoice today at the great family reunion in heaven. Estelle attended the parish grammar school for seven years; she then filled many positions in the St. Louis area requiring skills in secretarial work, bookkeeping and general office work. Active in the parish sodality, Estelle nurtured a vocation which bore fruit in her entrance to Maryknoll in 1924, one of the first large entrance groups. She made first vows in 1927 and final vows three years later in Yeng You, Korea, where she was a language student.
After language school, Sister Loyola was reassigned back to the Motherhouse where she was assistant novice mistress and also assistant superior of the house during the construction of this building.
In 1934, she was missioned back to Korea, to Pyong Yang, but because of the Japanese occupation had to begin yet another difficult language, this time under the apt tutelage of Sister Sabina. During this period, she wrote a letter to Mother Mary Joseph which captures glimpses of the inner life of this strong and independent woman, and distills for us something of the essence of the mission vocation. She wrote, "Here these mornings of four below zero we sit pretty close to the stoves at Mass and in the house. This is a nice little mission. I, for one, Mother, feel there are better times ahead when things are settled. Not that I had any big troubles but there was a depressed feeling which is partly lifted; but from it, I feel I have learned a great deal and benefited by it. I am ready for anything and at any time." (Letter, 1938)
Physical hardship lightly touched on; the difficulty of adjustment, culture shock and new beginnings alluded to, but not given in to; and a reaffirmation of trust in God's plan for her – how graced we have been by this woman's life!
Sister Loyola was interned for eight months during the war and then repatriated to the United States. Upon her return, she was sent immediately to do pastoral work in Hawaii until the war was over and she could return to the Orient – this time to Japan. In the area around Kyoto, Sister did parish work, taught cooking and worked in catechetics until she became Regional Superior for two terms in 1958 and 1963 and Chapter delegate in 1964. After Chapter, she was assigned to the Office of the Maryknoll Society treasurer. In 1970, at the age of 73, she rejoiced at the chance to return to Japan. As she put it, "I have now for seven years worked here with figures and would like now to give some time to work for people, for souls, placing my trust in God, submitting to His will whatever the Boards (RGB/CGB) decide."  A very human touch is felt in a note Sister Loyola received finn Sister Elizabeth Donahue on her assignment: "At 73, you must be very happy about this – we'll miss you in the exercise group."
Sister Loyola was in Japan until 1974 when she retired to Monrovia – a quiet consistent presence at all community events, meals and prayer times. Each of us should meditate today on the life of Sister Loyola and also on the lives of many of the women who preceded us in Maryknoll. Often, with little formal education, they were asked to do and did do heroic things for God and for the mission of Jesus. Their concerns were outward, other-directed, eager to spend and be spent for the coming of God's reign.
I close with an expression of sympathy to all Sister Loyola's family around the country, and a prayer written about another great missioner, Philippine Duchesne. It speaks to me of Sister Loyola and the meaning of her life for us:
"That you may believe as she believed,
hope as she hoped,
and walk as she walked … so independently
of self and so straight to God."
We welcome Father George Delaney, M.M., who will lead us today in our Liturgy of Resurrection and Peace.