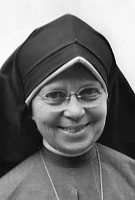 Sister Lucy Whitney, MM
Born: August 14, 1900
Entered: September 24, 1923
Died: March 30, 1987
On Monday morning, March 30, at the regular 7 o'clock liturgy we remembered Sister Lucy in her last hours in the Maryknoll Nursing Home. After the celebration of the Eucharist, Fr. Robert Wynne, MM anointed Sister Lucy and she died peacefully at 7:30 A.M.
Lucy Loretto Whitney was born on August 14, 1900 in New York City. She was one of four girls born to Kathleen Lee and Arthur Avery Whitney. Lucy attended Grammar School in New York City and graduated from Morris High School in the Bronx in 1918. After graduation, she worked as a stenographer.
Through a magazine called the "Lamp", Lucy became interested in foreign mission and she entered Maryknoll on September 24, 1923 receiving the name Sister Mary Bertrand.  After first profession in April of 1926, she was assigned to teach kindergarten in Seattle (1928). Sister was then assigned to Hawaii in 1929, after making her final profession. Engaged mainly in teaching, she spent the years 1929 to 1947 living out her mission vocation in Hawaii.
Sister Lucy has been described as a fun person, always ready to laugh – often at her own expense. Occasionally absent-minded, she frequently appointed a committee of first or second graders to help her find her glasses. Small in stature, she seemed always to be bustling around, flitting hither and yon, feisty and spirited. Mother Mary Coleman knew her well and she wrote Lucy after her assignment to Guatemala Mother said in her letter: "Knowing your propensity to go after things with a kind of conquer or die attitude, go slowly. There you are in Guatemala with a new name, a new type of clothing, a new language and a new mission and all this at the young age of 66!"
After returning from Hawaii in 1947, most of the rest of Lucy's Maryknoll life was spent on the West coast, with brief periods here at the Center, at Bethany and some time in Guatemala and New Mexico. Her "propensity to go after things" as Mother called it, perhaps characterizes Lucy best. In her life, we see frequent movement from mission to mission. During a twenty-year period she took classes at various universities from the East to the West coast and she also experienced periodic yearnings to become a member of the Cloister. Perhaps this last was influenced by her sister who is a member of the Discalced Carmelites. She was unsettled, moving, restless and searching. Most of us can identify the times in our own lives when these same feelings led us along our life's path. We also know the suffering and pain that is engendered by our joining new communities and then quickly leaving – suffering for ourselves and for those we joined and those we left. But Lucy, it seems, saw most of this in a positive light and she wrote Mother Coleman in 1970: "It's a wonderful world of challenge we are living in — and Maryknoll is meeting it head on!" and she signed that letter: "With faith and hope in the promise of the future."
And so we rejoice and place our hope in the promise of God who has at last given Sister Lucy today the place of perfect peace she has long desired. We remember that she has now joined those of our community who have gone before – Maryknoll Sisters whose life experience Lucy shared with zest and humor along the way.
We extend our sympathy to Sister Lucy's sisters, and Sister Mary Joseph of the Carmelite Community in Beacon, New York, who are not able to be with us today. Four of the Sisters from the Beacon Community are with us at the Eucharist this morning.