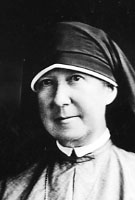 Sister Lumena McMahon, MM
Born: January 1, 1868
Entered: December 25, 1921
Died: November 14, 1940
Something over a quarter of a century ago Maryknoll was founded and a chosen group of souls was privileged by God to give its allegiance from the first to the newborn idea. One of these was Sr. Lumena. For some years circumstances did not permit her to become an active member of the ranks; but we may well honor her today as one of Maryknoll's pioneers.
As Ellen Agnes Mc Mahon, Sr. Lumena taught for some years in the public schools of Boston, was an active member of the Boston's Teachers Club and of St. Catherine's Guild for Professional Women. She was secretary and later president of the John Boyle O'Reilly Reading Circle and was instrumental in a small way in the building up of the Catholic Summer School of Cliff Haven.
She was born in Boston. Her parents were Michael Boyce McMahon and Ellen Lynch McMahon. She attended Sts. Peter and Paul grammar school and Notre Dame Academy.
When it became possible for Sister to enter Maryknoll and her experience was a precious asset to the young Community. She became first Novice Mistress, was the first Sister missioned to the Philippines, was supervisor of the Maryknoll schools in Hawaii, and a member of the first faculty of the Maryknoll Teachers' Training School, opened at the Motherhouse in 1932.
Sr. Lumena found an allure in giving herself to the service of all mankind, in feeling she was consecrated to aiding the Lord's needy over the earth.
She recalled that among her acquaintances there were times when one would say "I feel pain" and it was an occasion to seek remedies, a physician, rest and the sympathy of friends. But she knew that millions stalked the earth in pain without possibility of a helping hand of relief.
She had in her work as teacher heard the words "I do not know" and it meant that the speaker was without information on some question in point. She realized that there were those who were forced most truly to say "I do not know" who were in black ignorance, not merely of the things of time, but of eternity, of God and the path which leads to God, and to salvation.
And thus Sr. Lumena chose the humble, the weak, the neglected, the needy of the earth as her portion. Many who are great and gifted and cultured are likewise the portion of the missioner; but this is by God's disposition, not her own. At the close of her generous and thoughtful life, Sr. Lumena has been welcomed into Paradise, we may feel sure, by the lowly of all the world who beyond the grave even though they do not seem to express it on this side of it, have that special love for those aliens of their kind who come to them to give themselves to them as missioners.
When the years of the span of life are ended, for all of us the treasures that will truly count are those that have been garnered by sacrifice for others and silently stored in our hearts. Then, precious beyond all else will be the intimacy we have cultivated with the God of all hearts , with Our Lord and Savior Jesus Christ.