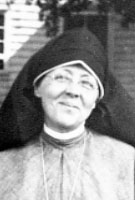 Sister M. Aloysius McDonald, MM
Born: October 10, 1882
Entered: October 25, 1916
Died: March 7, 1961
Sister Mary Aloysius McDonald died calmly and peacefully on March 7, 1961 at Bethany. She was seventy-eight years old and a Maryknoll Sister for forty-four years.
Sister Mary Aloysius (Alice Marie McDonald,), was born in Boston, Massachusetts, on October 10, 1882. She attended St. Agnes' Grammar School and St. Augustine's School, where she completed a two year high school course. Both schools were located in South Boston.
Before entering Maryknoll, Sister Mary Aloysius worked as a secretary — she entered Maryknoll on October 25, 1916, and received the Habit of our Congregation on March 25, 1917. Sister was one of the pioneers. Her pastor, the late Father Doherty of Our Lady of the Rosary Church, South Boston, wrote the following recommendation to Father Founder: "I think Alice Marie McDonald would be a valuable asset to the Teresians. She is a great worker, in fact if she has a fault, it is this, that she is too conscientious."
While still a novice, Sister Mary Aloysius travelled to the West Coast with Sister Mary Gemma, for her first assignment, to be followed soon by Sisters Mary Teresa and Mary Magdalen. Sisters Mary Teresa and Mary Gemma were assigned to start the work for the Japanese in Seattle, where they opened a Kindergarten on June 1st, and Sisters Mary Magdalen and Mary Aloysius were to do a similar work in Los Angeles. Sister Mary Aloysius pronounced her first Vows on March 19, 1921. The following year, Sister was assigned to the work in Seattle, and in 1922, she was transferred to the Venard. Sister returned to the Motherhouse as Assistant Novice Mistress in 1926, and on June 28, 1927, was elected to the General Council. In 1939, Sister was hospitalized for a time, and when she was again able to resume active duties, she worked at the Motherhouse in the Promotion Department and in the Mother General's Office, the latter post she held until her illness in 1953.
Sister Mary Aloysius was extremely kind and generous to the poor and was always looking for ways and means to help them and to help our missioners. Nothing was too much trouble for her to do to send packages to the missions.
Sister Mary Aloysius' Requiem Mass will be sung in Bethany Chapel on Thursday morning at 11:00 o'clock. She will then join Mother Mary Joseph and our other Sisters in God's Acre, beneath the Cloister Hill.