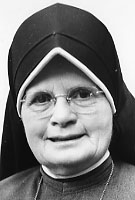 Sister M. Annunciata Mulkern, MM
Born: September 21, 1899
Entered: September 24, 1923
Died: January 16, 1968
Sister Mary Annunciata (Mary Irene) Mulkern was born in Portland, Maine, on September 21, 1899. In 1918, Sister went into nurse's training the better to equip herself for the life of dedicated service she desired to live in a religious community. It was through a subscription to the Field Afar taken at the suggestion of a Jesuit priest speaking in the parish church on behalf of the missions, that Sister first learned of Maryknoll and, to use her own words: "became greatly impressed with the work of the Sisters at home and abroad." Sister applied for admission at the completion of two years of private duty nursing assumed upon graduation from the Maine Eye and Ear Infirmary, Portland, Maine, in 1921; entered Maryknoll on September 24th, 1923, and made First Profession of Vows on April 30, 1926.
Assignment to St. Paul's Hospital in Manila came in the spring of 1927 where she remained until recalled to the United States in 1930 to join the nursing staff of the then Maryknoll (Tuberculosis) Sanitorium in Monrovia. After an interval of two years at Mountain View (1933—35) and two years at Bethany (1935—37) Sister returned to Monrovia where she remained until 1960, except for a period of Decennial in 1950. At the completion of a second Decennial in 1960, Sister was assigned to the Motherhouse in charge of the Drug Room and Medicine Sort, until failing health made her unable to perform her duties. She was assigned to Bethany in August 1966.
Sister Mary Annunciata was from a family of six children.
A Requiem Mass will be offered at 11:00 A.M., Thursday, January 18th, at the Motherhouse chapel. The body will be waked at our Bethany Convent.