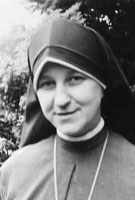 Sister M. Antonia Sodya, MM
Born: November 11, 1906
Entered: December 20, 1924
Died: February 29, 1948
We lost Sister Antonia to heaven on February 29, 1948 after an operation in Pittston Hospital, Pittston, Pa.
As Rose M. Sodya she was born in Butte, Montana on November 11, 1906. After entering Maryknoll in 1924 and being professed in 1927, Sister Antonia was missioned to Seattle, then to Monrovia where she did practical nursing, and later to Los Angeles to teach.
In 1940 Sister began nursing studies, which she completed in 1943.
Always a cheerful, steady worker, she was a joy wherever she lived. Mother Mary Joseph remarked, Sister, with her accustomed sense of humor, probably smiled at the leap year date. She suffered a great deal, but with beautiful disposition. She said that if God wanted it, then she wanted it.She was most considerate of and grateful to all who attended her.
Sister was buried Tuesday, March 2, 1948 at the Motherhouse.
The priest who gave the talk at the obsequies paid Sister a fine tribute when he said that a Religious who faces death without fear, as she did, must certainly have prepared herself by a life of fidelity. It is easy to believe that one so ready to meet her God must have been deserving of a ready and rich reward. We like to believe that she is watching over us all from above.