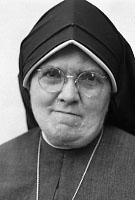 Sister M. Boniface Miller, MM
Born: September 27, 1898
Entered: March 17, 1925
Died: March 26, 1967
Sister Mary Boniface died peacefully at 1:30 p.m. on March 26 in Hawaii.
Sister Mary Boniface (Philomena Anna Miller), was born on September 27, 1898, in Watertown, Wisconsin. She entered Maryknoll on March 17, 1925, and was professed December 8, 1927. Sister was assigned to Hawaii, to the Maui Children's Home in 1932. Six years later she returned to the Motherhouse, where she worked happily and quietly with Sister Marie Pierre, and later in the sewing room. Sister always found time to do little thoughtful things for Sisters who did not have time for the 'extras' that give the homey touch to community living. Sister Mary Boniface entered wholeheartedly into life at the Motherhouse, and in her quiet way contributed so much by her goodness and selflessness, which made her considerate of others, and such a blessing to the house.
Sister was overjoyed when she was reassigned to Hawaii in 1963 where she remained active until a few months ago.
The funeral will be in Honolulu on Wednesday.