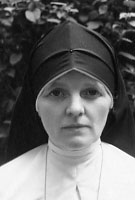 Sister M. Bridgettine Mills, MM
Born: June 10, 1901
Entered: June 7, 1922
Died: September 20, 1981
On Sunday evening, September 20, about 9 o'clock, the announcement came as something of a surprise; that Sister Bridgettine had slipped  quietly into eternity, although a bulletin had been posted some hours earlier requesting special prayers as Sister's breathing was becoming more difficult. Conscious to the end, Sister Mary Bridgettine met the moment of her greatest transition with the same loving, uncomplaining, wholehearted response that she had made all her life to every change God asked of her.
Mary Cecilia Mills was born on June 10, 1901, in Dixon, Nebraska. Her parents, John Mills and Margaret O'Flaherty, had three other children, Anthony, Charles and Lilly. Mary attended elementary school and two years of high school in Dixon; her last two years of high school were spent at St. Catherine's Academy, Jackson, Nebraska. On June 7, 1922 Mary entered Maryknoll, our first candidate from Nebraska. At her reception, six months later, she received the name "Sister Mary Bridgettine". She was professed December 8, 1924, and from 1926 to 1929, together with Sisters Angelica and Redempta, followed the nurses' training program at Providence Hospital, Washington, D.C. After receiving her R.N., she was assigned in 1929 to the Children's Home in Wailuku, Maui, Hawaii. Two years later, she went to the Philippines to direct the nurses' education program at St. Paul's Hospital, Manila. When Maryknoll College Department moved from Malabon to Manila in 1936, Sister collaborated with the College faculty to arrange a program for the benefit of the nurses. Sister Bridgettine took advantage of the opportunity and received her BSE in 1945, when the College was authorized to grant this degree.
During the years of World War II, 1942-45, Sister was interned with the other Americans. Her health, never robust, had become more frail, and at the time the other Sisters were taken to Los Banos Camp, the Japanese officials, fearful that Sister might not survive the ordeal, allowed her and Sister Mary Coleman to remain in the Assumption Sisters infirmary for some weeks until a Japanese doctor attested to the fact that they had sufficiently recovered to cope with camp life.
After their "liberation", Sister Bridgettine returned to the Motherhouse in 1945. She was assigned to study at Catholic University the following fall, and in 1946 received the degree of BS in Nursing. For the next three years she helped with promotion work and in 1949 joined the pioneer group who entered upon the challenging nursing program at the Government Hospital in Kandy, Ceylon. Sister remained in  Kandy until 1959, when she returned to the Center. After a brief rest at Monrovia, she was assigned to Bethany to be the assistant Superior and the director of nursing education for the Maryknoll Sisters. In 1966 she returned to her beloved Philippines.
The reconstruction of St. Paul's Hospital was in progress, and Sister entered actively into the process of trying to discern what the future role of Maryknoll Sisters in the field of Nursing education should be according to God's plan at that time and place. Sister's openness during a time of stressful transition was a wonderful support to all who were involved.
At the same time she served as Admissions Director of the Philippine Region. In that capacity she worked with the Filipina women who were interested in entering the novitiate there. Her joyous and open spirit was appreciated by all the women she met. She maintained a special interest in the Filipina Sisters over the years. She loved to listen to younger Sisters talk about their ministries. "I feel I am part of all they are doing", she said one day.
Wherever Sister Bridgettine went she gave herself completely to the people. She loved the children at Maui, the gentle soft spoken  Ceylonese women, and the many Filipinos she met and worked with over the years. She made many friends who have never forgotten her and who will surely miss her.
She shared the same love and loyalty with her Maryknoll Community. We, as well as her family and other friends, can echo the words of the book of Wisdom: "One who has wisdom is steadfast, dependable and imperturbable." Sister Bridgettine was such a woman. One bit of wisdom she articulated was: "Never let yourself become bitter, for bitterness is a heavy burden to carry late into old age." She not only said it, but lived it.
Her last years in the Philippines, 1972-1976, were years of special transition for the Region. Once again her faith, strength, and courage were there when they were most needed. Sister was invariably open, cooperative and supportive as new ministries and life styles emerged. She had a certain peace and tranquility, born of a deep faith in God's Providence which allowed her to trust and to let go. In 1976 as her health became increasingly fragile, she bravely made the decision to return to the United States.
Sister always maintained close ties with her family whom she loved deeply. Monrovia, California was her choice for retirement so that she could be closer to them. Frequent telephone conversations meant much to her and to the family.
In the past few months, although she tried to maintain her independence, it became evident that Sister needed more care than was available at Monrovia. Again, she made her quiet "fiat" and happily came to the Nursing Home at Maryknoll, where she spent her last three weeks. Here, as everywhere else she had served, her buoyant and joyous spirit was evident; her serenity, her acceptance of the burden of long years of ill health, her deep gratitude for all of us, for her family, her friends, and all who have helped and cared for her over the years – all this showed in her face. When God called her she was ready.
We extend to Sister Bridgettine's devoted brother, Tony, the other members of her family and her faithful friends, our prayerful sympathy. While together we pray for her, we know that from the fullness of her new life now with God, Sister Mary Bridgettine will intercede for all of us.
The celebrants of the Mass of the Resurrection being offered this morning for Sister Mary Bridgettine are Maryknoll Fathers John Rich and Don McQuade.