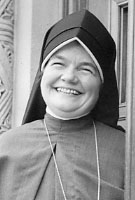 Sister M. Catherine Dillon, MM
Born: May 27, 1895
Entered: December 7, 1934
Died: June 27, 1970
Sister Mary Catherine Dillon died on the feast of Our lady of Perpetual Help, June 27, at Phelps Memorial Hospital.
During these last several weeks, it became evident that Sister would not recover, and we knew by the appealing expression of her eyes, that she would continue to be patient until the longed—for moment came.
Sister Mary Catherine (Elizabeth Anne) Dillon was born in Roscommon, Ireland, on May 27, 1895, and came to the United States as an infant. She attended public schools in Passaic, N.J., and later chose Nursing as a career. She had her basic Nurses Training at St. Mary's Hospital, Passaic, N.J., and then took up further study of Laboratory technique and anesthesia at Post Graduate Hospital, New York City. Sister worked for six years as a nurse — anesthetist at New York Orthopedic Hospital. She was already thinking of Religious Life when some of our Sisters who were patients in the hospital introduced her to Maryknoll, and aroused her interest in the missions.
Sister Mary Catherine became a United States citizen in September, 1934 and entered Maryknoll in December of the same year. Her first mission assignment was to Mercy Hospital in Shanghai in 1937, but due to war conditions in China, Sister never took up her duties there; she went instead to Manila — St. Paul's Hospital.
During World War II, Sister was interned with our Sisters of the Philippines Region. After liberation she remained in the Philippines and helped get the school started again by teaching a class at Fernando Rein for a year or so.
In 1947 we were asked to take up new Hospital work in the Philippines, at St. Joseph's Hospital, Manapla. As first Superior at Manapla, Sister Catherine got this new work underway. She came to the Motherhouse for decennial in 1951, and remained here to work in our Infirmary. The first indication of Sister's illness was noted in 1954. Sister continued her loving, thoughtful care of the sick until she was physically unable to do so, and was assigned to Bethany in 1960.
Sister Catherine's life was always a "gospel lesson". She never had to preach with words to those who knew her. Her loving compassion for the sick in her active life and her patient conformity with Christ's suffering in later years, spoke loudly but gently, without words, of the Christ—life she had completely embraced.
The Mass of the Resurrection for Sister Catherine will be offered Tuesday, June 30, the thirty—third anniversary of her profession. Since Sister's greatest devotion was to the Sacred Heart, it seems so right that she should "go home" in June. I remind our Sisters to remember Sister in their personal and community prayer, especially in the Eucharistic Sacrifice as directed in "Missions Challenge".