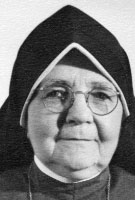 Sister M. Clarice Kemper, MM
Born: November 23, 1888
Entered: October 15, 1929
Died: January 18, 1956
Sister Mary Clarice died January 18, 1956 in Lakewood, New Jersey. She was sixty-seven years old and a Maryknoll Sister for twenty-six years.
Angela Kemper was born in Chicago, Illinois on November 23, 1888 to William and Louise Kemper. She was one of the couple's five children. Angela attended St. Michael's Parochial School and took a commercial course at the Academy of Our Lady in Chicago. Before entering Maryknoll she worked as a bookkeeper at Kemper Brothers Company and a stenographer and bookkeeper at North Avenue Building and Loan Association, both located in Chicago. For a time she was housekeeper for her priest-brother in Texas. She then went to Portland, Oregon where she worked as a fitter and seamstress in the Meier & Frank Company department store.
Angela entered Maryknoll on October 15, 1929, from the Diocese of Portland. At Reception she received the religious name Sister Mary Clarice. She made her first profession on January 6, 1932 and her final profession on the same date in 1935, both at the Motherhouse. Sister found plenty of opportunity for her talents in the Motherhouse sewing room where she labored faithfully. She did not serve overseas, but contributed greatly though her work at the Motherhouse and Bethany. Among her many jobs were Motherhouse guest mistress and stamp and candy department worker, cook for Society members at the Seminary and Sacristan and seamstress at Bethany.
Before she entered, Sister went to Europe, saw Pope Pius X and had a great devotion to him from that time.
Fr. Joseph Cassidy, MM, presided at Sr. Mary Clarice's Mass of Christian Burial on January 20, 1956.