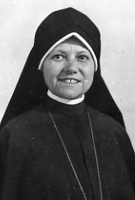 Sister M. Cronan Flynn, MM
Born: February 17, 1900
Entered: May 24, 1926
Died: March 25, 1962
Sister Mary Cronan slipped away to heaven last night at 8:30 p.m. on the Feast of the Annunciation, (also the birthday of her brother, Father Cronan, who had been charged by Sister's family to welcome her to heaven on this day) after her long illness of over thirty-four years.
Sister Mary Cronan (Maria A. Flynn) was born in City Island, New York, on February 17, 1900. She received her education in the Public Schools in City Island.
Sister entered Maryknoll on May 24, 1926, and made her first Profession of Vows on October 28, 1928. Most of the years of her religious life were spent at the Motherhouse. In 1953 Sister went to Tucson, Arizona to lend a helping hand to our Sisters who were working there at that time – she returned to the Motherhouse in June of 1954.
Sister was well prepared to go to God! Since the first of the year there were indications that her health was failing rapidly. She herself recognized the signs and spoke calmly and simply about the short time left for her to get ready for heaven. She amazed Doctor Williams, who had taken care of her for so many years, and Doctor Kipp by her cheerful and calm acceptance of her debilitating and painful complications. Sister went to Bethany as a patient on February 23. During the weeks that followed, Sister had the consolation of the devoted ministrations of our Sister-nurses and she was grateful for all that was done for her. She delighted in the occasional visits from her brother, Father Joseph Leo and other members of her family.
On Sunday afternoon there was a marked change in Sister. We prayed with, her and the Sisters sang the Salve after Benediction. Father Joseph Leo arrived early in the evening. Sister recognized him and later, as we prayed with her, she opened her eyes – assuring us that she understood. We said the prayers for the dying with Father – who was grateful that he could help his sister on her way to heaven. As Sister's soul left this world for heaven, we thanked God that her days of suffering were ended.
A Requiem Mass will be sung in the Bethany Chapel for the repose of her soul on Wednesday morning, March 28, at 11:00 o'clock.